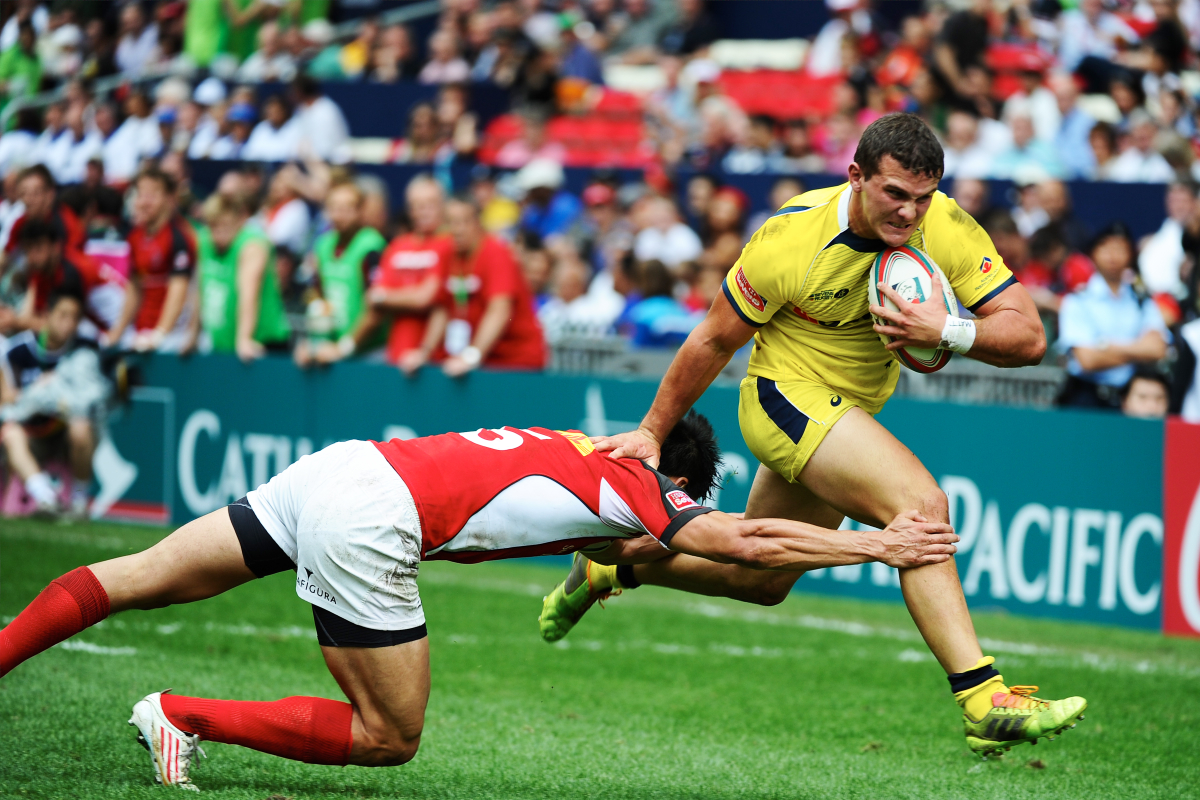 The Qantas Australian Mens Sevens teams continue their battle for Olympic qualification in the World Rugby Sevens Series flagship event this weekend at the Hong Kong Sevens.
At the conclusion of 2015's World Series, Rugby Seven's top four teams will earn automatic qualification to the 2016 Olympic Games.
Australia currently occupy that vital fourth place with a minuscule 3-point buffer separating them from fifth placed England.
Disappointing early knock-outs for the Thunderbolts in Wellington and Las Vegas in February have allowed perennial favourites South Africa, New Zealand and Fiji to build commanding leads after five competition rounds.
Needless to say, the key to Australia's dreams of Olympic Qualification is finishing in a higher position than England in each of the remaining three legs of the World Series.
Las Vegas pitted Australia against England in the fourth/fifth place playoff, and three quick tries to Australia kept their ship afloat despite a determined comeback effort from the English.
Hong Kong will prove a much tougher stage to replicate this feat. England enjoy strong home ground advantage amidst the throngs of expatriate revellers, while Australia enjoy public enemy number 1 status – a tradition begun way back in 1976 as punishment for an ugly fistfight between Australia and crowd favourites Fiji.
Hong Kong sets Australia against Scotland, Portugal, and New Zealand in Pool B, with first and second place to take on their Pool C equivalents.
With New Zealand's fine form over the past two rounds, which included Cup Final appearances with Fiji and England, it is safe to assume a Pool B victory is on the cards for the All Black Sevens.
Scotland tasted success in Wellington, registering a personal best fifth place to Australia's lowly sixth. However, Australia should be expected to finish second in the Pool – booking a likely finals date with South Africa in the Quarter-Finals. 
Australian head coach Geraint John has selected Queensland teen Brad Wilkin to join the team a debut at Rugby Sevens wildest party after the forced withdrawal of Lewis Holland.
Prolific try-scorer Shannon Walker, Wilkin's Easts Tigers club mate in Brisbane, rejoins the extended squad after a lengthy absence.
Tom Lucas, brother to former Queensland Red Ben and current WTS member Matt, will also join the extended squad.
In others news, Qantas flight QF 97 on Thursday morning ran out of beer 2 hours in to the 9 hour flight. Rum went the way of the dinosaurs not long after. Hopefully this macabre trend will be reversed in Hong Kong.
The action from Hong Kong will be broadcast live on FOX SPORTS, but Green and Gold Rugby will be bringing you all the Hong Kong Sevens news and gossip you need live from Hong Kong Stadium.
Qantas Australian Men's Sevens fixtures for Hong Kong on 27-29 March:
Australia v Portugal, Pool B, 9.40pm (AEDT), 27 March
Australia v Scotland, Pool B, 3.40pm (AEDT), 28 March
Australia v New Zealand, Pool B, 8.26pm (AEDT), 28 March
Qantas Australian Men's Sevens squad for the 2014/15 HSBC Sevens World Series in Hong Kong:
Cameron Clark. Club: Northern Suburbs, NSW. Hometown: Sydney, NSW
Allan Fa'alava'au. Club: Endeavour Hills, VIC. Hometown: Melbourne, VIC
Con Foley. Club: University of Queensland, QLD. Hometown: Fairfield, QLD
Pama Fou. Club: Souths, QLD. Hometown: Brisbane, QLD
Greg Jeloudev. Club: Sydney University. Hometown: Sydney, NSW
Ed Jenkins. Club: Sydney University, NSW. Hometown: Sydney, NSW
Tom Lucas. Club: Sunnybank, QLD. Born: Rockhampton, QLD
Nick Malouf. Club: Sydney University, NSW. Hometown: Robertson, QLD
Sam Myers. Club: Northern Suburbs, NSW. Hometown: Grenfell, NSW
Jesse Parahi. Club: Northern Suburbs, NSW. Hometown: Avoca Beach, NSW
Shannon Walker. Club: East's, QLD. Hometown: Kyogle, NSW
Bradley Wilkin (debutant) Club: East's Tigers, QLD. Hometown: Wellington Point, QLD