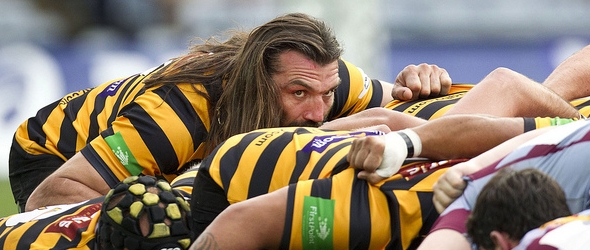 Last night's curtain raiser for Tahs v. Reds got almost as much attention as the main event, and with good reason.
Sebastien Chabal, the French Caveman, pulled on the black and gold hoops of Balmain in their 19-5 win over local rivals Petersham.
This one-off signing brought more attention to subbies rugby since, well, last time Balmain had a famous international play for them.
Chabal definitely proved his worth during the game, bagging a try and providing a definite spark in both attack and defence.
To find out what it was like to train and play with a 62-Test veteran, we tracked down Balmain's Club Captain, Stephen "Camo" Cameron who made the final pass to Chabal before he scored.
'All I did was catch and pass but if anyone asks me I'm gonna tell them I could have gone myself and ran 30m to the try line,' he said.
'The older I get it'll be one of those that gets longer and longer, it was nearly up to 50m last night!'
Chabal might not have been the difference between winning and losing for Balmain but Cameron says he made an impact, especially on his opposite number.
'Their new number 8 ran through about three of our blokes and Chabal came through in cover defence and made about the biggest hit of the day. It was an absolute bell-ringer and definitely announced his arrival.'
'When he was on the field, it just lifted everyone around him to go that little bit harder.'
Chabal's presence might have lifted Cameron and his teammates, but it didn't stop Petersham's efforts and by all reports the game was closer than the scoreline suggested.
'To their credit, Petersham weren't overawed though and for about the first 15 or 20 minutes they wrapped him up pretty well,' says Cameron.
'Everywhere you put your head up, he was there. He seemed to be in tight and then out wide running it, though in the second half he was getting a bit wider and looking for the ball as the game went on'.
Earlier in the week Chabal trained with the team and while the crowd and media attention were a bit out of the ordinary, Cameron says the Caveman's impact at training was a lot like that on Saturday.
'Everyone was dropping ball and showing a bit of nerves when he turned up to training  but once he chimed in and got into it he was just like one of the other guys. Obviously he's not but he settled in quite well. It definitely made everyone else pick up a gear.'
After last night's game Chabal joined the team in the sheds at ANZ Stadium where he hummed along to the club song and got to the real spirit of club rugby – drinking.
Cameron is hopeful the Caveman might have another game or two for Balmain left in him.
'We'd love to have him, in the change rooms after the game all the guys were trying to get him to come back next year but who knows what the future holds. We'll definitely welcome him back. He's always got a home at Balmain.'
[youtube]http://www.youtube.com/watch?v=YcJus7mw7fc&context=C3586223ADOEgsToPDskLeMTFwnR_lMYi3TaArocaj[/youtube]
What's your opinion? Is any publicity for rugby good publicity or is this taking subbies too far away from what it's supposed to be?