The trials between schools from  different associations continued yesterday and Waverley and Newington were impressive winners against their fancied rivals.
Joeys v Waverley
By "Armchair Selector"
The opening third of the match saw both teams test their opponent's mettle. Waverley had the better of the midfield contest and Joeys just couldn't seem to clear the ball from their own half.
Ten minutes into the match, a sickening head clash between Joeys #6 Scolari and #12 Everleigh saw both young men leave the field.
The smash and bash approach was working for Waverley. After 13 minutes Waverley #4 O'Sullivan crashed over the line near the left wing. Waverley 5-nil.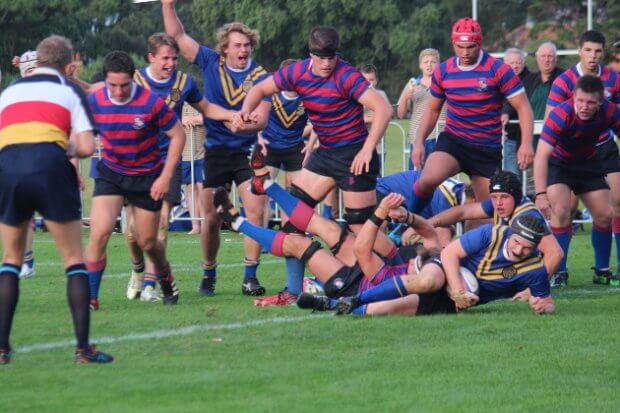 Not seven minutes later O'Sullivan picked up his second try in a similar manner, closer to the sticks. #10 Donaldson converted this time – Waverley 12-0.
Joeys were prepared to play an expansive game, but #12 Hardaker intercepted a loose pass near the Joeys' 22 to sprint away under the posts. Converted – Waverley 19-nil.
Joeys were being beaten at the ruck by a strong and committed Waverley forward pack. Waverley repeatedly turned over Joeys' ball by having more players at the break down, earlier.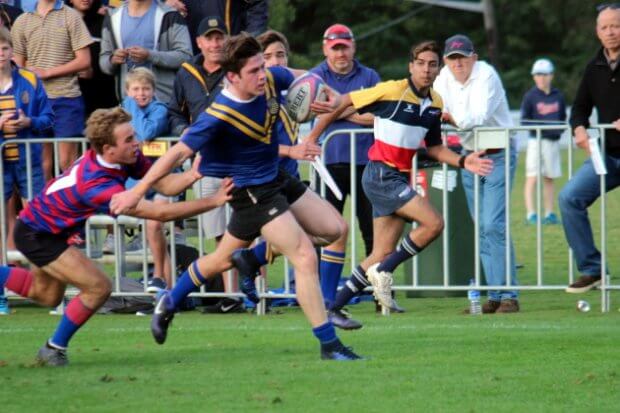 A booming 70-metre penalty line kick from Donaldson set Waverley on the Joeys' 5-metre line. From the lineout maul Waverley's #3 Wright scored. Converted – Waverley 26-nil.
It didn't get better five minutes later when Waves #9 Bell scooted around a scrum ten metres out and crossed in the tackle.  Converted.
It was all too easy for the visitors. The Joe boys and home crowd were shocked, Scarcely ever had their Firsts' team been behind 0-33 in the first half – trial or not.
On halftime, Joeys #13 Triston Reilly ran a strong line and though stopped high, was able to offload to #10 Creagh who dotted down. Reilly converted.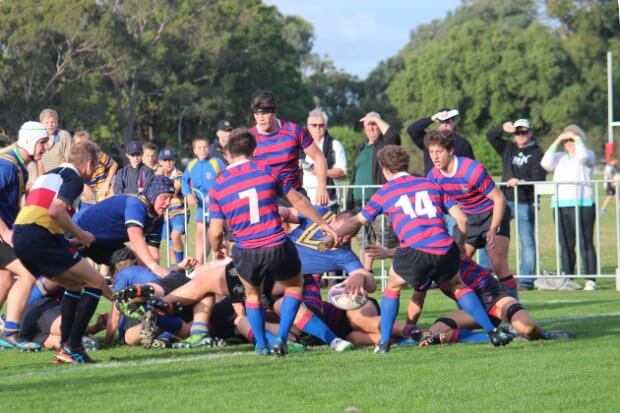 Halftime score: Waverley 33 – Joeys 7.
The Waves were strong up front. Their scrum was well-anchored by THP Wright. His hard work in the tight and set piece was rewarded thee minutes after the break when he scored his second try off the back of a ruck near the posts. Waverley 40 – Joeys 7.
When Wright retired with a leg injury, the Joeys' scrum began to take ascendancy. On numerous occasions Joeys' line breaks were nullified by the committed Waverley defence. In the space of ten minutes, Joeys were held up over the Waverley line three times.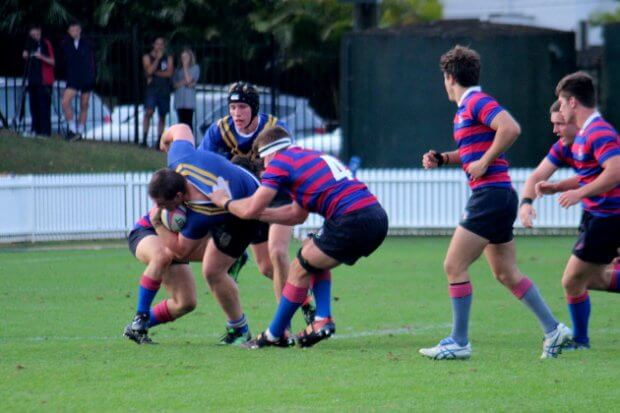 Deft hands through the backs enabled Joeys #14 Shortis score out wide. Replacement kicker #16 Quinn converted. Waverley 40 – Joeys 14.
With seven minutes remaining Joeys #9 Dowling also scored near touch and Quinn nailed another difficult conversion. Waverley 40 – Joeys 21.
But too much damage had been done in the first half. Waverley's #6  Liam Cornish sealed Joey's fate through slick hands by the Waverley backs. Converted.
Fulltime score: Waverley 47-Joeys 21.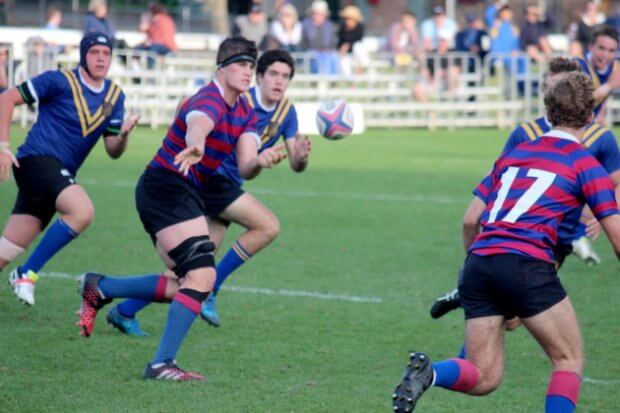 Waverley were on-song and were deserved winners. Joeys got rattled early by a physical and aggressive opponent, but at least they rallied for a 14-14 second half.
Best for Joeys: Forwards Nick Janson and John Yates. Backs Dylan Dowling and Joseph Kandalaft.
Best for Waverley: Forwards Finn Wright and Finn O'Sullivan. Backs Ben Donaldson and Brooklyn Hardaker.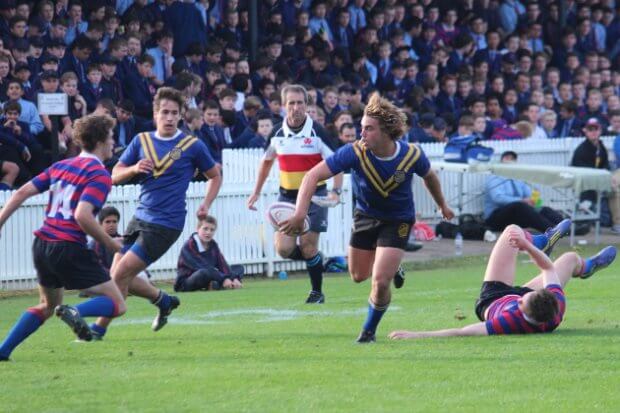 Other scores
Joeys 2nds 35 – Barker 1sts 22
Joeys 3rds – 38 Waverley 2nds 7
Joeys 16A 32 – Waverley 12
---
Knox v Newington

By "Waratahs to Win"
As Knox lined-up against Newington it was a complete mystery to most pundits what the outcome of this match would be.
Traditionally, you would expect the fancied GPS team from Stanmore with the 150 year tradition to be more dominant. However, Knox having just beaten Riverview and Kings in recent weeks, have shown that they can compete and win against the GPS teams this year.
Knox took possession from the kick-off and proceeded to swing the ball left and right down field. After many phases of play Knox parked themselves in the Newington 22.
An unfortunate Knox penalty allowed Newington to regain possession and work the ball down into the Knox 22. From the ensuing series of scrums and lineouts in the Knox red-zone, Newington's THP, Chris Icanovski, crossed for a try in the corner. The conversion missed.
This trend continued for the next 60 minutes. The Knox team were penalised about 25 times for everything from off-sides, holding onto the ball on the ground – to lineout infractions.
Newington played nearly error-free footy and capitalised on being gifted the ball every time Knox gained possession. The Newington forward pack were brutal at the breakdown and had dominated the scrum. They bustled and bashed Knox at the breakdown and perhaps rattled them.
Another series of Knox errors allowed Newington to park themselves in the Knox 22 resulting in a try to Newington fullback, Sione Mone. The try was converted by no. 10 Joey Caputo.
Knox finally hit back when they managed to retain possession for more than three phases, and avoided penalties. THP Max Cutrone barged over from around the base of a ruck for a try that wasn't converted.
But after further ill-discipline by Knox, no. 6 Oliver Harvison was sent to the bin.
Newington capitalised on Knox playing with 14 men when no. 13 Raine Dellow crossed under the posts for an easy conversion.
Halftime score: Newington 17 – Knox 5.
The second half was more of the same, generally. The Newington forwards gained ascendancy, particularly at the break-down. They made few unforced errors and were assisted by Knox losing about half-a-dozen lineouts, or the mauls from them.
Newington LHP Angus Bell barged over for an unconverted try. Then after a dynamic 60-metre run by Knox no. 10 Tom Woodcock, hooker Ben Adams replied in kind.
There were no extras for them either. Newington 22-10
But time was running out for Knox and it was Newington that scored next anyway. Lock Witerianan Koopu scored after a barging run by his no. 7, Finn Kearns. 29-10
Knox scored a consolation try after LHP Brady Dawson went over from the back of a ruck. Woodcock converted.
Final score: Newington 29 – Knox 17
Newington secured victory based on bruising forward play and low-error footy. Knox will have to improve their poor discipline and dodgy lineouts.
Best Players:
Newington: Finn Kearns, Angus Bell, Raine Dellow, Chris Ivanovski
Knox: Max Cutrone, Tom Woodcock, Mike Pavlakis, Tom Humphrey
Newington College 29 ( Bell, Icanovski, Koopu, Deloow, Mone tries; Caputo 2 cons. ) def. Knox Grammar 17 (Cutrone, Adams, Dawson tries; Woodcock con.)
---
Joeys 2nds v Barker
By Rod Skellet
In an interesting day of rugby at Hunters Hill Joeys Seconds beat Barker Firsts 35-22, scoring five tries to four.
With Joeys Thirds knocking off Waverley Seconds in convincing fashion earlier in the day, Barker needed to bring their A game to Hunters Hill.
Unfortunately that was not to be, with simple mistakes gifting a well-drilled Joeys' team easy possession and they took full advantage. Darting from the base of a ruck 9 Joseph Dalton scored the opening try. Converted 7-10 .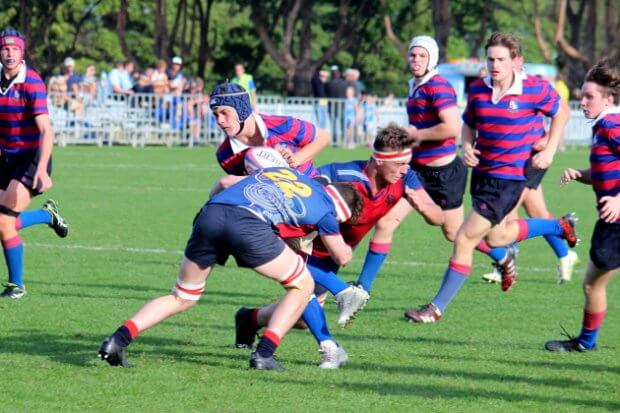 Lock Bokenham and 8 Edstein-Boyes were prominent for Joeys, and eventually a strong run by hooker Bourchier broke tackles for their second meat pie. With the extras the score was 14-0 after ten minutes.
Barker were their own worst enemy. Momentum was handed to the gleeful Joe boys by kicking out on the full in general play, not finding touch with penalties, incurring too many infringements themselves and poor ball retention.
With 10 Gibbs directing traffic, the Joeys' backs kept the pressure on the Reds for Joeys to score their third try through Bokenham. Converted.
Half-time score: Joeys 21 – Barker 0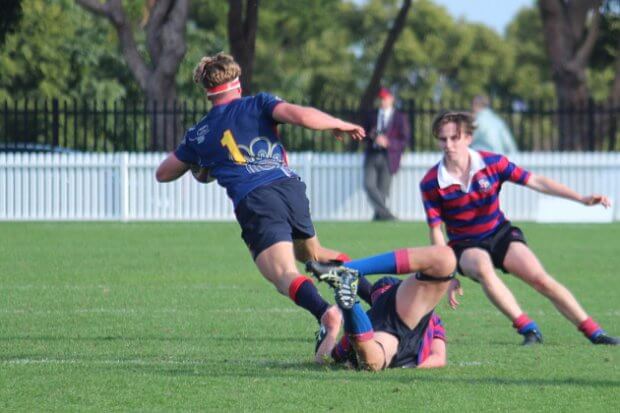 It was a different ball game after the break. The Reds forwards cranked things up with 8 Reimer, LHP Chalmers, and reserve Pollard getting Barker on the front foot.
A scything run by Pollard put the Reds deep into Joey's half. The forwards sensed a change of momentum, and kept the ball tight for a try to lock Flaherty.
But Joeys hit straight back, getting in good field position from a simple Barker error. Quick hands allowed winger Daly to score in the corner. Converted – Joeys 28-5.
A frank pep talk behind the sticks by Barker skipper Reimer clearly worked because Barker came out firing.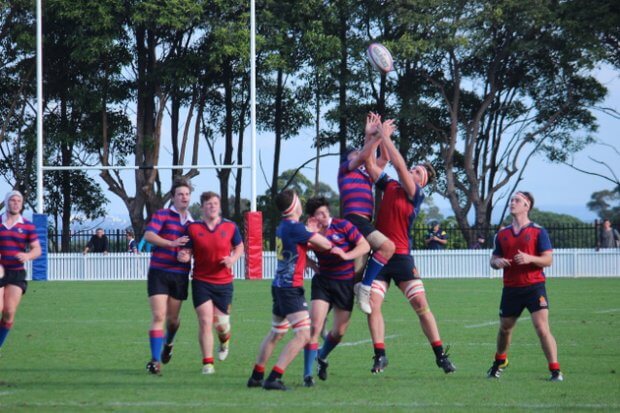 The forwards and backs combined smartly, which pressured the regimental defensive patterns of Joey's, and Hutton was over for his second try.
The score was 28-10 to the home team after the conversion missed.
The second half was turning into a quality game, with the errors that plagued Barker in the first half put behind them; but Joey's were still playing good rugby.
But they were not giving in, and they finished strongly, scoring two tries in the last 15 minutes – to THP Melchoir and replacement back Matt Graham.
Final score: Joeys 35 – Barker 22.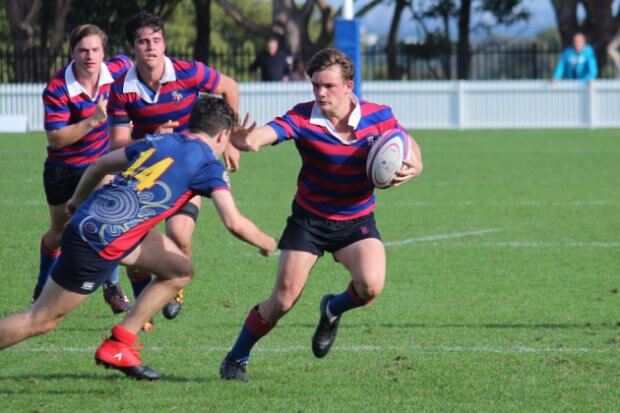 Joeys deserved their win. Barker have plenty to learn, but they have the players to match it with the best sides, including Waverley, if the eliminate simple errors.
For Joey's their Seconds played mistake-free, hard-running rugby, the type of game their First 1st XV needed to play.
Best players
Best for Joeys: Bourchier, Gibbs, Bokenham
Best for Barker: Tejcek, Flaherty, Chalmers
Photos by Lee Grant
.