Barker v Riverview
Final Score Riverview 40 defeated Barker 35
In the final mixed CAS/GPS/ISA trial before the CAS season starts, Barker was aiming to keep its unbeaten season on track, while Riverview were after another heavyweight CAS scalp having beaten Waverly at Death Valley earlier in the year.
With both teams on the halfway before the start of play, Philip Heath the Barker Headmaster, called for a minute's silence in respect for the passing of a Riverview lad who had played 1stXV rugby in 2015/2016. Players and spectators alike stood in solemn silence in remembrance of this young man.
1st Half
It was clear from the kick off that Riverview had done their homework on Barker. With a size advantage in the forwards, View decided to play a gruelling forwards game, taking on Barker's pack in a brutal confrontation of the irresistible force v the immoveable object. View kept things tight in the early exchanges, valuing possession. 2 quick penalties from Barker being offside and a loose high tackle put View deep in Barkers half. VC Max Moore (8) did the rest and with a fine sideline conversion from Dominic Easy (12), View were in front 7 nil.
This snapped Barker into gear and after some solid work by Barkers prop Gus Collison, capt Tejcek (9) worked a move off the back of a maul to crash over. With Nercessian (12) adding the extras it was tied up 7 a piece.
Barker soon added another try after a blockbusting run by prop Dane Wilson(3) who bulldozed 2 would be tacklers to gain good field position for the Reds. An opportune free kick and an ever alert Tejcek caught the View forwards napping as he darted over for his second try of the day. At 14/7 the crowd was feeling confident.
But the beat of the drum from the View spectator contingent fired up the boys. High tackles had cost Barker once, and another was equally expensive, and with quick hands through the backs Hamish Macdonald (14) scored in the corner. Dom Easy again slotted a fine sideline conversion in trying conditions to tie the game up.
It was abundantly clear to this writer that View were the real deal. With 6 Junior Smidt and 3 Oliver Hannan, really testing Barkers defensive line with ball in hand, and a back line that is very polished and confident with Easy 12 and Bell 13 creating plenty of space and always looking dangerous.
Barker on the other hand were their own worst enemy. Dropped passes and kicking away possession were plaguing their game and gifting opportunity to View. That said the next score came from Barker after some smothering defence by Barkers outside backs, Bryden (11) and Graham (13) saw Dudley (12) swoop on a pass to send Graham untouched to the line. With Nercessian adding the extras Barker now led 21/14.
A loose kick from Barker following a deep restart from View again gave View good field position and possession. The big men kept it tight and for what seemed like 8 to 10 minutes the pressured Barkers line. A yellow card to Flaherty (5) for backchat, left Barker without their biggest enforcer and with View only 2m out the inevitable happened with Junior Smidt (6) crashing over. With Easy adding the conversion it was 21 all at HT.
2nd Half
With View running with the wind, and Flaherty still in the sinbin, any thoughts of victory by either side was premature. With a man advantage, View pressed the advantage line with both their big forwards and slick backs making life desperate for the lads in Red. View did not need any luck, but a cruel bounce of the ball for Barker after a chip ahead by 10 Sam Bignold had George Clark (11) under the posts for View's 4th try of the day. With Easy taking the easy extras View were up 28/21.
Despite being a man down, Barker were still prepared to play and expansive game. A typical run by Reimer (8) put Barker on the front foot and nice set move in the backs with Dudley combining with Kitchener on the run around put Graham into space to score a fine try.
At 28 all no one was leaving.
With Flaherty back on, his team mate Lochie Dring (4) who had been in a battle royale with Views Junior Smidt and 5 Saxon Gillies celebrated by scoring strong try and with the conversion Barker was back in front 35/28.
With at least 10 minutes on the clock this Riverview side were not giving up and they hit back straight away with another swift backline move putting Hamish Macdonald in for his second of the day. The kick was not the hardest Easy had taken that afternoon, but a brilliant rundown from Ovendon and Bryden, put him off and it shaved the outside of the uprights. Barker clung to a 2-point lead, 35/33.
With 3 minutes left on the clock, and darkness beginning to descend on the ground, Riverviews capt Angus Bell stepped up and scored a fine centres try, to edge his team in front. With the extras it was 40/35.
With a minute left, Barker went for a short restart and regathered. With ball in hand they marched the ball up the field. Phase after phase they hit the View advantage line until they were within 5 m of the line. Surely this was not going to be a fairy tale ending. It was not to be. An offensive penalty to View enabled the blue and whites to kick the ball into touch to end this epic encounter.
Final Score Riverview 40 Barker 35
Best for Riverview: Bell, Easy, Smidt
Best for Barker. Tejeck, Dring, Graham
Scots v Kings
Scots def. Kings 19-10
In a penultimate Trial contest of GPS Season 2018 heavyweights, on a chilly, blustery, rainy day up at Bellevue Hill, Scots bested Kings 19-10.
1st Half
An early, wind-affected, long throw-in pass from Scots was pounced on by ever-alert Kings' right wing, Jordan Williams(14), playing down the left and toeing ahead, to bag a maximum-pointer, opening the visitor's account. It was no real surprise that the conversion missed from out wide, but Kings scoring into the headwind had surprised the hosts.
Kings were handling the unfriendly conditions the better. They were worrying Scots out of their own line-out ball, and led by their tigerish blindside flanker, Gery Lefebvre(6) who played just enormous, they were meeting and challenging head-on, Scots' defensive strength across the park.
But this 2018 cohort is not a Brian Smith-coached team for nothing, and the lads in Gold did finally settle into their work.
After patient pick and driving, building multiple phases, then something sudden and expansive from skipper, Will Harris(8) and OC, Kobe Rugless(13), Scots' loitering "left wing", Ben Zucchiatti(14), intelligently brought Scots' first touch-down well inboard from the grandstand touchline. Flyhalf Charlie Savala(10) honoured the bring-around, nailing the conversion, and Scots led 7-5.
20" in and following sustained Scots' forwards' pressure, a deft 5m scrum-base feint by Seb Strang(9) to the open side, a flick back to the wide blind, and custodian Jack Mossman(15) strolled in. An 'easy' conversion in the context of the conditions, and Scots led, but far from 'comfortably'.
Half time: Scots 14 led Kings 5
2nd Half
A prodigious, 50m wind-assisted, kick-back return to the Harbour end by Kings' custodian, Johnny Connolly(15), served to remind Scots at who's collective backs the prevailing gale was now blowing. Kings' second-half strategy was plain, and pressure for the next 35" would all be on Scots' back three and their main kicker, Charlie Savala(10).
A too-slowly taken defensive kick out by Scots hit Kings' young gun left-wing, Joseph Suaalii(11), playing down the right; and like some young Israel Folau, Suaalii spectacularly regathered and swan-dived in to score. Scots 14-10.
Kings were maxxing out the breeze at their backs, and turned excellent kicking into compelling field positions, constantly testing Scots' defensive lines and endeavour.
It took Scots' a full 15" of the second half just to visit the Kings' 22, but from an attacking line-out, a clever kick through to heap pressure on Kings' custodian, John Connolly(15), and an ensuing 5m scrum, Scots' sharp-as a whip halfback, Seb Strang(9), set up the big blind for flyhalf, Charlie Savala(10) to cross. Scots now up 19-10.
In the back stanza, despite pushing up into the wind, Scots played the conditions much better. Some inaccurate and ineffectual chip-kicking aside, which only gifted possession back to Kings, Scots otherwise played a tight, controlled, field position game to effectively shut down and shut out the Sky-blue and white.
Full time: Scots 19 def. Kings 10
Best Players
Scots:
Will Harris(8) – just imposes himself into and on, the contest
Seb Strang(9) – accurate, quick, smart footballer; superb performance
Hugo Patterson(1) – crazy-busy LHP; a credit to the Brotherhood (of Front-Rowers)
Kings:
Gery Lefebvre(6) – incredible work-rate; led Kings' pack by example
Oscar Mitchell(8) – was the other side of the No.8's arm-wrestle today
Matt Minogue(10) – calm, collected; classy performance
The Wrap
An even-Stevens tussle today between closely matched sides. Both solid in their set pieces, with well-patterned and effective defensive structures, had to work very hard to gain any advantage in attack.
That these two teams next meet in the final Round of the 2018 GPS Championship, seems almost prescient scheduling!
Scoring
Scots 19 (Zucchiatti, Mossman, Savala tries; Savala 2 conv) def. Kings 10 (Williams, Suaalii tries)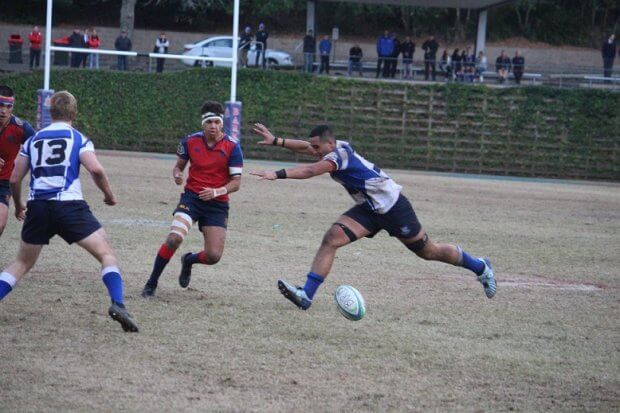 St Aloysius vs Cranbrook
Both teams were facing their first major test in the pre season invitationals as neither had played a CAS team up until this point
First Half
The opening stages of the game were highlighted by errors on both sides with a lot of scrums taking place. Aloys dominated in the set piece in the first half, forcing the Cranbrook scrum to give away many penalties.
However Cranbrook were able to steal the ball from a breakdown and spread it wide to talented winger Peter North (11) who accelerated downfield from 40 metres out stepping the Aloys fullback to dive over for the first try five minutes in. A shellshocked Aloys were clearly not expecting such ferocious counter attack and needed to switch on fast if they wanted to stay in the contest.
Aloys defence held Cranbrook inside their half off the kickoff and eventually forced a turnover allowing themselves to attack for the first time. Cranbrooks defence held for the first few phases of Aloys attack on their line, holding up an Aloys try, but a well orchestrated backs move of the subsequent scrum allowed Fogarty (11) to dive over to put Aloys on the board.
Aloys keen for more tries worked their way up the field off the kickoff and sustained attack in Cranbrooks half allowed for Perego (7) to make a break down the side line grubbering ahead for Hampton (13) to chase, who showed off his speed burning the Cranbrook backline to dive on the ball right before it rolled dead to get the score for Aloys.
Carroll (8) for Cranbrook was shown a yellow for punching in some push and shove off the kickoff and was joined shortly after by Aloys number 8 Ryan for an intentional knock down.
With both sides playing with 14 men for the rest of the half, gaps were opening everywhere with the back three for Cranbrook punishing any Aloys kick with a deadly Counterattack that all the other CAS teams should be wary of. With the clock winding up a penalty in Aloys 22 allowed Cranbrook to reduce the gap to 4 going into the oranges.
Halftime Aloys 14 – 10 Cranbrook
Second Half
The second half was a display of skilful running rugby by both teams.
With the weather starting to clear more offloads were being thrown and this led to some helter skelter rugby to be played. S Spalding (12) and Pollack (10) were an absolute menace in the initial phases launching the attack into the Cranbrook 22. However the wall of Cranbrooks defence held strong and refused to break even from damaging runs from Rahme (6) and F Splading (2).
This Intensity was rewarded when a breakdown penalty and a huge punt allowed Cranbrook to end up all the way inside Aloys half in seconds. A few minutes later the Aloys defence crumbled and a returning Carroll(8) spotted a gap and took a run from a pick and drive getting into Aloys 5 metre and showing great awareness to pop the ball inside up to his Prop Hayman to score under the posts.
With the score now 15-14 to Cranbrook the Boys from bellevue throw caution to the wind with a break coming from the kickoff, showing some excellent hands and speed for Taylor (13) to cross over the try line. However Aloys fans could breath a sigh of relief as the touch judge had signalled a cranbrook player had put his foot out seconds before passing to the eventual try scorer.
This relief turned to celebration as a revved up Aloys forward pack dominated their Cranbrook counterparts to force themselves 60 metres downfield in a matter of phases thanks to dominant carries again by F Spalding (2) and Ryan (8), and off this Pollack (10) was able to score the try of the game evading 3 tackles and storming over the Cranbrook 9 to put Aloys back in the lead 19-15 with 10 minutes to go.
The young Cranbrook team never gave up though, especially after this when it looked like Aloys expected they might just do so, and with the substitution to allow O'Reilly on to the field the physicality was ramped up. Aloys lost the ball of the kickoff and held out Cranbrooks vicious attack for as long as they could until eventually a Strong maul from Cranbrook drove Bible (7) over for the go-ahead try with 5 minutes remaining.
In another twist of events Cranbrook lost the ball of the kickoff and Aloys were straight onto attack with Spalding (2) and Pollack (10) both making breaks through the Cranbrook line but were unable to link with any supporting runners. In the end the clock ran out and Intense Cranbrook defence led to a forced knock on and the Ref blew the whistle to send the Cranbrook team to victory.
Recap
The game at most points was either teams for the taking, Aloys dominated the first half in the Forward back but were unable to capitalise on that. Cranbrook were the deserved winners in the end as they came to win, obviously not happy with some peoples predictions that they were the predicted wooden spooners. A big season is coming for both teams and there is still plenty to work on come round 1, But I wouldn't write off either of these teams, especially Cranbrook, as easy wins if I were another CAS school.
Best Players
Aloys:
Ben Pollack (10) – Leader of the team in Attack, staunch on defence
Noah Perego (7) – Dynamic around the field, and puts on hits much harder than his size would suggest capable
Finn Spalding (2) – Near perfect at set-piece and strong carrier with ball in hand
Spencer Spalding (12) – Decisive in all aspects of play and with an enormous boot, Aloys would wish they used him more often
Cranbrook:
Ed Banks (2) – Was solid all around the field and was never short of heart on defence
Alex O'Reilly (16)- First game back and showed how important he is to the team, Physical, Big and Skilful enough said
Johnny Vicars (12)- excellent communicator in the Backline, was vital in the links between the Pack and the Backline
Peter North (11) – Fast, Skilful and great awareness, reminds me a lot of Will Lloyd, big future in him
Waverley v Shore
Unlike every previous week the weather was pretty horrible, not much rain but damp, cold and windy conditions for this return match at Queens Park.
Over the last few weeks reports had come in that the Shore side had made some solid improvements since it's opening game this season.
Given the conditions, there was a reasonable crowd at QP for the 3.15 kick off.
The Waverley side had been testing various combinations over the last 3-4 weeks, particularly in the back line, and appears to have made good use of these tough "trial" games.
Today's game saw a few more changes in what appears now to be the final solution.
1ST HALF
The Shore forward pack opened up with much gusto in a clear attempt to nullify some of the more taunted Waves forwards with solid defence.
The 1st 10 minutes saw a real arm wrestle with neither side giving an inch to the point where most of the play centred around the half way line.
Slowly but surely the Waves backs started to throw the ball around, which was very adventurous given the windy conditions.
Eventually, as the Waves forwards pressed the Shore pack on it's own line, the ball was thrown wide and Levi Milford raced over for what was to be this 1st of his 3 tries for the day.
Goal kicking on the day was extremely difficult, and as a result of the 9 tries scored only 3 were converted.
From the Shore kick off the Waves again started to play enterprising running rugby, this time down the right hand side of the field, ending in an inside pass to Tadgh Murph who strolled over just in from the corner.
As the game started to open up, it was then that no.10 Lathan Hutchinson-Walters started to really impose his strong running style and passing prowess punching a whole in the Shore backline which again led to a Levi Milford try.
All the while the Shore team was not shirking its task, it was just a few smart individual touches that took their toll. In fact only shortly after trialling by 17 Shore hit back with a smart try to no.14 Jackson Thomas who crashed over after a consistent rolling set of mauls by the committed Shore pack. This was countered shortly after by a good try to the Waves no 14, Jacob Tomasiello, who was returning after weeks out injured, he powered over after a solid back line raid.
HALF TIME : WAVERLEY 22 SHORE 5
2nd Half
As the 2nd half opened up it appeared as though the Waves had been instructed to throw the ball around even more and test a number of new moves.
Shore's strategy was clear, and that was to wisely use the cross wind and the play the game deep into the Waves half.
It was about now that the power of Moretti and co started to take its toll with strong hit ups taking place out wide, inside balls and cut outs taking place.
The Waves no.13 Levi Milford again backed up a wide break and scored near the corner, this was followed up by no.4 Harry Whiteman punching a hole out wide and scoring in the opposite corner.
It looked now as though the flood gates were about to open, but to their credit Shore hit back with a nice try to no. 12 William Austin after another solid forward platform was laid.
The following 10 minutes looked as though some training moves were in order as both sides threw the ball around in an attempt to test what impact such moves really delivered.
The final try was a pleasure to watch as Moretti again broke through out wide and threw an inside ball to no.11 Phoenix Baldwin who raced over under the sticks, game over.
FINAL SCORE : WAVERLEY 41 SHORE 10.
SUMMARY :
The Shore school at no stage gave up the game, their forwards were committed all day. Their backs did seem to lack some real punch and only scored after the forwards were able to grind out territory and get within striking distance of the opposition try line. You would think this is an area of focus for them as they come up against their strong GPS opponents in a few weeks.
Best for Shore was no.2 James Harding, no 4 Jack Cowan and no.8 Ben Brownie.
It appeared as though the Waves approached this game with the clear intent to test out a few more new positional changes and game moves. They certainly threw the ball around in trying windy conditions, some times the moves were a bit over the top but the game was never really in doubt. Best for Waverley no 9 Reece Thorn, no. 13 Levi Milford, No 10 Lathan Hutchinson-Walters, No.12 Ronald Volkman,and No 4 Harry Whiteman.
It also appeared that neither side incurred any significant injuries.