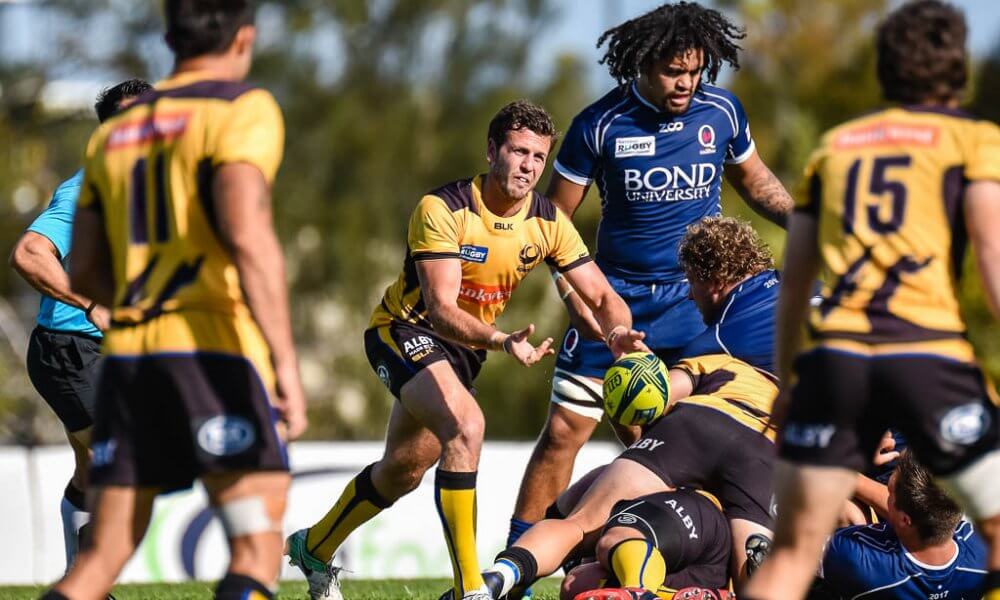 The bullet express preliminary season is just three rounds away from completion. So while we can sit back and marvel of the exceptional round of rugby that was last round, there's no time for complacency as teams jockey for finals positioning.
The four Round 4 games were wonderful events in their own right, but perhaps more so for the impact on the ladder.  Fiji's come from behind win and QLD Country's come from in front loss mean they now share top spot on the latter, although with the Drua having a slightly better for and against. The Force and Vikings fought hard for their wins, and lucky they did as Brisbane City's win over the Rising not only stops Melbourne's finals hopes but keeps the slickers in with a hope.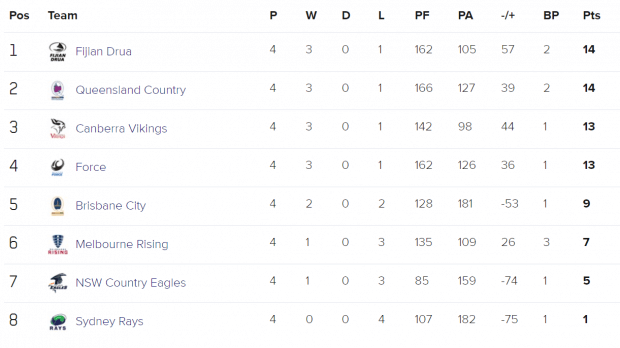 Most eyes will be on the local derby in Brisbane for this round with that game being the one with most possible impact on the top four.  That is, unless, there is a major upset in any of the other three games. Which, you know, could happen.
FIJI DRUA v NSW COUNTRY EAGLES (LIVE STREAMED ON FOX SPORTS)
SATURDAY 29 SEPTEMBER AT ANZ STADIUM, (SUVA). KICK-OFF 3:00PM LOCAL TIME (1PM ECET)
REASONS NOT TO MISS THE MATCH:
We are about to enter the defining component of the Drau season. They've returned from the first 'away' leg of their season with a win and a loss which, following on from their two home wins to start the season, put them in a pretty handy spot. You'd think they'd be confident heading into these home matches but given their performances last year, perhaps not? The corresponding games of last year, the return home leg, saw the Fijians lose both of their home games to Queensland Country and the Sydney Rays.  They won't be able to afford a similar lapse this season if their aspirations stretch beyond simply finalists.
In light of that it is perhaps a little surprising to see the Drua coach Senirusi Seruvakula has made some pretty significant changes to his squad. It's a fine line between trying out new players or players in new positions, and doing what's best to go all the way and win the comp. We're seeing some fairly dramatic changes to the team this week with last week's flyhalf Vularika moving into scrumhalf and a debut on the side of the scrum for Jone Vavori.  Big winger Apete Daveta moves into 13 and we continue the hooker rotation with Dololokoto also getting his first start.  Is it wise to make so many changes so close to the finals? I guess we'll find out on Saturday.
Will Miller takes the reigns of the Eagles this weekend with usual skipper Paddy Ryan unavailable. Miller's work on the ball will be crucial up against the Drua who thrive on quick turnover ball and counter attack. If Miller, and fellow experienced backrower Sam Figg, can manage to control the ruck and slow down that ball, then the Eagles could have a shot. The pack, which features professional players Tolu Latu, Harry Johnson-Holmes and Jed Holloway, have the potential to get the wood over the Drua which is important because there seems a pretty large disparity between the two backlines.
FIJI DRUA:
1. Joeli Veitayaki, 2. Mesulame Dolokoto, 3. Alifereti Rabukawaga, 4. Tevita Naqali, 5. Albert Tuisue, 6. Mosese Voka (c), 7. Jone Navori, 8. Eremasi Radradro, 9. Serupepeli Vularika, 10. Alivereti Veitokani, 11. Aporosa Tabulawaki, 12. Jone Manu, 13. Apete Daveta, 14. Levani Kurumudu, 15. Apisalome Waqatubu
Replacements: 16. Ratunaisa Navuma, 17. Eroni Mawi, 18. Luke Tagi, 19. Filimoni Seru, 20. Johnny Dyer, 21. Peni Matawalu, 22. Apisalome Vota, 23. Asaeli Atunasia
Form:
W W L W
NSW COUNTRY EAGLES:
1.Harry Johnson-Holmes, 2. Tolu Latu, 3. Chris Talakai, 4. Jed Holloway, 5. Emmanuel Meafou, 6. Nick Champion-Descrisepnay, 7. Will Miller (c), 8. Sam Figg, 9. Mick Snowden, 10. Mack Mason, 11. Alex Gibbon, 12. Will McDonnell, 13. Alex Newsome, 14. Seb Wileman, 15. Jaline Graham
Replacements: 16. Mahe Vailanu, 17. Matt Gibbon, 18. Rob Lagudi, 19. Patrick Tafa, 20. Alex Humphrey, 21. Denny Godinet, 22. Jack Grant, 23. Afa Pakalani
Form:
L L W L
TIP: Despite the changes, I'm still predicating the Fijians to do the business at home. Drua by 20.
---
CANBERRA VIKINGS v MELBOURNE RISING (LIVE ON FOX SPORTS)
SATURDAY 29 SEPTEMBER AT VIKING PARK (CANBERRA). KICK-OFF 7:00PM LOCAL TIME
REASONS NOT TO MISS THE MATCH:
This feels a bit of a banana skin game for the Vikings. They were largely unimpressive last weekend despite finishing on top of the NSW Country Eagles. Jordan Jackson-Hope, who scored the last minute winner last weekend, is out for personal reasons opening the way for Irae Simone to get a run in the 12 jersey.  The Rising have been impressive in stages this season so if they can actually play closer to 80 minutes than 60, they have the talent and ability to claim the upset this weekend.
We haven't seen Matt Philip since his absolute stormer in Round 1. After a very good Super Rugby season, he was the Rising's best in their big loss to the Drua in Fiji. Injury has kept him out of the squad since, but he returns straight into the starting jersey at lock this weekend. Surely he's a man the Wallaby selector is looking at? If not at lock, then as a viable blindside option with Lukhan Tui gone for a while.  He'll be looking for a massive game against a damn strong Vikings pack to stake his claims for an end of season tour call up.
I reckon there's a good chance Connal McInerney will score a try this weekend. Call it a feeling in my gut.  Or call it my statistical analysis that shows that Vikings hookers have scored a greater percentage of their team's tries than any other NRC team. Almost 13% of all of Canberra's tries in the NRC have been scored by their hookers, with Robbie Abel leading the way.  It's a random fact, I acknowledge, and fairly meaningless in the scheme of things but it gave me another bullet point for the article so just enjoy it for what it is.
CANBERRA VIKINGS:
1. Vunipola Fifita, 2. Connal McInerney, 3. Tom Ross, 4. Blake Enever, 5. Darcy Swain, 6. BJ Edwards, 7. Brodie Leber, 8. Ben Hyne (c), 9. Joe Powell, 10. Wharenui Hawera, 11. Chance Peni, 12. Irae Simone, 13. Len Ikitau , 14. Lausii Taliauli, 15. Andy Muirhead
Replacements: 16. TP Luteru, 17. Sione Taula, 18. Max Bode, 19. Liam Rasch, 20. Mitch Tye, 21. Ryan Lonergan, 22. Noah Lolesio, 23. Mac Hansen
Form:
L W W W
MELBOURNE RISING:
1. Fereti Sa'aga, 2. Anaru Rangi, 3. Jermaine Ainsley, 4. Esei Haangana, 5. Matt Philip, 6. Rob Leota, 7. Richard Hardwick, 8. Isi Naisarani, 9. Michael Ruru, 10. Archie King, 11. Sione Tui ,12. Sione Tuipulotu, 13. Tom English ©, 14. Angelo Leaupepe, 15. Justin Marsters
Replacements: 16. Andrew Tuala, 17. Mees Erasmus, 18. Pone Fa'amausili, 19. Sakari Noa, 20. Kojiro Yoshida, 21. Harrison Goddard, 22. Kemu Valetini, 23. Kity Ratu
Form:
L L W L
TIP: I suspect the Vikings will continue on their winning way, but there was enough shown by both sides last week to suggest an upset is possible. Vikings by 4
---
BRISBANE CITY v QUEENSLAND COUNTRY (LIVE ON FOX SPORTS)
SUNDAY 30 SEPTEMBER AT WESTS RUGBY CLUB (BRISBANE). KICK-OFF 3:00PM LOCAL TIME
REASONS NOT TO MISS THE MATCH:
I've been smashed on the blog this in the midst of a Hamish Stewart v Quade Cooper flurry of angst (Bernard Foley must be so jealous). So one can assume the clash of these two Queensland 10s will have a few eyes on it this weekend. They clearly play different games, with Quade being the main playmaker for Brisbane, recently thriving with the stead Scott Gale inside him and Matt Gordon outside.  On the flipside, Stewart plays with flash either side of him and plays more a linking game. Both are in fine form so the impact they can impose on their respective teams will be fascinating.
They say a rivalry is only as effective when both teams challenge it. It's fair to say the first three years of Andy Purcell Cup did little to build a rivalry.  Brisbane pretty much steamrolled Country. Even in 2016 when Brisbane were dismal, they still won the Cup in a rather incredible 58-52 encounter at Ballymore. Last year it all changed though. Round 2 in Noosa was the scene when Country's claim for the 2017 title commenced and they won their first piece of silverware. A resounding 31-12 victory gave the country lads the cup and they won't be enthusiastic about handing it over this year.
There are oodles of stars in these two teams but the clash I am most looking forward to seeing is that of the young opensides. Matt Gicquel for Brisbane City and Tom Kibble for Queensland Country, combined to help their club GPS claim their first QLD Premier Rugby premiership since 1996 a month or so ago. Today they face off as teenage combatants who are the future (hopefully) of the QLD Reds.  Neither plays like teenagers though and its ludicrous to thing that Aussie U20 backrower Fraser McReight sits on the bench, while Liam Wright is out through injury. Throw in Harry Wilson, starting at 8 for Country as well as the much unheralded yet eye-catching Sam Wallis, and it is some of the lesser lights that could steal the show on Sunday arvo.
BRISBANE CITY:
1. JP Smith, 2. Moli Sooaemalelagi, 3. Ruan Smith, 4. Zach Moimoi, 5. Nathan Den Hoedt, 6. Adam Korczyk (C), 7. Matt Gicquel, 8. Sam Wallis, 9. Scott Gale, 10. Quade Cooper, 11. Jaye Thompson, 12. Matt Gordon, 13. Tautalatasi Tasi, 14. Con Foley, 15. Karmichael Hunt
Replacements: 16. Sean Farrell, 17. Josh Nasser, 18. Feo Fotuaika, 19. Jale Vakaloma, 20. Tuaina Tualima, 21. Fraser McReight, 22. Moses Sorovi, 23. James Dalgleish
Form:
L L W W
QLD COUNTRY:
1. Richie Asiata, 2. Effi Ma'afu, 3. James Slipper, 4. Harry Hockings, 5. Angus Blyth, 6. Angus Scott-Young, 7. Tom Kibble, 8. Harry Wilson, 9. Tate McDermott, 10. Hamish Stewart, 11. Filipo Daugunu, 12. Duncan Paia'aua ©, 13. Chris Feauai-Sautia, 14. Jock Campbell, 15. Jordan Petaia
Replacements: 16. Alex Casey, 17. Harry Hoopert, 18. Jake Simeon, 19. Rob Puli'uvea, 20. Michael Wood, 21. Harry Nucifora, 22. Patrick James, 23. Tom Lucas
Form:
W W W L
TIP: I feel this is the closest these two teams have ever been making it a touch pick. At the time of writing I am leaning towards…Brisbane by 3.
---
WESTERN FORCE v SYDNEY RAYS (LIVE STREAMED ON FOX SPORTS)
SUNDAY 30 SEPTEMBER AT UWA SPORTS PARK (PERTH). KICK-OFF 3:00PM LOCAL TIME (5PM ECET)
REASONS NOT TO MISS THE MATCH:
One of the reasons behind the success of the Horan Little Shield is that it keeps interest in matches through the season. Ordinarily, a match just weeks away from the end of the season, between one of the high flyers and one of the cellar-dwellers would mean little. Instead, the Rays have the chance to secure a trophy this season despite currently being undefeated  means the Rays can get some silverware.  As the only one of the current NRC teams never to have held the trophy, it's a big opportunity to gain some positivity out of the season.
The Rays are clearly slow starters. I'm not sure how much of it can be put down to the scheduling of the Shute Shield, but last year too they went seven rounds with only one win. They then travelled to Perth to take on the high-flying Perth Spirit only to cause a dramatic upset – the Spirit's first home loss in over two years. The scene is set up for a similar challenge by the Sydney team this week as the Force seek to avoid another embarrassing home loss.
Rocket Rod Davies has scored five tries in the Force's four games so far this season. He leads his team's try scoring list by one try, ahead of Marcel Brache. More significantly he sits behind the record for the most tries scored by a Spirit / Force player in a single NRC season. Would you believe it is Richie Arnold who currently holds that record thanks to the half a dozen he scored last year.  Wingers everywhere will be cheering the Rocket on to rectify the record books and wipe the tight forwards achievements from it.
WESTERN FORCE:
1. Harry Lloyd, 2. Heath Tessmann, 3. Kieran Longbottom, 4. Fergus Lee-Warner, 5. Jeremy Thrush, 6. Harrison Orr, 7. Tevin Ferris, 8. Brynard Stander, 9. Ian Prior (C), 10. Andrew Deegan, 11. Rod Davies, 12. Rodney Iona, 13. George Pisi, 14. Masivesi Dakuwaga, 15. Jack McGregor
Replacements: 16. Harry Scoble, 17. Markus Vanzati, 18. Chris Heiberg, 19. Leon Power, 20. Henry Stowers, 21. Issak Fines-Leleiwasa, 22. Peter Grant, 23. Brad Lacey
Form:
W W L W
SYDNEY RAYS:
1. Matt Sandell, 2. JP Sauni, 3. Shambeckler Vui, 4. Ryan McCauley, 5. Nick Palmer, 6. Lachie Swinton, 7. Maclean Jones, 8. Jack Dempsey ©, 9. Mitch Short, 10. Will Harrison, 11. Curtis Rona, 12. Tyson Davis, 13. Guy Porter, 14. Latu Latunipulu, 15. Tim Clements
Replacements: 16. David Vea, 17. Kiernan Rabie, 18. Dean Doumbos, 19. TBC, 20. Jack Hayson, 21. Nick Duffy, 22. Connor O'Shea, 23. Enoke Muliufi
Form:
L L L L
TIP: I do think the Rays are capable of spoiling, but surely the Force are ready for it this year? Force by 14
---
But wait, there's more:
It's worth noting that the inaugural Under 19 kicks off this weekend as well.
The tournament will see Brisbane, NSW Country Eagles, Brumbies, Western Force, Sydney, Queensland Country, Melbourne Rebels and the Australian Barbarians battle it out at Viking Rugby Park in Canberra as teams vie for the title of the inaugural champions.
The competition replaces the Super U20s Championship and aims to provide a pivotal stepping stone between school and club Rugby and the Junior Wallabies.
All matches will be streamed LIVE on RUGBY.com.au.
Match Day 1: Saturday 29 September
Sydney v Barbarians, 10.30am
Queensland Country v Melbourne Rebels, 12.30pm
Brisbane v Western Force, 2.30pm
NSW Country Eagles v Brumbies, 4.30pm
Match Day 2: Monday 1 October
Queensland Country v Barbarians, 10.30am
Brisbane v Brumbies, 12.30pm
Sydney v Melbourne Rebels, 2.30pm
NSW Country Eagles v Western Force, 4.30pm
Match Day 3: Wednesday 3 October 
Melbourne Rebels v Barbarians, 10.30am
Brumbies v Western Force, 12.30pm
Sydney v Queensland Country, 2.30pm
Brisbane v NSW Country Eagles, 4.30pm
Match Day 4: Friday 5 October 
4th v 4th, 9.30am
3rd v 3rd, 11.00am
2nd v 2nd, 12.30pm
1st v 1st, 2.00pm