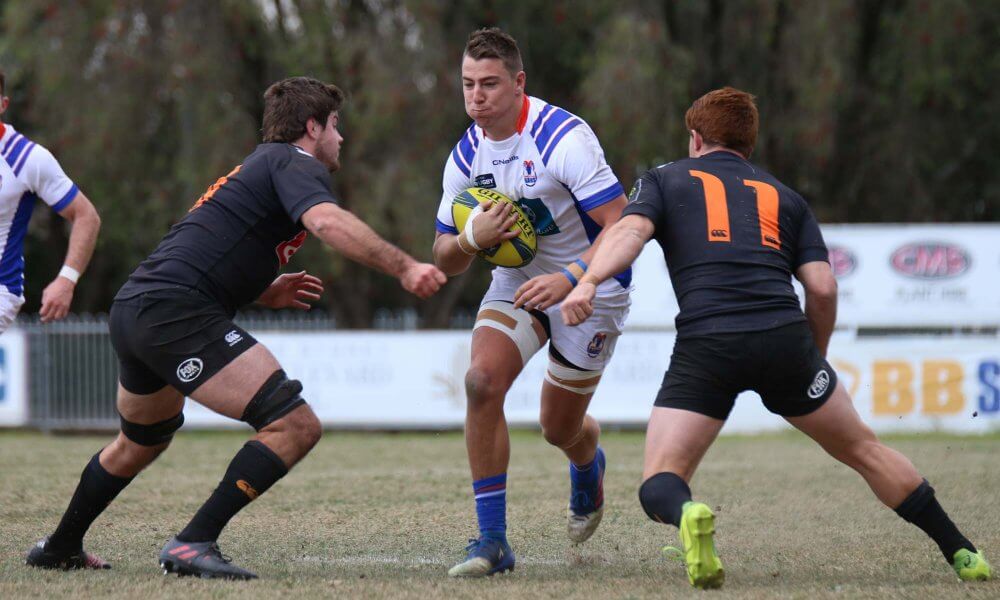 Last week's weekend of NRC rugby saw everything we love about this competition. There were a lot of fantastic tries scored, we had historic wins, wonderful individual performances and, dare I say, some fantastic intent and physicality in defence. As it stands the current table looks like this: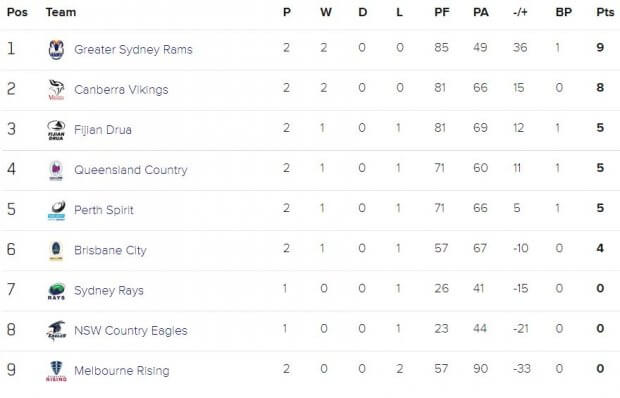 So there's plenty to play for this weekend with the two leading teams both having their first true away games, while Fiji host their first home with a massive crowd expected.  Let's look at this weekend's games and some of the things to keep an eye out for.
Sydney Rays v Melbourne Rising (Streamed via foxsports.com.au/live)
Saturday 16 September at Pittwater Rugby Park (Sydney). Kick-off 1:00pm (local time)
Reasons not the miss the match:
Rugby is back at Rat Park for the first time since Warringah won their Shute Shield Grand Final late last month. The Sydney Rays will be hoping some of that home ground magic can rub off on them as they seek their first win of the season.  In fact, with the Rising going down in both of their encounters this year, someone is coming away from this game with their first 2017 NRC win. Unless it's a draw that is.
While the Rays went down to the Rams last weekend there was plenty of entertainment to be had from their back three. Josh Turner, Paula Belekana and Latu Latunipulu were a constant threat to the Rams defence with Turner and Latunipulu particularly dangerous. Turner's pace was electric from the back and his match up with a certain Rising fullback could be memorable.
With no points on the board this season, Melbourne fans can still smile if only because of their two Jacks. Fullback Maddocks and flyhalf McGregor have been in stunning form so far this season. We've come to expect a youthful exuberance in these young players, and both have the energetic impact on a game you'd want to see. More significantly perhaps is the maturity both have displayed as well, particularly McGregor in the playmaking role.
Sydney Rays:                                                 
1. Sio Tatola, 2. Damien Fitzpatrick [c], 3. David Lolohea, 4. Angus Ryan, 5. Dave McDuling, 6. Conor Vest, 7. Tom Connor, 8. Hugh Sinclair, 9. Jack Grant, 10. Sam Lane, 11. Latu Latunipulu, 12. Rohan Saifoloi, 13. Apo Latunipulu, 14. Paula Belekana, 15.Harry Burey
16. James Hilterbrand, 17. Alain Miriallakis, 18. Sonny Satuala, 19. Alex Perez, 20. James Brown, 21. Nick Duffy, 22. Angus Sinclair, 23. Stephan van der Walt
Melbourne Rising:
1 Rory O'Connor, 2. Siliva Siliva, 3. Toby Smith, 4. Steve Cummins [c], 5. Emmanuel Latu-Meafou, 6.Jason Havea, 7. Ikapote Tapai, 8. Lopeti Timani, 9. Nic Stirzaker, 10. Jack McGregor, 11. Semisi Tupou, 12. Sione Tuipulotu, 13. Hunter Paisami, 14. Kitione Ratu, 15. Jack Maddocks
16. Mahe Vailanu, 17. Tom Moloney, 18. Fereti Sa'aga, 19. Esei Haangana, 20. Lloyd Johansson, 21. Harrison Goddard, 22. Simei Kolio, 23. Henry Hutchinson
Tip: I'm tipping Melbourne to be the ones to come away with the first win. Rising by 8
---
Fiji Drua v NSW Country Eagles (Live on Fox Sports)
Saturday 16 September at Lawaqa Park (Sigatoka). Kick-off 5:00pm (local time)
Reasons not the miss the match:
The Fiji Drua pulled off their first win of the season last week with a stunning display over the Rising in Melbourne. It was a performance that matched the usual Fijian characteristics of speed and skill with a brutal physicality that the young Melbourne team seemed taken aback by. You roll that performance into their first home game of the season and this Saturday arvo's encounter is set to be a cracker of an event to attend…if you are in Fiji. Otherwise it should be pretty damn good on TV.
The Eagles suffered what many consider a surprise loss in the first round to the Rams. A bye in the second round provided them an opportunity to regroup and re-asses and you can expect an improved performance this round. You can also expect a lot of buzz around the return of their breakout star of 2016, scrumhalf Jake Gordon. With brilliant acceleration and an innate support game, Gordon will provide important attacking impetus to this Eagles outfit.
Australians are somewhat used to flying Fijian wingers tearing up the rugby field and scoring tries – it's just that they are usually in our sides. The Drua's Apete Daveta's two tries were a little sweet and sour for us Aussies as the try scoring was happening against us for once. He scored first with a nice running line and another through chasing a well-placed grubber, but his work around the park was always impactful and a joy to watch.
Fiji Drua:
1. Joeli Veitayaki Jnr, 2. Ratunaisa Nauma, 3. Kalivati Tawake, 4. Sakiusa Nadruku, 5. Samu Saqiwa, 6. Filimoni Seru, 7. Mosese Voka [c], 8. Peni Raidre, 9. Frank Lomani, 10. Peceli Nacebe, 11. Apete Daveta, 12. Eroni Vasiteri, 13. Ifereimi Tovilevu, 14. Eroni Sau, 15. Apisalome Waqatabu
16. Mosese Gavaldi, 17. Eroni Mawi, 18. Samuela Newa, 19. Mataiasi Ucutabua, 20. Vasiliki Mudu, 21. Seru Cavuilati, 22. Kini Douglas, 23. Meli Nakarawa
NSW Country Eagles:
1. Paddy Ryan [c], 2. Brandon Paenga-Amosa, 3. Sam Needs, 4. Lachlan Swinton, 5. Thomas Staniforth, 6. Nick Kellaway, 7. Maclean Jones, 8. Sam Ward, 9. Jake Gordon, 10. Tayler Adams, 11. Alex Gibbon, 12. Tom Hill, 13. Seb Wileman, 14. Andrew Kellaway, 15. Alex Newsome
16. Connal McInerney, 17. Matt Gibbon, 18. Harry Johnson-Holmes, 19. Jock Armstrong, 20. Patrick McCutcheon, 21. Rohan O'Regan, 22. Mitchell Short, 23. Henry Clunies-Ross
Tip: While the Eagles will be better than their last match, I think Fiji could be too. Drua by 16
---
Brisbane City v Canberra Vikings (Streamed via foxsports.com.au/live)
Sunday 17 September at University of QLD Rugby Club (Brisbane). Kick-off 1:00pm (local time)
Reasons not the miss the match:
While the home of the Shute Shield Premiers are hosting an NRC game this weekend, so too is the home of the QLD Premier Rugby champs. In fact Brisbane City's game this weekend is the first ever home game of theirs at a club ground. 'Stade de Heavy', as the University of QLD ground is affectionately know, should be pumping come Sunday afternoon as they will also be hosting the third round of the AON Uni 7s series, where the University of QLD team are currently on top of the ladder.
Quade Cooper's late withdrawal from the Brisbane City team last week was a blow to the slickers. City struggled for cohesion and ended up losing to QLD Country for the first time in the NRC. QC is back this weekend though in a huge boost for this must win match against the undefeated Vikings. His experience in and vision will be critical against a well drilled Vikings team.
It doesn't take much for Perth Spirit No 8 Isi Naisarani to get a bit of credit around here and he was at his best again last weekend. But he was pushed every step away by the 19 year old playing opposite him for the Vikings. Rob Valetini ended the match with two tries as a result of some powerful running but his work off the ball was just as damaging with a number of big hits put on. This week provides an opportunity for him to further build on his game and display the consistency needed to achieve at the next level.
Brisbane City:
1 Tonga Ma'afu, 2 Andrew Ready [c], 3 Sam Talakai, 4 Lukhan Tui, 5 Kane Douglas, 6 Pat Morrey, 7 Michael Gunn, 8 Michael Richards, 9 Moses Sorovi, 10 Quade Cooper, 11 Ed Fidow, 12 AJ Alatimu, 13 Chris Kuridrani, 14 Dylan Riley, 15 Jayden Ngamanu
16 Maile Ngauamo, 17 Markus Vanzati, 18 Feao Fotuaika, 19 Jeremiah Lynch, 20 Reece Hewat, 21 Issak Fines-Leleiwasa, 22 Alex Horan, 23 Junior Laloifi
Canberra Vikings:
1. Harry Lloyd 2. Robbie Abel 3. Les Leuluailii-Makin 4. Darcy Swain 5. Sam Carter 6. Ben Hyne 7. Tom Cusack [c] 8. Rob Valetini 9. Joe Powell 10. Wharenui Hawera 11. Ben Johnston 12. James Dargaville 13. Andrew Robinson 14. Andrew Muirhead 15. Tom Banks
16. Folau Faingaa 17. Faalelei Sione 18. Joel Penders 19. Angus Allen 20. Lolo Fakaosilea 21. Ryan Lonergan 22. Liam Moseley 23. Len Ikitau
Tip: QC's return is a boon, but injuries have hit Brisbane hard. Vikings by 6
---
Perth Spirit v Greater Sydney Rams (Live on Fox Sports)
Sunday 17 September at McGillivray Oval (Perth). Kick-off 1:00pm (local time)
Reasons not the miss the match:
The Rams have charged out of the gate in season 2017 with a couple of outstanding wins in the early rounds. That currently sit at the top of the ladder, just a bonus point ahead of the Canberra Vikings. The challenge is ahead of them now, however, as they must face their first true away game and leave the comforts of Sydney in the process.  The Spirit have built quite the fortress at McGillvray Park with a pack hill of supporters a big home ground advantage.  If the Rams are the real deal, this is the weekend they prove it.
It must be hard for a 2m plus behemoth to be overshadowed but it seems to have happened to Richie Arnold a bit of late. Sure I guess when your twin brother plays for the Wallabies, then the rugby focus will generally fall on him. But even in the west so much of the attention has gone to Arnold's Spirit locking partner, Matt Philip. Richie deserves a bit more acknowledgement though as his game is developing at a rapid pace. You get the sense he is learning how to use his massive frame to his benefit, with the occasional off-load a particularly handy skill development.
The battle of the Number 8s is one of the contests of the season. Arguably the two stand out players of the competition so far, Jed Holloway and Isi Naisarani, are many fans' solution to the problem that is the Wallaby backrow. Significantly both bring size and a strong running game, with Jed preferring to attack further out while Isi powers through in close. Regardless each have been brilliant and they will each be key to their respective teams' performance.
Perth Spirit:
1. Pek Cowan, 2. Anaru Rangi, 3. Shambeckler Vui, 4. Richard Arnold, 5. Matt Philip, 6. Onehunga Havili, 7. Kane Koteka, 8. Isi Naisarani, 9. Michael Ruru [c], 10. Jono Lance, 11. James Verity-Amm, 12. Billy Meakes, 13. Curtis Rona, 14. Marcel Brache, 15. Peter Grant
16. Sama Malolo, 17. Mees Erasmus, 18. Baxter King, 19. Matt O'Brien, 20. Tevin Ferris, 21. Ian Prior, 22. Sheldon Tarawa, 23. Clay Uyen
Greater Sydney Rams:
1 Jed Gillespie, 2 Hugh Roach, 3 Rob Lagudi, 4 Sam Thomson, 5 Albert Tuisue, 6 Katoni Ale, 7 Tevita Piukala, 8 Jed Holloway [c], 9 Dion Spice, 10 Mack Mason, 11 Taqele Naiyaravoro, 12 Ben Cotton, 13 Denis Piligateau, 14 John Grant, 15 Liam Windon
16 Mokani Fuavao, 17 Andrew Tuala, 18 Conor Young, 19 Fergus Lee-Warner, 20 Josh Redfern, 21 Daniel Calavassy, 22 Jai Ayoub, 23 Kodie Drury-Hawkins
Tip: The Spirit have brought back a lot of big names for this game and it should be enough to get them home. Spirit by 16