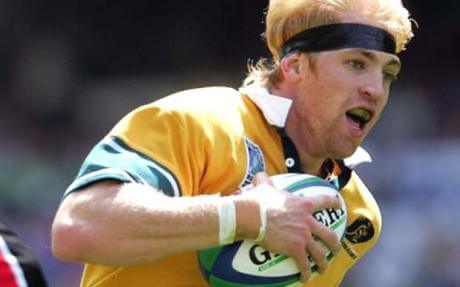 It has been bandied about both on the GAGR forums and the general twitterverse that the NRC could use something like the Ranfurly Shield. That's a link to another part of the interwebs so go read it if you don't know what the Ranfurly Shield is, you pleb. We'll all wait here.
Done? Good.
The Log O' Wood, as it is affectionately known, is often viewed with more import than the trophies for winning the competition. Primarily, the "challenge" aspect of it, where it can ONLY be won on the holder's home ground, makes it extremely difficult to win. You only need to look at the two Unions on top of the "most wins" table in that wiki article (go back if you need to) to understand why: the big boys don't like sharing.
A team that wins the Log is a team of legend. Records are set defending the Shield, and teams who hold it are judged across eras by how many times they defended it, or for how long.  The mere presence of it causes even the dourest of Kiwi men to grin like schoolboys after their first kiss (ovine or otherwise), and Kiwi women have been known to fall pregnant just by walking into the same room*.
When the Shield is being played for on your home turf, no matter how badly the season is going, the crowd will swell, the cheers will ring louder, and the defenders will grow an extra leg and two lungs to make sure the challenger has to earn the right to hold it, often spilling blood and teeth in the process.
* These two facts may be related… and possibly one of them is not true.
During the twitter stream tonight, where such notaries as Greg Clarke from Fox Sports was hailing the Hawkes Bay victory in their Shield Challenge over Counties Manukau, I got to thinking about finding a meaningful name for this trophy.
Imitation being the sincerest form of flattery, what equivalent can we muster in Australia? Lord Ranfurly is lone gone, and we're not in the habit these days of just letting random Governors hand out trophies with their name on it (though I'm sure they're lovely people). You can call up your Eales', your Hipwells, Gregans, Larkhams, Burkes… a lot of those blokes have stuff named after them already.
So when we are thinking about a suitable trophy for this new competition, it has to be something that stands for the new order. The fact that we're bringing the club guys together with the Super players and welding it into a new competition, with new identities. Presenting an opportunity, while representing the values of Australian Rugby across this great brown land.
Which brings me to this bloke: Shawn Mackay (that's another link to wikipedia – go read etc. etc.) was a rugby player, tragically killed while on a night out during the Brumbies tour of South Africa in March, 2009.
He was 26.
He got around a fair bit in rugby, being part of the Waverley first XV before a stint playing  league in his junior years and winning a Jersey Flegg title with the Roosters (What? Jeez do I have to do everything?!! OK here it is: Jersey Flegg Cup).
He played Sevens rugby for Australia, including the captaincy at the 2006 Commonwealth Games tilt, and played for the Waratahs and the Brumbies. As well as 4 seasons with Randwick, he coached the Australian Women's Sevens Team to the Oceania title in 2008, being remembered fondly as "one of the girls" by captain Cheryl Soon.
The light started to flicker when I thought about a suitable candidate to have their name put on this item. For some reason, Shawn's name popped into my head.
I hadn't really paid a great deal of attention to his time on the field, beyond noting he was a rare combination of skill, size, and pace. In addition, while he was a rookie at Super Rugby, he was the other side of 25 which was late for the professional 15-man game, when players were being signed out of high school.
But I saw how badly this event affected those around him, as you'd expect with such a tragic loss. In rugby, we are all brothers and sisters; we are family.
It was when I re-read the wikipedia article in full tonight, that two facts about Shawn Mackay stood out for me and the light finally stopped flickering, and came on in its full, 2500 lumen LED glory!
He played for the Melbourne Rebels in the original Australian Rugby Championship (ARC), which dovetails nicely into the current NRC.
But the bigger factor was the Brumbies' next game against the Stormers, the crowd stood for a minute's applause
This was an organisation where several of his good mates still had to get out there and play every week. But this was no time for shutting down and letting the world cave in; this was a time for celebrating a life lived in sport – in rugby – and time to go out there and do what Shawn loved doing, not just for himself, but with his mates.
So to everyone out there, I submit that we establish, via the rugby authorities, a shield to be held this year by the premiers, and name it in honour of a man who was not a necessarily legend of the game's record books, but who represented the greatest values of that game for the short, full life he had.
I propose that this year's NRC Premier received the Shawn Mackay Memorial Shield, and receive challenges for it at every regular season home game in NRC 2015.
(And yes I realise the Brumbies already have a medal named after him)