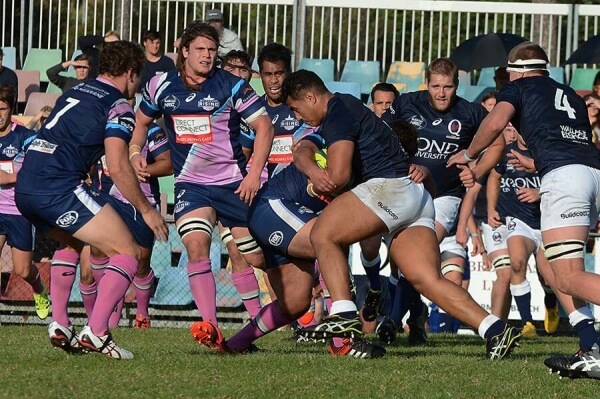 While we are obviously well and truly focused on the Bledisloe Cup on Saturday night, the 2016 Buildcorp NRC kicks off next weekend in a refined format that runs for just seven weeks prior to the finals. The NRC, now in its third year, has continued to build slowly in terms of profile within a busy sporting climate. There's no denying the rugby is damn entertaining and this year's tournament should provide a wonderful antidote to what was a pretty dire Super Rugby season, at least by the Australian teams.
Before the season commences, I've done my best at identifying (and answering?)  five burning questions pertaining to the tournament this year.
Will the redefined NSW clubs be more successful this year?
The Sydney Stars, despite making the NRC finals in 2015, are no more. The club, supposedly a combination of Sydney University and the Balmain Subbies club, was the one to feel the brunt of underperforming NSW since tournament inception. Despite producing finalists in each of the first two years (Eagles in 2014 and Stars in 2015), given the infrastructure and resources available to the state, the results have been mostly disappointing.
Whilst NSW Country sit third overall in terms of all time winning percentage at 59%, the Stars, Western Sydney Rams (former Greater Sydney Rams) and Sydney Rays (formerly North Harbour Rays) all sit at less than 30% down the bottom of the ladder (alongside QLD Country).  So the Stars are no more, and they've effectively been aligned with NSW Country. As a result the Eagles have picked up some talent, and both the Rays and Rams seem to have stronger squads, as you would hope from such a decision.
Will it be enough to see these NSW teams push for a title in 2016?  NSW Country have been the most direct to benefit from the Stars winding up with former Stars Tolu Latu, Tom Robertson, Paddy Ryan, Jake Gordon and Angus Roberts, among others, now fully fledged Eagles. Further their coach of last year, the innovative Peter Playford steps into a CEO role. It's a brain that's an asset to any rugby organisation.
The Rays and the Rams still both seem a level or two back from the top tier teams, however will be able to pull together top  strength XVs that could compete on their day. The impact of injury and unavailability will forever be their challenge however.
So my answer?  I'm predicting both the Rays and Rams to remain towards the bottom of the ladder albeit with less hidings than in previous years, with the Eagles to push strong for a top four finish.
---
Can Brisbane City go back to back to back?
Well the simple answer is yes – yes they can. But their season will not be without their challenges. The first challenge will be within the coach's box where Nick Stiles has stepped down to concentrate on his Queensland Reds gig, allowing former attack coach Rob Seib to take control.  2015 Premiership winning captain, Liam Gill, has received an early contract release by the ARU to head to his new club Toulon, leaving a fairly sizable whole on the open side of the City scrum, with all due respect to his likely replacement in Micheal Gunn.
There are plenty of other factors that may have an impact on Brisbane's threepeat endeavours including Samu Kerevi's Wallaby commitments, Karmichael Hunt's injury concerns, Leroy Houston's impact ability, and a lack of experience at lock.
But still….it's a bloody handy looking squad. Laloifi is back. As are Kuridrani and Gibbon.  Jake McIntyre will be back for his third year with Nick Frisby, whilst Sam Talakai, Andrew Ready and Pettowa Paraka are all originals from 2014.
To investigate further it's worth having a quick peek at the other squads. Once again it looks like the Melbourne Rising and Canberra Vikings will be the main challenges to Brisbane's title hopes. Both teams are jam packed with Super Rugby (and higher) talent and SHOULD do very well.
One thing that Brisbane has done very well though, that has set them apart from equally talented teams such as the Vikings and Rising, is create a very strong club culture. Stiles must take a lot of credit here, and it was mentioned by Quade Cooper last month in that he was blown away by Stiles' ability to create such a strong culture in such a new team.
The Vikings acknowledged they needed to focus on this last year, after a very poor 2014, and subsequently made the final. They'll want to be sure it's all stepped up again this season to go one better than last year. It's the challenge all NRC coaches have – how to get their players function as a cohesive unit, a team, rather than just a collective of guys brought together a week or two prior.
My answer? Yes Brisbane City most definitely can go back to back to back this year. It seems to be the most even competition so far, but it is the class and culture in this Brisbane side which should see them earn more Glory Glory, Brisbane City.
---
Can the Rising pack unleash their backline?
Check this out. You've got Stirzaker and Debreczeni in the halves making the plays for the boom youngster Tuipolotu and the mercurial Naivalu in the centres. Then running onto everything out wide are Shipperley and English on the wings and Wallaby squad member Hodge at fullback. That's a pretty handy Super Rugby backline.
But it's a bloody brilliant NRC backline.
In fact it's the type of backline the Rising showed off in 2014 when they ran roughshod through the entire competition to tear through the preliminary rounds undefeated, including a mind-blowing 79-18 annihilation over Brisbane City at Ballymore.
There is no denying that this backline has the potential to do similar damage this season. But…will they get the  opportunity to?  That forward pack of '14 was pretty special – McMahon, Jones, Timani, Neville, Alo-Emile, Sexton and Toby Smith. Of those it looks like only Toby Smith will play a significant role this season, and even that depends on Wallaby selection.
This is no disrespect to the guys likely to make up the Rising pack this year, and the likes of Colby Faingaa and Jordy Reid are proven Super Rugby players.  But the rest of them may well struggle to provide the strong base and dynamic impacts that will be required to match it with the quality within the other teams.
My answer? The Rising will do well, and should make the finals, but unless McMahon, Smith and James Hanson play most of the season, then the all-star backline won't get the freedom they could thrive on.
---
How will our 7s stars go back in the traditional game?
One of the most intriguing aspects of this year's NRC is the selection of three of our Rio Olympians within the Rays squad. Cameron Clark, Con Foley and Tom Cusack will pull on the harlequin Rays jersey for 2016, and alongside them will be Michael Wells, a 7s team mate last year.
Clark has just this week signed with the Waratahs for two years, so this is a chance for him to find his 15s legs again. The intentions of Cusack and Foley are less known but what a wonderful opportunity for them to show their wares.
You could expect to possibly see Clark and Foley combine in the centres for the Rays with Cusack and Wells quite conceivably filling two of the back row spots.  If it does eventuate you'd like to think the Rays will play fairly up tempo game to take advantage of the excellent fitness and skills of their 7s stars.
It should be remembered that Boyd Killingworth and John Porch each picked up 7s contracts after some stand out NRC performances last year, so the path goes both ways.
My answer? This one I have no idea about. Clark is clearly deemed Super Rugby quality so should cope well. Foley has plenty of XVs experience at his old University of QLD club, whilst Cusack was playing NRC in 2014. So expect some adjustment period for them, but I'm guessing they'll prove more than handy contributors and valuable players in the Rays lineup.
---
What will Brad Thorn's impact be?
Thorn has been working alongside Jason Gilmore this season with the championship winning QLD Under 20 team. So when the two of them were announced as part of the QLD Country coaching team, working underneath Wallaby legend Toutai Kefu, all seemed pretty fair and justified.
However when the player profile pics were leaked and Thorn had a photo both in coaching kit AND playing kit, the reality of the situation started to hit home.  Thorn's impact on the team was always going to be significant, it's just now that some of that impact could make its way to the field.
Both Queensland  based teams have a lock shortage due to the Wallaby commitments of Kane Douglas and Rob Simmons and an injury to Cadeyrn Neville. Neville's injury meant Lukhan Tui switched clubs and made the call up (or perhaps call over) of Thorn an easy call.
One thing about Thorn is that he always aims for excellence. It is a big part of his coaching strategy and you get bet it was a big part of his playing strategy. I don't for a second believe he has stopped training to play rugby since his return from the UK and now he gets his chance.
Don't expect him to suit up every game, or perhaps even start. But what an influence he will be on a team that is extremely young and features many of those Under 20 players. What a thrill it will be the likes of Maclean Jones, Angus Scott-Young, Jack Cornelsen, Isack Rodda and Taniela Tupou to play with this rugby legend.
So my answer? Immense. Whether we say that impact directly through his play, I'm not convinced, but what it will do for his young team may be enough to see them legitimate finals contenders in 2016.
---
There you go, that's my shot. What do you think for each of these questions? Answer below in the comments section as we wait for the new season to kick off.