Player of the Season
NSW Country Eagles flyhalf, and new Western Force signing, Jono Lance has won the Buildcorp NRC Player of the Season award as announced by the ARU today. Lance played in every game for the Eagles and was one of only four players in the tournament to score points in every match.
The Player of the Year award was named after accumulating votes provided by both coaches and a Green and Gold Rugby representative after every match.
Lance finished on top of the tally with Melbourne Rising flanker, Jordy Reid, in second spot followed by Ita Vaea of the Canberra Vikings.
The award is the silver lining after a disappointing weekend for Lance with his Eagles team missing out on the finals despite a last round win over the North Harbour Rays in Bathurst.
Lance said: "I haven't played too much footy over the past couple of years so the NRC has helped me find my feet again. I had lost a bit of confidence so this has been absolutely perfect for me.
"We're disappointed we let ourselves with one or two performances that meant we didn't quite make the top four but the last eight weeks have been pretty special with the Country Eagles, playing with guys looking to make that next step into Super Rugby."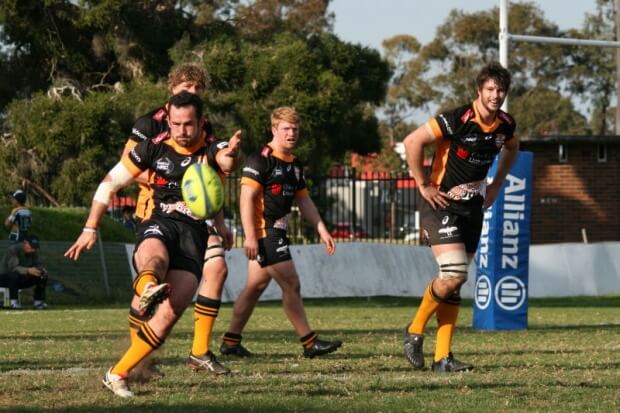 Australian Barbarians
The ARU also announced today a touring squad, to travel as the Australian Barbarians, of 26 players from the NRC who were not contracted in the 2015 Super Rugby season. The young squad will be coached by Darren Coleman of the NSW Country Eagles and Brad Harris of the Canberra Vikings. The team will travel to New Zealand to take on a Heartland XV, selected from uncontracted Super Rugby players playing in the Heartland Championship, in a two match series at Levin Domain, Manawatu-Wanganui and Cooks Gardens, Wanganui.
The squad was chosen by a panel of selectors chaired by Adrian Thompson (ARU Pathway Services Manager), both coaches as well as former Wallaby Stephen Hoiles.
Props
Cameron Orr (Greater Sydney Rams) – aged 20
Hayden Hirismaki (Queensland Country) – aged 27
Tyrel Lomax (UC Vikings) – aged 19
Duncan Chubb (Melbourne Rising) – aged 27
Hookers
Luke Holmes (North Harbour Rays) – aged 31
Ryan Dalziel (CSU Country Eagles) – aged 27
Locks
Matt Philip (Sydney Stars) – aged 21
Ben Hyne (Brisbane City) – aged 21
Phil Potgieter (Queensland Country) – aged 20
Backrow forwards
Waita Setu (Brisbane City) – aged 23
Rowan Perry (UC Vikings) – aged 21
Sam Figg (CSU Country Eagles) – aged 23
Dean Oakman-Hunt (UC Vikings) – aged 22
Pauli Tuala (CSU Country Eagles) – aged 30
Mark Baldwin (CSU Country Eagles) – aged 22
Scrumhalves
Mitch Short (CSU Country Eagles) – aged 20
Dewet Roos (Greater Sydney Rams) – aged 25
Flyhalf
Rod Iona (UC Vikings) – aged 24
Centres
Reece Hodge (North Harbour Rays) – aged 21
Andrew Robinson (Sydney Stars) – aged 21
Tom Hill (North Harbour Rays) – aged 25
Charli Clifton (CSU Country Eagles) – aged 24
Outside backs
Maalonga Konelio (Perth Spirit) – aged 26
Paul Asquith (Greater Sydney Rams) – aged 22
Jarome McKenzie (CSU Country Eagles) – aged 24
Harry Jones (Sydney Stars) – aged 19