Well that was a cracking start to the NRC.  Three of the games were of extremely high standard.  While you can't deny the class of the Vikings, their clash with the Rising didn't match the quality that was the other three games. Early on it looked like the first game, the NSW Derby in Dubbo, was going to be all one way traffic but Sydney fought back and pushed Country all the way.
Meanwhile two nail biters on either coast meant left both Queensland teams without a win, yet only one with a loss. The draw in Brisbane and a one point game in the west, makes for an interesting table, albeit only after one week.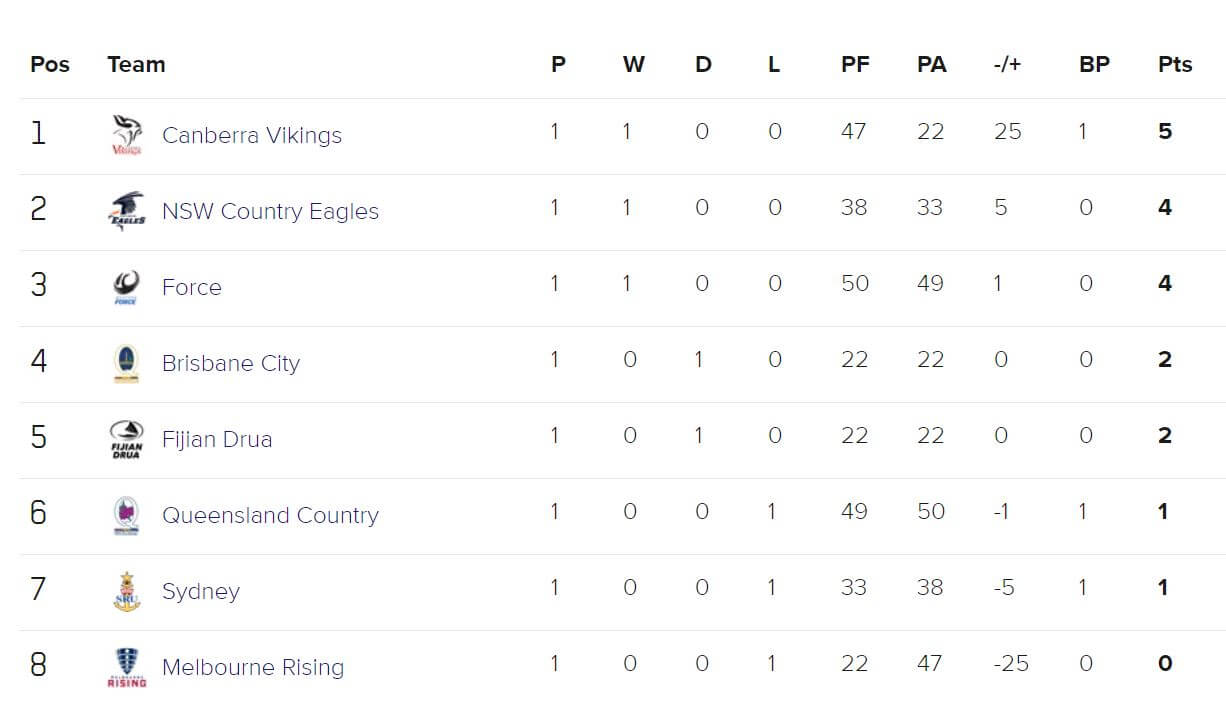 Let's hope Week 2 delivers just as well.  There is every likelihood it will.
---
FIJI DRUA v WESTERN FORCE (LIVE ON RUGBY.COM.AU AND KAYO)
Saturday 7 September at ANZ Stadium (Suva). Kick-Off 3:00pm (Local Time)
Reasons Not To Miss The Match:
Well really there should only be one reason to watch this game – these are two of the favourites to win the competition. It is these two teams that have had the best preparation for the NRC, having been able to spent time together within their respective squads.  Neither team had it their own way in Round 1 with each having to come from behind to avoid a loss.
The loss of Andrew Deegan to the Melbourne Rebels next year has somewhat understandably been met with disappointment in the west. Deegan has probably been the form Force player over the last two years. However the Force have recruited well in this position and the contenders for the 10 jersey all feature in this match. Jack McGregor (signed from the Rebels), Nick Jooste (a local lad, who spent time with both the Brumbies and Reds) and Jake Strachan (a former Brisbane City representative) are all high quality flyhalf options who will thrive if given the chance.
Jonny Dyer caught many people by surprise last weekend in Brisbane with his dominant play starting at number 8 for the Drua. Those who watched them last year would have been aware of his capabilities. In fact I named him as the sole bench man in the NRC Team of the Year.  The fact is last year he was an impact player, starting in just one match. He was brilliant off the bench, so it would have been pleasing for his team to see that he was more than just a cameo performance.  He's got some handy backrowers up against him this week so the key will be his ability to back up week to week.
FIJI DRUA:
1 Joeli Veitayaki, 2 Maikele Sivo, 3 Mosese Ducivaki, 4 Tevita Naqali, 5 Necani Nawaqadau, 6 Eremasi Radrodro [c], 7 Ulaisi Lawavou, 8 Johnny Dyer, 9 Seru Vularika, 10 Peceli Nacebe, 11 Levani Kurimudu, 12 Cyril Reece, 13 Poasa Waqanibau, 14 Nacanieli Narequva, 15 Osea Waqa.
Reserves: 16 Ratunaisa Navuma, 17 Timoci Sauvoli, 18 Jone KoroiDuadua, 19 Epeli Radaniva, 20 Rusiate Nasova, 21 Peni Matawalu, 22 Ifereimi Tovilevu, 23 SetarekiRaoba.
Form:
Drew with Brisbane City (away)
WESTERN FORCE:
1. Harrison Lloyd, 2. Heath Tessmann, 3. Dom Hardman, 4. Fergus Lee-Warner, 5. Ben Grant, 6. Henry Stowers, 7. Tevin Ferris, 8. Brynard Stander, 9. Issak Fines, 10. Andrew Deegan (c), 11. Jonah Placid, 12. Nick Jooste, 13. Byron Ralston, 14. Kiti Ratu, 15. Jack McGregor.
Reserves: 16. Feleti Kaitu'u, 17. Cameron Orr, 18. Chris Heiberg, 19. Johan Bardoul, 20. Carlo Tizzano, 21. Ian Prior, 22. Jake Strachan, 23. Grason Makara.
Form:
Beat QLD Country at home
TIP: The Force look a little weakened after last week AND have to make the tough away trip. Fiji by 12
---
MELBOURNE RISING v NSW COUNTRY (LIVE ON RUGBY.COM.AU, FOXTEL AND KAYO)
Saturday 7 September August at AA Bailey Reserve (Adelaide). Kick-Off 3:30pm (Local Time)
Reasons Not To Miss The Match:
It's tough to understand the strategy of the NRC down in Melbourne sometimes. They blew the competition apart back in the preliminary rounds of 2014 before shanking in the finals. And they seem to have never recovered.  The squad this year looks like a real investment in local talent which is a fantastic initiative. However they still do pick their Perth recruits in Anaru Rangi and Ross Haylett-Petty while giving other interstaters Pat Morey and Theo Strang a run as well.  It's all very commendable but what's the deal with Matt Philip, Richard Hardwick and Angus Cottrell who were all named in the squad?  For us not from Melbourne it does mean we get to check out the best that Melbourne club footy has to offer which is a valuable part of the competition.
I'm personally very intrigued by the selection of Semisi Tupou at inside centre for the Rising again this week. The youngster has been thrown the captaincy, which is a great opportunity for the Australian U20 representative.  To me he's been more of an outside back. Debuting for the Rising on the wing and he looked a very good finisher before he played outside centre for the Junior Wallabies.  He's now moved one spot in further and is the senior partner of his inexperience (in terms of professional rugby) backline.  It's a tremendous opportunity for his Rebels coach Dave Wessels to see what he's capable, and another benefit of the NRC.
With Randwick playing Argentina at Coogee Oval this same day, NSW Country have released a handful of their Wicks to play in that historic encounter. What it means is we again see an opportunity for our Junior Wallaby stars.  Will Harris got a start at Number 8 last week and this week he is joined by Patrick Tafa, who replaces Ned Hanigan.  It's an exciting blend of young talent and they'll be called on to make a big impact in the absence of some key players, and up against a large Rising pack.
MELBOURNE RISING:
1 Fereti Sa'aga, 2 Anaru Rangi, 3 Vaauli Faamausili, 4 Ross Haylett-Petty, 5 Esei Haangana, 6 Joseva Tamani, 7 Pat Morrey, 8 Ikapote Tupai, 9 Theo Strang, 10 Michael Moloney, 11 Lolohea Loco, 12 Semisi Tupou [c], 13 William Lewesi, 14 Nailati Ukalele, 15 Justin Marsters.
Reserves: 16 Mahe Vailanu, 17 Matt Gibbon, 18 Tetera Faulkner, 19 William Clift, 20 Maciu Nabolakasi, 21 Reece Fuller, 22 Rodney Iona, 23 Navarre Haisila.
Form:
Had a big loss to the Vikings (home)
NSW COUNTRY:
1 Matthew Sandell, 2 Aaron Blacklock, 3 Chris Talakai, 4 Connor-James Vest, 5 Tom Staniforth, 6 Pat Tafa, 7 Michael Icely, 8 Will Harris, 9 Jake Gordon, 10 Mack Mason, 11 James Kane, 12 Ofa Manuofetoa, 13 Nigel Ah Wong, 14 Mark Nawaqanitawase, 15 Tim Clements.
Reserves: 18 Cody Walker, 21 Jack Grant, 22 Connor O'Shea, 23 Joey Walton.
Form:
Won, in a close(ish) one to Sydney (home)
TIP: Well it's no one's home game really and the Rising were unimpressive last week. Despite them seemingly not knowing what their team is, NSW Country by 4
---
BRISBANE CITY v SYDNEY  (LIVE ON RUGBY.COM.AU AND KAYO)
Sunday 8 September at Bond University (Gold Coast). Kick-Off 1:00pm (Local Time)
Reasons Not To Miss The Match:
It's a big double header on the Gold Coast this weekend with this match serving as a lead in to the QLD Country v Canberra Vikings encounter. It hasn't happened with these teams before and is an interesting endeavour by Queensland Rugby, most likely part of an obligation to Bond University to host a certain number of games per season. It does take away the opportunity for a club side in Brisbane to host, however Bond Uni do host well and have supported this competition for a number of years.
One can't help but think that with the current uncertainty around the Wallaby #6 jersey that if the RWC was one more year away, a strong candidate may be the NSW Country blindside. Lachie Swinton was one of not many standouts for the Rays last year and this form flowed through to a very good Waratah debut season. He started well last week and a  dominant 2019 NRC plus another strong Super Rugby and Wallaby opportunities are sure to flow.
Isaac Lucas' first run in the NRC at flyhalf was a good one last week. He controlled play well and provided plenty of opportunities to his outside runners.  Unfortunately his goal kicking game was shite  and probably cost Brisbane the game. Well the selectors have given him one of the best in the business outside him.  Isaac Henry played 10 opposite Lucas last year in the Under 19 NRC as Brisbane City played QLD Country in the Grand Final. Henry was very good for Wests Premier Grade this year in a season that saw him establish himself as one of the best goal kickers in the business. There's more to his game than kicking, but that aspect should be vital this weekend.
BRISBANE CITY:
1 David Feao, 2 Maile Ngauamo, 3 Josh Nasser, 4 Bradford Kapa, 5 Roberts Puliuvea, 6 Adam Korczyk, 7 Fraser McReight [c], 8 Seru Uru, 9 Moses Sorovi, 10 Isaac Lucas, 11 Jordan Luke, 12 Isaac Henry, 13 Bradley Twidale, 14 Sefa Naivalu, 15 Teti Tela.
Reserves: 16 Sean Farrell, 17 Dane Zander, 18 Ruan Smith, 19 Michael Wood, 20 Sam Wallis, 21 Nick Chapman, 22 Hunter Paisami, 23 Maaloga Konelio.
Form:
Drew with Fiji Drua (home)
SYDNEY:
1 Rory O'Connor, 2 Ed Craig, 3 Shambeckler Vui, 4 Ryan McCauley, 5 Tu'itakau Kioa, 6 Lachlan Swinton, 7 Joshua Kemeny, 8 TBC, 9 Jacob Abel, 10 Tane Edmed, 11 Tailiki Nadredre, 12 Tyson Davis, 13 Cameron Clark, 14 Trent Winterstein, 15 Jaline Graham.
Reserves: 16 Declan Moore, 17 Harry Rorke, 18 TBC, 19 Jack Digby, 20 Jordan Goddard, 21 TBC, 22 Ellis Abrahams, 23 Henry Paterson.
Form:
Close loss to NSW Country (away)
TIP: Brisbane should be too good.  Sydney don't seem to know their team. Brisbane by 12
---
QLD COUNTRY V CANBERRA VIKINGS (LIVE ON RUGBY.COM.AU AND KAYO)
Sunday 8 September at Bond University (Gold Coast). Kick-Off 3:00pm (Local Time)
Reasons Not To Miss The Match:
As I wrote the preview for the Fiji Drua v Western Force game I began by writing that it was a clash of the two competition favourites. Then I remembered this game.  Now I personally don't think QLD Country will back up on their previous two years of Grand Final appearances, but the Vikings should be near certainties, given their squad.  These two teams have had some classic encounters over recent years and there's every chance that will happen again on Sunday.
Rohan Saifoloi scored 19 points last week for QLD Country but makes way for teenage flyhalf Carter Gordon. The Australian Schoolboys 10 from last year, Gordon has had a full season of Premier Grade Rugby and looked completely comfortable guiding the Wests Bulldogs around the park. And that's the most impressive aspect of his play. How comfortable and composed he is.  Gordon has a lovely boot, both off the shoe and off the tee, solid defence and good vision.  He won't have played with or against players as good as he will surround himself this weekend, but a pairing with fellow Sunshine Coaster Tate McDermott in the halves will have him feeling right at home.
I know the Brumbies have Tevita Kuridrani and Len Ikitau on their books, but gees I like the looks of Irae Simone and Tom Wright in the centres. After a unhappy time at the Tahs, Simone blossomed with the Brumbies this season and played a mature role in the 12 jersey. Wright was dynamic in his various cameos as he made his way back to the 15 man game.  What position he ends up in is still a mystery but running off Simone at 13 again this weekend certainly has its appeal.
QLD COUNTRY:
1 Harry Hoopert, 2 Matthew Faessler, 3 Carter Ozanne, 4 Harry Hockings, 5 Angus Blyth, 6 Angus Scott-Young [c], 7 Dillon Wihongi, 8 Harry Wilson, 9 Tate McDermott, 10 Carter Gordon, 11 Joey Fittock, 12 Hamish Stewart, 13 Patrick James, 14 Filipo Daugunu, 15 Jock Campbell.
Reserves: 16 George  Francis, 17 Bronson Fotualii, 18 Gavin Luka, 19 Jeremiah Lynch, 20 Connor Pritchard, 21 Reuben Wall, 22 Tom Lucas, 23 Dan Boardman.
Form:
Last minute loss to the Western Force (away)
CANBERRA VIKINGS:
1 Fred Kaihea, 2 Connal McInerney, 3 Jake Simeon, 4 Darcy Swain [c], 5 Blake Enever, 6 Pete Samu, 7 Will Miller, 8 Angus Allen, 9 Ryan Lonergan, 10 Noah Lolesio, 11 Mack Hansen, 12 Irae Simone, 13 Thomas Wright, 14 Toni Pulu, 15 Andrew Muirhead.
Reserves: 16 Lachlan Lonergan, 17  Bo Abra, 18 Tom Ross, 19 Nick Frost, 20 Luke Gersekowski, 21 Seamus Smith, 22 Bayley Kuenzle, 23 Andrew Robinson.
Form:
Comprehensive winners v Melbourne (away)
TIP: Canberra are a class above this tournament, and should win this well. Vikings by 12