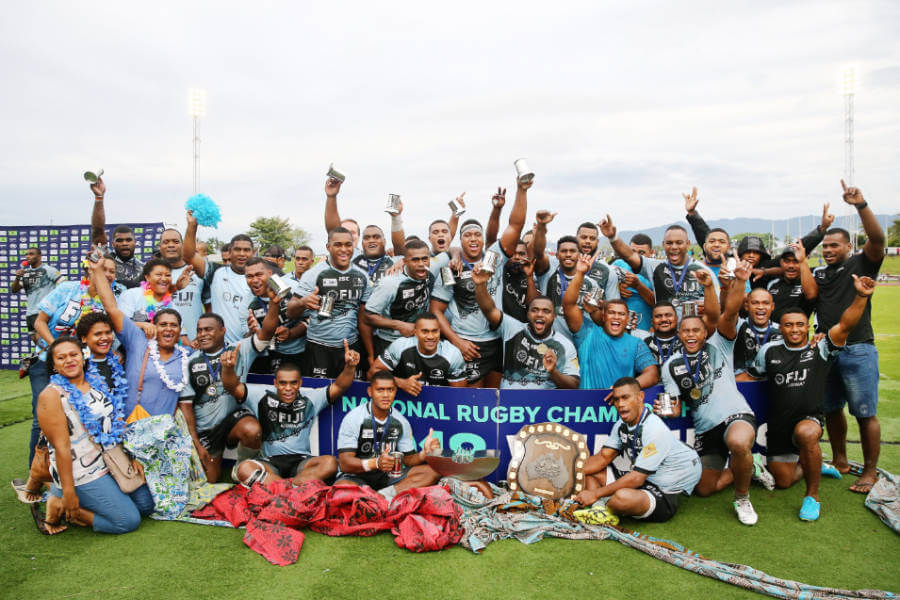 NRC 5 comes alive this weekend as week one kicks off under all the pomp and ceremony we've come to expect from this tournament.  Yeah, I know. It hasn't but that's probably the nature of the tournament as it struggles for resources behind the Wallabies, Super Rugby and probably the 7s programs too.  With all eyes being on the Rugby World Cup, the NRC definitely seems to have taken even more of a back seat than usual.
In reality it all seems very rushed again. Well, more than usual.  All teams, except the Rising, only released their squads this week. One would assume this was largely because of the timing of the Wallaby squad announcement. But the squads are in, and they remain an exciting mix of experienced veterans (Blake Enver and Ian Prior), the new generation (Fraser  McReight and Will Harrison), some handy club players (Jack Strachan and  George Morseu) and a little bit of the unknown (Ilasia Droasese and most of the Drua). A reminder of some of the background and rules is here .
Let's take a look at round 1.
NSW COUNTRY v SYDNEY (LIVE ON FOX SPORTS)
SATURDAY 31 AUGUST AT APEX OVAL (DUBBO). KICK-OFF 12:00PM (LOCAL TIME)
REASONS NOT TO MISS THE MATCH:
The Waratahs are supposedly a whole heap more involved in the operations of these two teams now, not that we can expect much of that to show through in Week 1. Let's call it an intra-club trial. Interestingly while the Tahs coach Chris Whitaker coaches Sydney, most of the squad members seem to be at the formerly-Eagles.  What combinations this creates is anyone's guess. But it should at least be interesting to watch.
Much like the Vikings are looking for a replacement for Chrisitan Lealiifano, the Waratahs will be running their own version of 'Flyhalf Idol' as Bernard Foley departs for Japan. There are three strong candidates on show in this match alone with frontrunners Mack Mason and Will Harrison opposing each other at flyhalf while Ben Donaldson will play fullback for Sydney. Mason has had limited chances for the Tahs and deserves to get a fair crack at the spot but Harrison was wonderful for the Junior Wallabies this year while Donaldson had some eye-catching cameos while producing the goods at club level.
Expect to see an interesting innovation in the Sydney team this year, beginning this weekend. One that we haven't seen for some time.  Mum's and Dad's, if you are watching this game with your kids just be prepared for their quizzical looks at the team running around in blue.  It won't necessarily being any overly intricate backline move or clever adaption of the experimental laws. It will be the two flappy pieces of yellow material waving around near the base of the neck of that Sydney team.  Just explain that they are "collars" and that "back in my day" every jersey came with them.  They may not believe you but that's when you call tell them about black boots and cotton jerseys.
NSW COUNTRY:
 15. Tim Clements, 14. James Turner, 13. Ben Woollett, 12. Joey Walton, 11. James Kane, 10. Mack Mason, 9. Jake Gordon [c], 8. Will Harris, 7. Michael Icely, 6. Ned Hanigan [c], 5. Tom Staniforth, 4. Nathan Den Houdt, 3. Matt Sandell, 2. David Vea, 1. Angus Bell.
Replacements: 16. Aaron Blacklock, 17. Cody Walker, 18. Chris Talakai, 19. Tom Nowlan, 20. Pat Tafa, 21. Jack Grant, 22. Connor O'Shea, 23. Mark Nawaqaintawse.
LAST YEAR:
2nd last
SYDNEY:
15. Ben Donaldson, 14. James Ramm, 13. Cam Clark, 12. Lalakai Foketi [c], 11. Tyson Davis, 10. Will Harrison, 9. Mitch Short, 8. Jordan Goddard, 7. Josh Kemeny, 6. Lachlan Swinton, 5. Tuitakau Kioa, 4. Ryan McCauley, 3. Sham Vui, 2. Ed Craig, 1. Rory O'Connor.
Replacements: 16. Declan Moore, 17. Harry Rorke, 18. Wayne Borsak, 19. Jack Digby, 20. Christian Poidevin, 21. Jacob Abel, 22. Trent Winterstein, 23 .Jaline Graham 
LAST YEAR:
Last
TIP: With the Shute Shield final last week, neither side has had a tremendous lead in. NSW Country hold the wood over their Sydney counterparts and seem better on paper so Country by 8.
---
MELBOURNE RISING v CANBERRA VIKINGS (LIVE STREAMED ON RUGBY.COM.AU)
SATURDAY 31 AUGUST AT BOX HILL RUGBY CLUB (MELBOURNE). KICK-OFF 1:30PM LOCAL TIME
REASONS NOT TO MISS THE MATCH:
One of the more interesting developments this year is Dave Wessels as assistant coach of the Rising. We've seen plenty of Super Rugby Assistant Coaches become NRC Head Coaches, such as Jimmy McKay (Reds to Brisbane City) and Chris Whitaker (Waratahs to Sydney). I don't recall it ever going the other way. The Rising have promoted former player, Pom Simona to the Head Coaching role (he was assistant coach last year) and he will have support from the Rebels Head Coach.  It's a valuable mentoring role for Wessels, whilst also keeping him nice and close to his squad for 2020.  An astute play by all involved.
Again, with one eye on next year, there is lots of intrigue in who wears the Vikings 10 in the NRC. This week they've gone with the Australian U20 inside back in Noah Lolesio but with options a plenty elsewhere with other candidates being Mack Hansen (on the wing) and Bayley Kuenzle (on the bench).  Some also reckon Tom Wright, selected at outside centre, is a strong candidate. Lolesio has the rugby smarts and runs a handy attacking line but perhaps isn't a classical 10.  With a very strong pack in front of him, and experience out wide, he has a wonderful opportunity to stake his claim for the 10 jersey early.
Remember all those months ago to those first few weeks of the Super Rugby season? Remember the Rebels were braining it and we all thought they'd finally crack the finals? Remember one of their stands outs? Their all-action, long-haired hooker? Anaru Rangi? Well, like the Rebels, he couldn't quite maintain his form which was a shame because he was showing Wallaby potential for sure. With no Aussie really strongly staking a claim to the gold #2 jersey, it was a lost opportunity for Rangi.  One that he will be determined to regain during the NRC.
MELBOURNE RISING:
15 Justin Marsters, 14 Taylor Acheson, 13 William Lewesi, 12 Semisi Tupou [c], 11 Ah-Mu Tuimalealiifano, 10 Michael Moloney, 9 Delai Moto, 8 Ikapote Tupai, 7 Pat Morrey, 6 Maciu Nabolakasi, 5 Esei Hangana, 4 Ross Haylett Petty, 3 Vaauli Faamausili, 2 Anaru Rangi, 1 Fereti Saaga
Replacements: 16 Mahe Vailanu, 17 Matt Gibbon, 18 Tetera Faulkner, 19 Will Clift, 20 Joe Tamani, 21 Reece Fuller, 22 Rodney Iona, 23 Lolohea Loco
LAST YEAR:
Sixth
CANBERRA VIKINGS:
15 Andy Muirhead, 14 Toni Pulu, 13 Tom Wright, 12 Irae Simone, 11 Mack Hansen, 10 Noah Lolesio, 9 Ryan Lonergan, 8 Rob Valetini, 7 Will Miller, 6 Pete Samu, 5 Blake Enever, 4 Darcy Swain [c], 3 Jake Simeon, 2 Connal McInerney, 1 Fred Kaihea
Replacements: 16 Lachlan Lonergan, 17 Bo Abra, 18 Nick Dobson, 19 Nick Frost, 20 Angus Allen, 21 Seamus Smith, 22 Bayley Kuenzle, 23 Andrew Robinson
LAST YEAR:
Fourth (losing semi-finalists)
TIP: The Vikings should again be one of the favorites for the comp.  Taking it one game at a time, they should get the job done here. Vikings by 8
---
BRISBANE CITY v FIJI DRUA (LIVE STREAMED ON RUGBY.COM.AU)
SATURDAY 31 AUGUST AT GPS RUGBY CLUB (BRISBANE). KICK-OFF 3:00PM LOCAL TIME
REASONS NOT TO MISS THE MATCH:
When the Queensland NRC squads were announced this week, they were done so by position. Interestingly Bryce Hegarty was listed in the outside backs and Isaac Lucas in the halves. Now both players are versatile players, but with Reds attack coach Jim McKay taking charge of Brisbane, is it a pointer as to how they will play next year? It seems the opposite to how I think they should be used, but who am to question the Super Rugby champion winning McKay?
I was going to ask the question as to who will be this year's Peceli Nacebe or Alivereti Veitokani for the Drua. But then I saw the team and Nacebe can be this year's Nacebe.  For those that don't remember Peceli tore up the first two rounds of the Drua's inaugural NRC season in 2017, scoring two tries v Brisbane and then the Rising. Injury ruled him out for the rest of the season, just as we Aussies were realising how good he was.  Well the flyhalf / fullback is back and I for one can't wait to see him play again.
As is often the case, there is a Fijian to keep an eye out for in the local team too. When the Queensland Reds squad was confirmed midweek, the biggest surprise was easily the selection of Seru Uru. The former Fijian Under 20 player, who was the Dewar Shield Player of the Year in Melbourne last year, had a fantastic season for his adopted club the Easts Tigers this year. With a dynamic running and off-load game and provides a strong point of difference in the Brisbane City pack.  Having played with many of his opponents previously, they won't be caught by surprise on the weekend. 
BRISBANE CITY:
15 Lawson Creighton, 14 Sefa Naivalu, 13 Hunter Paisami, 12 Teti Tela, 11 Liam McNamara, 10 Isaac Lucas, 9 Moses Sorovi, 8 Seru Uru, 7 Fraser McReight [c], 6 Michael Wood, 5 Rob Puliuvea, 4 Ryan Smith, 3 Josh Nasser, 2 Brandon Paenga-Amosa, 1 Ruan Smith.
Replacements: 16 Sean Farrell, 17 Rhys van Nek, 18 Dane Zander, 19 Bradford Kapa, 20 Adam Korzcyck, 21 Sam Wallis, 22 Nick Chapman, 23 Isaac Henry
LAST YEAR:
Fifth
FIJI DRUA:
TBC
LAST YEAR:
1st / Premiers
TIP:There is smatterings of quality across that Brisbane team but I feel cohesion will rule this weekend. Thus, the Drua by 8.
---
WESTERN FORCE v QUEENSLAND COUNTRY (LIVE STREAMED ON RUGBY.COM.AU)
SATURDAY 31 AUGUST AT UNIVERSITY OF WESTERN AUSTRALIA (PERTH). KICK-OFF 3:00PM LOCAL TIME
REASONS NOT TO MISS THE MATCH:
The Force were without doubt the best prepared team in the NRC last year. They made the finals, but probably underachieved. This year their preparation has been even better and they'll be looking to go further than the semi-finals that's for sure. A full GRR season (with some of the new NRC trial laws) and a game v a Tongan team last week, is excellent preparation.  Their big worry is that they lose a fair amount of quality to overseas World Cup teams. Squad depth is handy though, so they should be near the top of the table again.
While no one can deny the quality of the QLD Country backline, over the last couple of years, as big factors in their Grand Final appearances, they were always also well served by a strong front row. The likes of Taniela Tupou, James Slipper, Sef Faga'ase and Harry Hoopert have anchored a dominant scrum of which to unleash the skill and speed out wide.  With only Hoopert still around, while also being without others such as Jake Simeon and Richie Asiata, there are a couple of new faces at prop.  Carter Ozanne and George Francis seem polar opposites too.  Ozanne has worked his way through the grades at the Easts Tigers and can cover all three positions in the front row.  Frances is a former junior rugby league superstar and Australian Schoolboy.  Whether they can combine to follow in the footsteps of those that came before them will go a long way to establishing Country's premiership credentials this year.
There's a lot of interest across this Force team with players from all Australian Super Rugby teams getting a lifeline in the west. But the player I am most excited about is local lad Carlo Tizzano.  A true-blue Perth lad, Tizzano is as exciting a prospect in Australian rugby as there is.  Gee we thought we had some depth at openside with George Smith, Phil Waugh and David Croft.  This next generation of McReight, Wright and Tizzano could rival it.  With Hooper not too much older! Carlo's rugby instincts are there for all to see and it means he's never too far away from the pill.  Winning the WA club Rugby player of the year last year, as a teenager, is a sign of his abilities.  The NRC will provide further evidence.
WESTERN FORCE:
15. Jack McGregor, 14. Kiti Ratu, 13. Byron Ralston, 12. Nick Jooste, 11. Jonah Placid, 10. Andrew Deegan, 9. Issak Fines, 8. Brynard Stander, 7. Carlo Tizzano, 6. Fergus Lee-Warner, 5. Ben Grant, 4. Jeremey Thrush, 3. Chris Heiberg, 2. Andrew Ready, 1 Cameron Orr.
Replacements: 16. Heath Tessmann, 17. Harrison Lloyd, 18. Dom Hardman, 19. Johan Bardoul, 20. Chris Alcock, 21. Tevin Ferris, 22. Ian Prior, 23. Grason Makara.
LAST YEAR:
Third (losing semi-finalists)
QUEENSLAND COUNTRY:
15 Jock Campbell, 14 Filipo Daugunu, 13 Patrick James, 12 Hamish Stewart, 11 Joey Fittock, 10 Rohan Saifoloi, 9 Tate McDermott, 8 Harry Wilson, 7 Dillon Wihongi, 6 Angus Scott-Young [c], 5 Harry Hockings, 4 Angus Blyth, 3 Carter Ozanne, 2 Efi Ma'afu, 1 George Francis.
Replacements: 16 Matt Faessler, 17 Harry Hoopert, 18 Bronson Fotai'i-Tauakipulu, 19 Jerimiah Lynch, 20 Connor Pritchard, 21 Reuben Wall, 22 Carter Gordon, 23 Tom Lucas
LAST YEAR:
Second / Runners-Up
TIP: This one really is the match of the round.  The Force are the best prepared team of the comp, but there's a lot of class in that QLD Country team.  Away trips are tough but I see the Force taking this by 8.