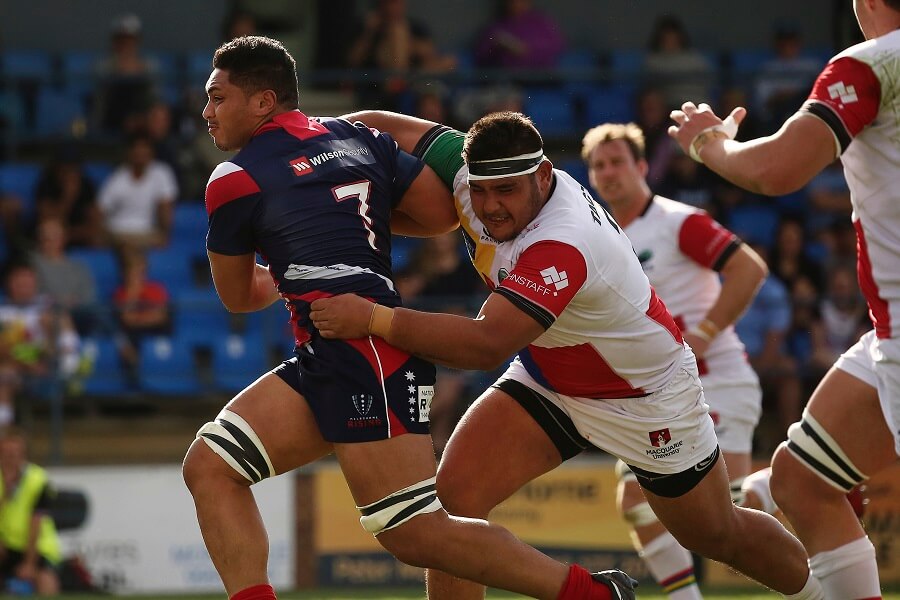 As we enter Week Four of the NRC it seems like we've experiencing the tightest competition at the top we've ever had in the competition. That may not play out long term as I get the sense that some teams are only barely clinging on, while others are set to explode. Regardless, it's looking pretty damn open at the moment with two points separating the top five, with the next two teams with a game in hand.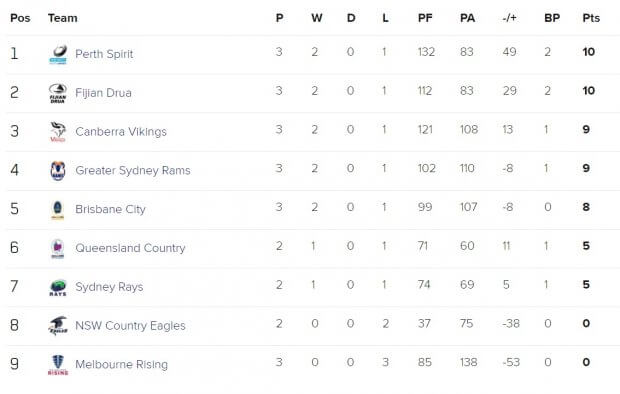 With a top of the table clash and plenty of other meaningful match ups, let's look at the games this round and how they may pan out.
---
NSW Country Eagles v Canberra Vikings (Streamed via foxsports.com.au/live)
Saturday 23 September at Bellevue Oval (Armidale). Kick-off 1:00pm (local time)
Reasons not the miss the match:
The NSW Country Eagles hit country New South Wales for the first time this season fresh on the back of a tough away gig in Fiji. Ok, so the I'm sure their stay in Fiji was pretty damn enjoyable, it's just their clash with the Drua that wasn't that fun. It's Armidale's turn to put on the hospitality and, with such a rich history in rugby, you can bet the local rugby community will put on a damn good show.
Rugby enthusiasts should be licking their lips with anticipation over the clash of the front row. While the Eagles have struggled for consistency so far in 2017, their big men up front have lead the way with Sam Needs in particularly coming off a big game in Fiji. For the Vikings, there's been a little more support from the rest of the team, however Makin and Lloyd have been impressive workers up front. Expect a considerable battle both at the set piece and in the loose.
While the smart people will be watching the battle of the front row, others will have some interest out wide with the twinkle toes wearing 10. Tayler Adams and Wharenui Hawera have solid all round games but have impressed with their footwork in traffic and willingness to take the opposition defensive line on. With Cooper not attacking the line and Nacebe injured, these two are probably the two most attacking flyhalves in the competition.
NSW Country Eagles:
1. Paddy Ryan [c], 2. Brandon Paenga-Amosa, 3. Sam Needs, 4. Thomas Staniforth, 5. Tim Buchanan, 6. Rohan O'Regan, 7. Maclean Jones, 8. Sam Ward, 9. Jake Gordon, 10. Tayler Adams, 11. Alex Gibbon, 12. Kyle Godwin, 13. Alex Newsome, 14. Henry Clunies-Ross, 15. Andrew Kellaway
16. Connal McInerney, 17. Matt Gibbon, 18. Harry Johnson-Holmes, 19. Ryan McCauley, 20. Lachlan Swinton, 21. Nick Kellaway, 22. Tom Hill, 23.Christian Kagiassis
Canberra Vikings:
1. Harry Lloyd 2. Folau Faingaa 3. Les Leuluailii-Makin 4. Darcy Swain 5. Blake Enever 6. Ben Hyne 7. Tom Cusack [c] 8. Rob Valetini 9. Ryan Lonergan 10. Wharenui Hawera 11. Andrew Muirhead 12. James Dargaville 13. Andrew Robinson 14. Ben Johnston 15. Tom Banks
16. TP Luteru 17. Angus Wagner 18. Joel Penders 19. Angus Allen 20. Lolo Fakaosilea 21. Josh White 22. Liam Moseley 23. Len Ikitau
Tip: I think the Canberra combinations are clicking more effectively than the Eagles at the moment. Vikings by 8
---
Fiji Drua v Perth Spirit (Live on Fox Sports)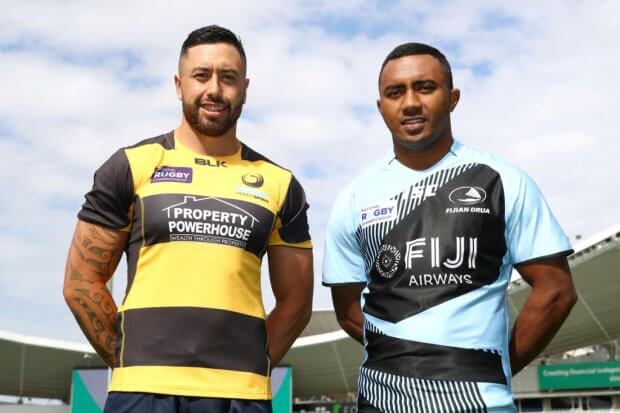 Saturday 23 September at ANZ Stadium (Suva). Kick-off 5:00pm (local time)
Reasons not the miss the match:
It's been a massive week of rugby in Fiji kicking off with the Drua's first ever home game last weekend against the Eagles. It's been an action-packed week since with the Brumbies sending a cohort of Henry Speight, Tevita Kuridrani, Shannon Parry and Josh Mann-Rea heading over, quickly followed by a Classic Wallabies team including the likes of Stephen Hoiles, Lote Tuqiri and Radike Samo running clinics as well. The Classic Wallabies will then play a Classic Fiji team (featuring Waisale Serevi, Rupeni Caucau and William Ryder) in a 7s clash as a curtain raiser to the top of the table NRC clash.
I was going to make the bold statement that the frontrow battle in the preceding game was the positional match up of the weekend, until I remembered this one. Isi Naisarani v Peni Raidre. There is apparently some significant support from Isi's home village expected to turn up to the game and they can expect a big clash of the hard running 8s. While Naisarani is a bullocking runner, Raidre has a handy distribution aspect to his ball carrying that suits his team's play.
If the Spirit can produce an upset win on the road this weekend they will need to take advantage of the mistakes more than the Eagles were capable off. The Drua gave up an astonishing 17-3 penalty count but were still able to take the game. Perth will be looking for the old head of Peter Grant to control the match from flyhalf to ensure they take full account of any opportunities.
Fiji Drua:
1. Joeli Veitayaki Jnr, 2. Ratunaisa Nauma, 3. Kalivati Tawake, 4. Peni Naulago, 5. Filimoni Seru, 6. Samu Saqiwa, 7. Mosese Voka [c], 8. Peni Raidre, 9. Frank Lomani, 10. Kini Douglas, 11. Apete Daveta, 12. Eroni Sau, 13. Eroni Vasiteri, 14. John Stewart, 15. Apisalome Waqatabu
16. Osea Naganilau, 17. Eroni Mawi, 18. Moese Duckvaki, 19. Sakiusa Nadruku, 20. Vasiliki Mudu, 21. Seru Cavuilati, 22. Kitione Taliga, 23. Cyril Reece
Perth Spirit:
1. Pek Cowan, 2. Sama Malolo, 3. Baxter King, 4. Richard Arnold, 5. Matt Philip, 6. Onehunga Havili, 7. Kane Koteka, 8. Isi Naisarani, 9. Michael Ruru [c], 10. Peter Grant, 11. James Verity-Amm, 12. Sheldon Tarawa, 13. Marcel Brache, 14. Clay Uyen, 15. Brendan Owen
16. Logan Ede, 17. Mees Erasmus, 18. Kaisa Reidy, 19. Matt O'Brien, 20. Tevin Ferris, 21. Michael McDonald, 22. Ian Prior, 23. Hamish Buick
Tip: This would've been a great match up with Perth at full strength. Perhaps in the finals. Drua by 22
---
Sydney Rays v Queensland Country (Streamed via foxsports.com.au/live)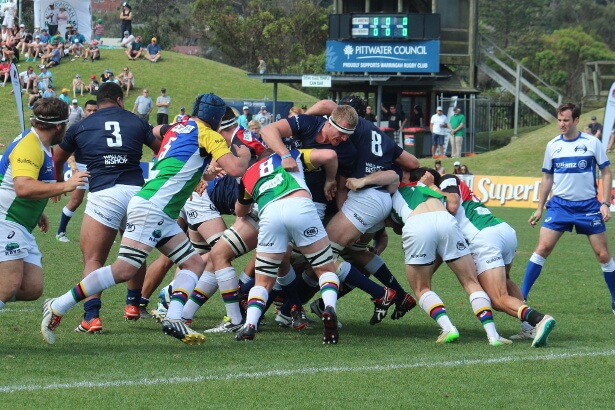 Sunday 24 September at Pittwater Rugby Park (Sydney). Kick-off 1:00pm (local time)
Reasons not the miss the match:
While it's not a top of the table clash, it's still pretty damn important for both teams. Both the Rays and Queensland Country are currently sitting equal on the ladder with Country just a little ahead on for and against. A good win for either team, and a few results going their way elsewhere, and one of these teams jump into the top four come weekend's end.
The Rays will be missing one of their attacking stars of their season in Latu Latunipulu. Five tries in two games is hard to replace but the home team have been able to bring some representative quality to give it a go. Starting at fullback will be newly re-signed Waratah Bryce Hegarty while Australian 7s rep Stephan van der Walt takes Latunipulu's wing jersey. It means the finishing power of the Rays remains strong and a team focus.
Not many would have predicted it but QLD Country, traditional whipping boys to – well to pretty much everyone, currently have the best defence of the competition. It's widely reported rhetoric around Brad Thorn's coaching that he has a low tolerance for poor attitude and a lack of effort. It's one thing to set this standard, it's another for the team to be able to meet it. They'll be challenged this weekend and it will be fascinating to see if they can raise the bar again.
Sydney Rays:                                              
1. David Lolohea, 2. Damien Fitzpatrick [c], 3. Alain Miriallakis, 4. James Brown, 5. Angus Ryan, 6. Conor Vest, 7. Tom Connor, 8. Hugh Sinclair, 9. Nick Duffy, 10. Sam Lane, 11. Stephan van der Walt, 12. Rohan Saifoloi, 13. Apo Latunipulu, 14. Paula Belekana, 15. Bryce Hegarty
16. James Hilterbrand, 17. Richie Vaihu, 18. Wayne Borsak, 19. Kawa Leamu, 20. Alex Perez, 21. Harry Nucifora, 22. Angus Sinclair, 23. Harry Burey
Queensland Country:
1 Sef Fa'agase, 2 Alex Mafi, 3, Taniela Tupou 4 Angus Blyth, 5 Harry Hockings, 6 Tai Ford, 7 Liam Wright, 8 Caleb Timu, 9 James Tuttle, 10 Hamish Stewart, 11 Eto Nabuli, 12 Duncan Paia'aua [c], 13 Chris Feauai-Sautia, 14 Filipo Daugunu, 15 Patrick James
16, Richie Asiata 17 Alex Casey, 18 Fred Burke, 19, Rob Puli'uvea 20 Ted Postal, 21 Scott Malolua, 22 Teti Tela, 23 Jock Campbell
Tip: The QLD Country D-train to keep on rolling. QC by 6
---
Melbourne Rising v Greater Sydney Rams (Live on Fox Sports)
Sunday 24 September at Harlequin Oval (Melbourne). Kick-off 3:00pm (local time)
Reasons not the miss the match:
The Rams were the surprise packets of the early rounds of the competition starting with two impressive wins over their Sydney rivals. The raised expectations came crashing down to earth when they crossed the country to face a red-hot Perth Spirit team. The Rams were outmatched and how they bounce back from such a blow, against another interstate team, will go a fair way to determining how far they can go in this tournament.
How do Melbourne find a win this season? They had to face the two best teams of the NRC in the first two rounds, in Perth and Fiji, and showed some glimpses of quality in somewhat heavy losses. They would have been looking to last week's clash with the Rays for their first points of the season but fell to a similar score line as the previous weeks. Will they finally turn it around this weekend against the Rams?
Sefa Naivalu is perhaps the story of the NRC. After starring in Melbourne club rugby it set the inaugural season alight and secured a Super Rugby contract from it. Rebels and Wallaby debuts followed suit and he know makes is return to rugby following an injury in the test against the Wallabies at Suncorp Stadium in June. He'll form a dangerous combination with one of the best performers of the tournament this year, Sione Tuipulotu.
Melbourne Rising:
1 Rory O'Connor, 2. Siliva Siliva, 3. Fereti Sa'aga, 4. Steve Cummins [c], 5. Emmanuel Latu-Meafou, 6.Jason Havea, 7. Ikapote Tapai, 8. Lopeti Tiob Leota, 9. Nic Stirzaker, 10. Jack McGregor, 11. Semisi Tupou, 12. Sione Tuipulotu, 13. Sefa Naivalu, 14. Kitione Ratu, 15. Jack Maddocks
16. Cameron Mapusua, 17. Tom Moloney, 18. Pone Fa'amausili, 19. Esei Haangana, 20. Lloyd Johansson, 21. Harrison Goddard, 22. Mahe Vailanu, 23. Hunter Paisami
Greater Sydney Rams:
1 Jed Gillespie, 2 Hugh Roach, 3 Rob Lagudi, 4, Albert Tuisue 5 Fergus Lee-Warner, 6 Katoni Ale, 7 David Hickey, 8 Jed Holloway [c], 9 Dion Spice, 10 Jai Ayoub, 11 Taqele Naiyaravoro, 12 Kevin Fuavao, 13 Denis Piligateau, 14 John Grant, 15 Cameron Bailey
16 Andrew Tuala, 17 Mokani Fuavao, 18 Conor Young, 19 Sam Thomson, 20 Josh Redfern, 21 Stuart Dunbar, 22 Mack Mason, 23 Waldo Wessels
Tip: Ok, I'll do it again. The Rising will win their first game THIS week. Melbourne by 4