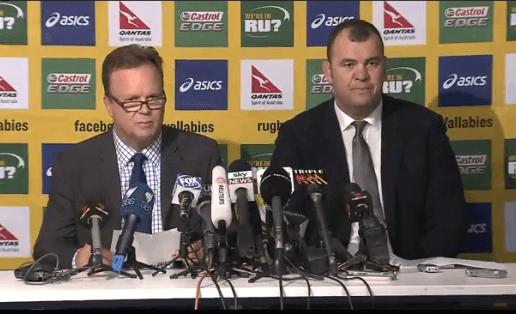 Michael Cheika has been announced as the new Wallabies coach on a 3-year agreement.
Pulver noted Cheika's style of play at the Waratahs as a positive. Cheika will retain his role with the Waratahs in 2015 only.
As an interim measure, the general manager of pathways, Ben Whittaker, will travel with the team on the Spring Tour. After the tour the ARU will look at hiring a team manager.
Cheika acknowledged Ewen McKenzie's contribution, their history dating back to Randwick, the work he'd done with the Wallabies, and the support that Ewen had provided in his time at the Waratahs.
Cheika has spoken to some of the other state coaches, and while they were interested in helping on the EOYT, they weren't able to sort the logistics at short notice.
Cheika acknowledged the massive talent pool in Australian rugby, and how he sees his job as unleashing the potential in the players spread throughout the state teams.
Cheika not going to answer any questions re Kurtley today as he doesn't want to prejudice Friday's hearing.
Cheika acknowledged his wife taking their 3 kids under 4 while he heads off on a EOYT with 3 days notice.
Cheika has asked for clarity around what the role involves and the expectations of him. Agreement was reached, and he signed 2 hours ago.
Pulver has had no other conversations with any other candidates apart from Michael.
Pulver denied Australian rugby was in disarray. Accepted full responsibility for the state of the game, and hinted at upcoming reviews into the state of the game.
Cheika denied that this was a rescue job. Called for clearing of heads, running rugby, and playing like we did last Saturday in every game.
Cheika not looking to focus on results or the World Cup, but rather on basic skills, systems, clarity of roles and player strengths.
Cheika recognises importance of being genuine, showing commitment, and believes players respond well to these behaviours.
Not going to make massive changes to the gameplan.
Showing confidence in the prior coaches to have picked the right players.
Cheika will be choosing staff that report to him, while management will approve hires and fires.
Pulver advised the ARU had scheduled Kurtley's hearing for the 13th October, however Kurtley's legal team required more time to prepare and moved it to the 24th.
Pulver is happy with the decision to let Robbie go, sad to have lost Ewen, and happy with the coach he has now (Cheika). He hopes to extend him through to the Japan RWC.
Cheika on Australia's chances at the 2015 RWC – "Nah, we'll be right"