It was stinking hot in Perth for the National Youth Sevens Championships and the youngsters are to be congratulated for how they played in the conditions.
Another to be commended is our fearless reporter "Iloverugby24/7" who survived meltdown to report on the Boys' competition.
Day 1 review by "Iloverugby24/7"
What an amazing day of' rugby at the National Under 17s Sevens Championships in Perth.
The event has been very well organised by ARU and attended by a range of selectors and administrators. All states and territories, except Tasmania are represented in both the Girls' and Boys' competitions.
The day was an absolute marathon for everyone from the referees, touch judges, ball boys, and parents—as well as the players.  This correspondent has never seen playing conditions so difficult – over 35 games were played in one day – in 38 degree heat !!
Would this comp be battle of the teams that could best handle the conditions?   As NSW I and Northern Territory lined up for the first kick-off at 9.15am, the temperature was nudging 33 degrees already, we were about to find-out!
NSW I  53 – Northern Territory  0
NSW started the game with a dominant scrum feeding the ball to slick backs. NT had no possession and poor defence out wide. Good players for NSW included Will Harrison who showed a great step and turn of pace, and Tom Woodcock, who was retrieving the ball from own kickoff.  Mundine and Yule were also running freely on the wing.
Victoria  36 – South Australia  5
The Rebels had pace out wide and looked better skilled, although SA had some good moments, especially when their no 7 scored a brilliant solo try smashing though over the line.

Qld Reds I  31 – National Indigenous  14
This started as a see-saw game when one team scored and then the other. NI was ahead 14 -12 at half- time – could it be an amazing upset?
NI was throwing the ball around with long accurate passes and their no. 6 was elusive; for the Reds, the no. 10 was playing brilliantly on the wing. .
Unfortunately for NI their patchy defence was their undoing in the second half and the fairy tale was not to be as they went down to a rampaging Qld Red after the break.
ACT  19 – Western Australia  19
ACT initially showed signs of Individual brilliance in this game, however WA were better structured.  It was a close game and at half-time the score was 14-7 to ACT.
From the restart WA scored and converted – game on! Then a try apiece tied the game.  WA performed well to to draw against one of the favourites.
NSW I  45 – NSW II  7
This was a lop-sided affair with NSW I showing good structure and ball retention.
Yul Yul, the NSW I winger scored twice down the sideline running at top pace.  NSW II's passing was wayward at times and they were intercepted twice for tries; they struggled to get out of second gear.
Victorian Rebels  17 – Queensland II  14
Rebels put up a spirited fight and scored three tries to two. Only a few years ago this may have qualified as an 'upset' but the result reflected their growing strength in the Sevens' game.
Qld White have some speed and may yet be competitive in this tournament, however the Rebels really gave it to them and showed that they are contenders for the Bowl semi-finals on Sunday
Qld Red I  36 – Northern Territory  10
NT scored first and revealed skills during the game. Queensland Red stiffened-up and scored three unanswered tries; however NT weren't done and scored a brilliant try with pure speed.
The big Qld no. 3 sent a statement that his team are here to win the tournament when he smashed through the NT defensive line and scored the last try over the top of the last defender.
ACT  33 – South Australia  5
SA put up a spirited fight in this game against a more experienced ACT team. SA made many breaks and good metres but just couldn't finish their attacking play.
The scoreline didn't reflect the difference in the two teams. There is some rough talent in this SA team – I like them!
Western Australia  31 – Queensland II  0
A tough game marred by a nasty head knock to Qld player in the last minutes. As in the previous game the score did not do justice to the losing team.
WA can play Sevens and they are well-structured. They scored tries by a combination of both blunt force and throwing the ball around. What more could you want from a rugby team??  WA could be a real threat based on this performance.
NSW I  17 – Queensland Red  7
In what was shaping up as the match of the day, the result of this game promised to be important.
NSW started nervously dropping a lot of ball. Half-way through the first half, the Qld No. 11 was yellow carded for lifting in a tackle. NSW took advantage immediately and scored under the posts.
In a twist of fate, when the Qld player returned to the field, the NSW number 8 was sent off for tackling a player in the air. Then Qld also took advantage and scored under posts!  The game was tied 7-7 at half time.
Half way through the second half the Qld winger broke away and screamed down touch for what looked to be a 75-metre try. However NSW's, Will Harrison had other ideas and chased him down to make a try-saving tackle.
Qld regained possession with brute strength; then NSW held a player up close to their own try-line and forced a turnover maul. This was the turning point in the game because NSW scored a length-of-the-field try from it.
NSW's structured play was starting to show as they scored their third try. It was a top game by both teams, played under pressure.
ACT  19 – Victoria  5
ACT showed some good organisation and wore down the Rebels. The game was marred by a nasty fight on full time bell. Not sure if there were any red cards issued from the fracas, and if not, some players were lucky.
NSW II  27 – Northern Territory  12
NSW II finally started to click and were well-organised. Johnny Mathias scored two solo tries setting NSW up for the win.
Qld II  35 – South Australia  14
A spirited SA team put up a good fight and replied to an early Qld score with an outstanding solo try by the SA no7. As mentioned previously SA can play and while the skills aren't quite as honed as those of other states, they have some natural talent.
Qld II were not impressive despite the scoreline being in their favour.Northern Territory v NW I Boys 2016.
NSW I  31 – National Indigenous  27
NSW maintained most possession and dominated early, shutting down the NI attacking backline in the first half although the Indigenous no. 10 scored a lovely try.  However, NSW Captain, Tom Woodcock showed good leadership and after he scored two tries in succession from restarts everyone thought it was game over.
But after NSW interchanged their players NI scored two late tries. Everyone was surprised at the comeback. What was happening?
NSW were lucky to sneak away with the win, but Jake Stiles' drop-kicking was accurate for the conversions – and for restarts as well.
What a great game by National Indigenous team. To nearly beat NSW was a great effort!
By this point in the day, this correspondent was a mere husk of his former self. Sweat was dripping down his nose and into his eyes. He was suffering from ant-bites and dehydration (picture Tom Hanks in Castaway). The heat was searing and everyone was commenting on the player's safety. Concentration waned and the remaining commentary is patchy and probably inaccurate……
Victoria  19 – Western Australia  14
Very spirited game and close . Both teams gave it everything.
Queensland Red  34 – NSW II  12
NSW II had an opportunity to turn their day around and could potentially make the major semi-final on Day2 if they won well.
The game started with a dominant one-on-one tackle by Mike Pavlakis which led to NSW scoring first. Qld responded with a try immediately and scored another against the run of play to lead 10-5 at half-time.
In a free-flowing game NSW IIs were putting-up a good fight and looking as though they could beat the more-favoured Qld Reds, especially when their no.7 Johnston Mathias scored after the break to take the lead 12-10. Could NSW force an upset?
NSW then had a player carded for deliberately slapping a ball forward, and Qld took retook the lead.
The NSW defence was ordinary in the last five minutes and the Reds ran away with the game, scoring another two tries which included a dominant effort from their no. 3 breaking about five tackles to score.
National Indigenous  19 – Northern Territory  0
A well-deserved win.
Queensland II  21 – ACT  15
For me, this was the surprise game of the day. ACT struggled to get into gear and showed signs of lack of fitness.
It was a great outcome for the Qld Whites at the end of a tough day.

Western Australia  55 – South Australia  0
The scoreline says it all.
I'm sorry that I couldn't make it to the Girls' games.
Wrap up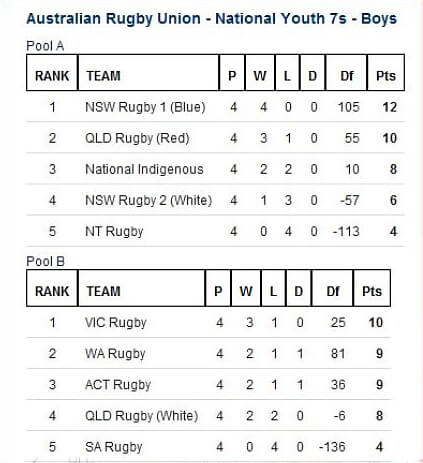 Boys – NSW Blue, Queensland Red, Victoria and Western Australia progress to the quarter-finals on Day 2. The others play off for the Plate finals.
Girls – NSW Blue (12 pts) 2. Queensland Red (12 pts) 3. Western Australia (10 pts) 4. ACT (9 points) progress to the quarter-finals, and the other teams play off for the Plate finals.