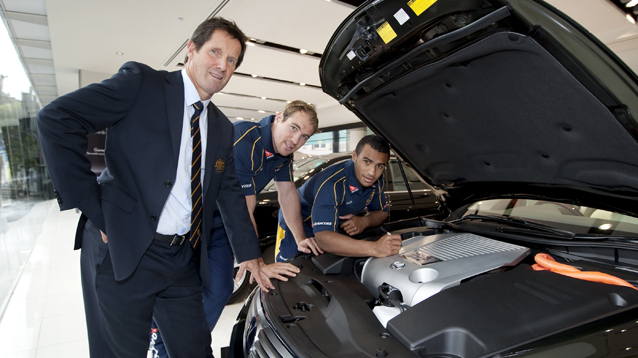 Friday
In the morning some cereal and then back to back squash matches. If a man doesn't push out of his comfort zone regularly then he loses touch with who he is and what he can achieve. That's why I have my Weetabix plain. No sugar.
While I can't be there in person, I send some mental energy to Stirling and the men from the ACT. Today they are testing themselves as a group against the Chiefs. I'm obviously not channeling it correctly. Despite showing resilience, they still are defeated by a narrow margin. I think I'm finding a natural talent that Australian rugby teams seem to have.
Saturday
During an interview last week  the cameraman and interviewer were nodding off. I found myself saying "Some players who have played international rugby will miss out," to wake em up a wee bit. I quickly covered it up with  "The critical thing won't be who's in the team but what they do with their time in the team" which sent them back off again.
There's a problem though. Having written the squad list out with Jim, it doesn't really look that surprising. We will have to meditate on that challenge.
But hey – my mental channeling worked! Marius Jonker was momentarily overwhelmed with its force at the very end of the Waratahs/Lions match. How else could you explain that forward pass call?
Sunday
I woke early and looked deep within myself for several hours. I decided to let my hair down with a coffee.
It was a young barista serving. He looked like a student and said "What will I be?" A thoughtful and forthright question for someone of that age. Many of the young men in our group ask themselves that same question.
I replied "There's no guarantees for anyone – and you shouldn't want a guarantee. Nothing is forever. You should be aware and conscious of the fact that it will finish some time." He stared at me open mouthed.
I continued "That's not the point. The point is, what are you going to experience while you're in it and while you're involved and how long do you want to be involved. What is it that excites you? The day you wake up in the morning and you're not excited about it, then that is not a good scene."
He replied "No, I asked what will it be, kiwi-fucious."
It was quite a magical soy latte.
Monday
I got a call from JO'N in Dublin. I'm not sure why SANZAR had to have their negotiations up there. Anyway, it was a pretty garbled phone call as there was a lot of laughter and he kept saying something about "the saffas kissing his perfumed balls". I would have thought that was inappropriate behaviour in such a meeting, even though it did sound like he was in a pub.
He wanted to know how the squad was coming along and had I done what he'd suggested with our "League Assets". I said again that every man would be there on merit. What they had shown through adversity would decide whether they would be involved. That it will be a unique group, a group that has never gathered previously . He said "no shit" and rang off.
Tuesday
When you work hard and apply your skills then destiny will unfold for you. I had a call out of the blue from Mitch out west and we've solved our selection challenges.
Wednesday
Big problems. It leaked out that Phil Waugh wasn't initialy invited to join the group going forward. As Jim put it, "Phil went apeshit", arriving on my doorstep at 2am with a cricket bat. A couple of phonecalls later and we'd managed to get him involved with the Barbarians (being very thankful for the time difference).
He still insists on being a member of the collective though, so we'll need to find some space. Maybe we can look at some transferable skillsets for fullback.
Thursday
Squad announced and I believe it went really well. I'm never too comfortable in press conferences. They seem to expect you to speak as fast as they do and with words that have clear meaning. The spell still seems to be holding though.
Mitch's suggestions certainly stirred them up a bit – he's quite a character. Any difficult decisions we could just put down to "watching injury progress".
JO'N is back and was very keen to get in front of the cameras with his new deal. By the grin on his face, he certainly seems to be at peace with himself.
*According to Matt Gagger
Read more diary entries: