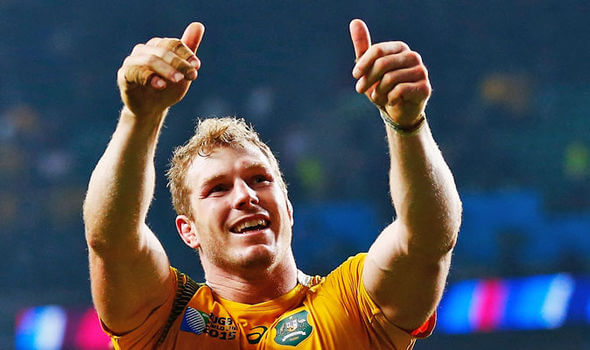 Monday's Rugby News sees Pocock claim Player of the year, NRC Finals results, Hodge out for the season, and Cheika has the Boards support.
---
POCOCK WINS SECOND JOHN EALES MEDAL
David Pocock joins George Smith, Israel Folau and Michael Hooper as players who have won multiple John Eales Medals after claiming his second on Friday night.

Pocock had previously won the award in 2010 but 8 eight years, a sabbatical and two long stints in rehab appear to not have slowed the man down.

Pocock received an unfavourable reception by taking a sabbatical in 2017, as he went to study and continue his charitable work in Zimbabwe, taking him away from rugby for 12 months just as he was finding his prime again. Additional stress came when he had a delayed start to the Super Rugby season with an injury.

All that not withstanding, Pocock's brilliant form on and off the field put him heads and shoulders about his team mates, poling 262 votes.

"I guess everyone's got their opinion and you make a decision like that and not everyone's going to be happy," he said.

"I was a bit apprehensive about it too.

"I felt like it was what I wanted to do but I wasn't sure if I'd be able to get back into good form and play for the Wallabies again.

"So, to do that is pleasing and very aware of the fact we've got another four big games ahead of us and a break going into next year."

If he can win the award playing out of his regular position, imagine what the man could do actually playing in his preferred position.

Evania Pelite took out women's Seven's Player of the Year, after the team was riddled with injuries, and she stepped up for them, and men's rookie Ben O'Donnell took out men's Seven's Player of the Year.

The Tongan Thor, Taniela Tupou walked away with two awards, claiming Super Rugby Player of the Year and Rugby Australia's Rookie of the Year.

Emily Chancellor has claimed the Women's XV's Player of the Year.

See the full list of winners at RUGBY.com.au
WEEKEND RUGBY WRAP UP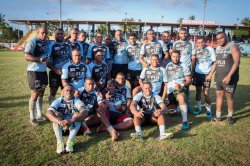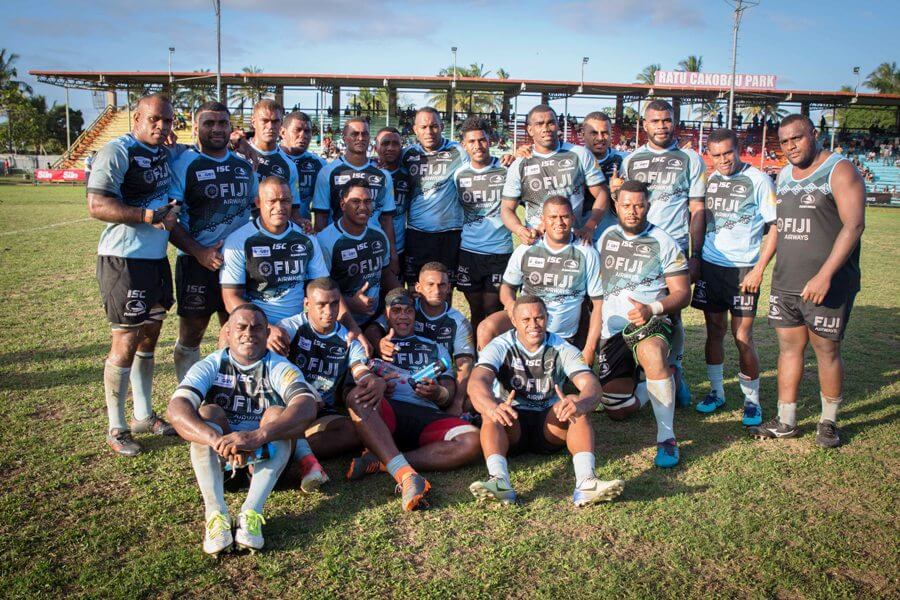 And then there were two.
The Fijian Drua and Queensland Country have booked their tickets to the big dance next weekend in Fiji. It is a momentous occasions for the Drua, their first NRC Grand Final will be played on their home soil, surely a big turn out can be expect.
The reigning premiers Queensland Country will be looking to spoil the island celebrations in their quest to go back to back.
The first match up this weekend was the Drua against the Vikings from Canberra, who were looking to make up for their premiership loss last year with a big win this week.
It was a hard fought contest and despite the dominance from the men from Canberra, the Drua came back to withstand the Viking invasion and secure their first Grand Final. Check out Nathan's full write up.
With the Drua's fate secured, it was now onto see who would wanted it more when the Western Force travelled north east to take on Queensland Country. The Force looked to carry their strength and momentum that they have had all season but it appears not even lightening strikes to could spark their performance.
A final quarter blitz saw the Queenslanders claim victory and head over to Fiji next weekend to take on the Drua in what will likely be the match of the season.
Ben covered the game so make sure you check out his match review.
In surprising news, the Aussie Women's sevens team suffered a shock loss to the USA team in the QF, going down 26-5 against the host nation. They will play England next and if they win they will go on to play for fifth. It is the first time since 2015 that the women's team hasn't qualified for the semi-finals.
USA will take on France in Semi-Final 1.
Update:
The Women's team beat England and now face Ireland at 9:20am AEDT
SEASON OVER FOR HODGE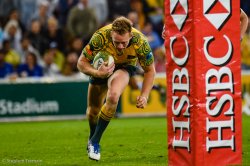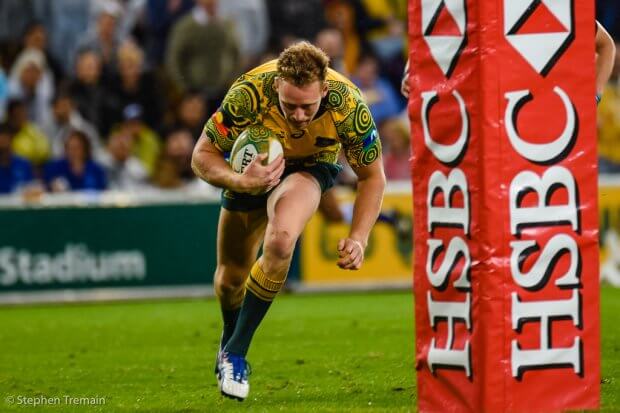 Wallabies and Melbourne Rebels centre Reece Hodge's season is done after it was confirmed he has fractured his ankle.
Hodge arrived at the John Eales Medal Awards on Friday night dressed in a moon boot and on crutches after suffering from a training accident. Scans on Saturday confirmed the worst news for the young centre.
Hodge has played in every test for the Wallabies this year, and was looking to have grown out of his Mr Fix-It role and into the consistent spot at outside centre, or in Australian Rugby terms 'Unlucky No. 13'
Hodgey is currently taking nursing applications. Enquire within.
Michael Cheika has not named a replacement yet but according to Fox Sports, don't be surprised to see Adam Ashley Cooper don the 13 jersey. Samu Kerevi has been cleared after a successful hit out playing in the Byron Bay sevens over the weekend.
"He's (Kerevi) got a good block of training under his belt and he is probably a bit underdone but he has a lot of experience as well.
"We will decide once he arrives and we get him on the training paddock whether we think he is in the sort of condition he needs to be to play at least some part this weekend."
If a straight swap for Kerevi isn't possible, it may force Cheika to try something creative, picking Israel Folau or even Sefa Niavalu (played 13 for the Rebels a few times). It could be opportunities to see some fresh talent like Jordan Petaia or Tom English get a chance after strong Super and NRC season.
Flanker Angus Cottrell was also ruled out of Bledisloe 3 after straining his medial ligament. The injury was enough to rule him out for Japan but he is still in the squad for the European leg of the tour.
"ABSOLUTE SUPPORT"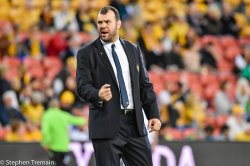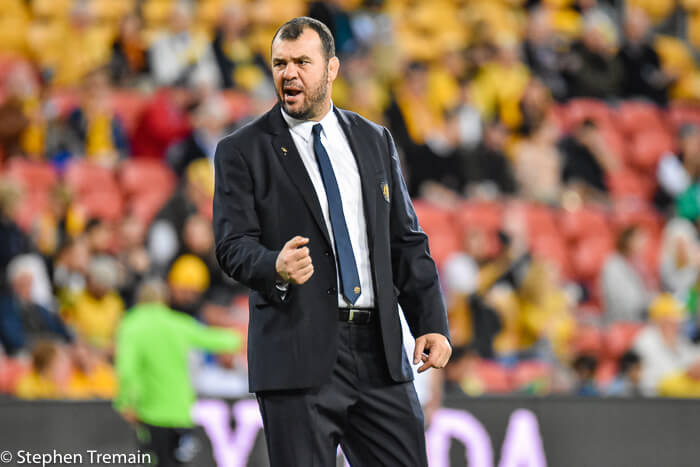 Wallabies coach Michael Cheika will have a job until at least the World Cup in 2019 as Rugby Australia chairman Cameron Clyne declares that Cheika has the boards "absolute support."
These comments came after Cheika delivered a presentation to the board on Friday, after he and the Wallabies have significantly under performed throughout the 2019 international season.
According to Clyne, the meeting was more about how the board can help Cheika find success, as opposed to the public hanging most rugby fans were expecting (or hoping for).
"We're supporting him absolutely," he said.
"You have to be unequivocal, that's the way we've been, quite consistent. We're supporting him absolutely.
"It's really up to him at the end of the day, it's his job to coach the team, it's our job to make sure that we're providing the sort of resources and support he might need."
When questioning whether there would be any positional changes, such as the roles of Stephen Larkham or Nathan Grey, or even the adition of an outside selctor like George Greegan, Clyne once again played the politician
"That's entirely up to Michael," meaning Cheika can pick his own team and coaches.
"The reality is we support him and we support the structure he's put in place. You've got to allow your coach to pick the team that he's supporting.
"He's obviously indicated he's very comfortable with his coaching structure and we back him with that."
One thing Cheika did raise was the need for a stronger alignment between the Wallabies and Super clubs.
Clyne tried to put to bed the speculation that the Wallabies record breaking comeback victory in Salta had somehow bought Cheika a stay of execution.
"People are speculating, it certainly wasn't the board's view," he said.
"The board's view was clearly we were obviously delighted to see that record comeback in Argentina but I think that's a good example – this team has got extraordinary potential, you can see that."