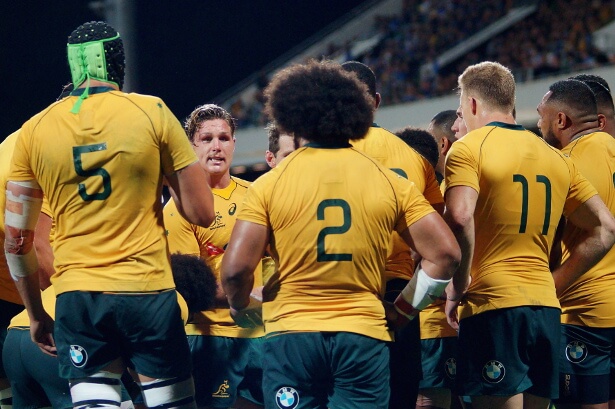 Monday's Rugby News has Jordan Uelese chatting about his debut, players and fans talking about the game in WA, John Eales' take on the Senate inquiry and the results from the weekend.
---
Fresh Meat Uelese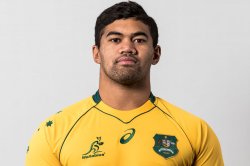 Jordan Uelese made his Wallabies debut unexpectedly early on Saturday night, coming on only 28 minutes in after TPN injured himself again.
Uelese, as our Player Ratings will show when they're eventually up (Bobas!), played fairly well despite his ridiculous lid. Here he is with his views:
"As soon as I came on … the Springboks really chatted out from the start … but we always knew that was going to happen," Uelese told the SMH.
"Fresh meat and those kind of [words were used] but it was awesome just to be in the thick of it.
"It happened so quick. They were like, 'Jordan, you're on' and I just had to quickly run on. I had a job to do and I think the lads prepared me very well if the opportunity did arise I'd be ready to do the job but I was pretty nervous at first.
"It happened so quick that I just had to go on and go straight into fifth gear."
Wallaby 912, Uelese was born in NZ but moved to Melbourne at young age. Unlike Tyrel Lomax, he's also not a dog to Australian rugby.
"My No.1 goal in life was to put on that gold jersey and to fulfil that, I've got to go find new goals now," said Uelese, who is a Good Bloke.
"It hasn't really sunk in yet. Looking around and donning the gold, it doesn't really feel real just yet but I'll let it sink in and enjoy this moment with my family, who obviously travelled from Melbourne.
"Just running out there and singing your national anthem, it's an unreal feeling. I tried to hold back the tears.
"The adrenaline rush was huge, just the build-up was immense. I think everyone couldn't really believe that a 20-year-old was going to be on the bench for the Wallabies with not much experience. The boys really prepared me for this opportunity that arose and I think it was awesome that the senior lads got around me and it's awesome that Cheik brought me in at such an early stage just to feed off these senior players."
Having physicality and aggression, naturally Michael Cheika is pleased with Uelese's performance.
"I thought he did pretty well. He got in there first scrum, did really well. He had a good lineout … hit the mark. He's a talent. With the guys fatiguing a little bit I thought he added a lot of steel in the front row at the scrum."
With Stephen Moore's bub having arrived (I think), Uelese will probably not be part of the squad for the Argentina game.
For-orce
Just under 18,000 turned out for the Force game on the weekend, against the backdrop of the whole Force Fiasco™. If you were wondering what the peeps at the ground – lots of them wearing blue, including the ball girls and boys, and the physios – were chanting, it was 'Force' in two syllables. And turning one syllable words into two syllables is what Western Australians do best. No, really, ask them to say 'beer' or 'here'.
Anyway, Force fans weren't happy.
Fox Sports reports that there was a bloke outside the ground holding up a very angry sign, that in short said 'Rot in Hell ARU'. His name is David Hayter, here's what he had to say:
"I won't be attending another Wallabies game and I personally know another 10 fans who boycotted this Test because of the stupid ARU decision to cut the Force," Hayter said.
"The ARU can bail out NSW Rugby more than once but they are prepared to lose rugby in WA for good without realising how valuable it really is. The ARU will be arguing over the entrails of Super Rugby when it comes to their next deal because it won't be resembling what it does now."
Fox Sports has a few grabs from the 3 Force players who turned out for the Wallabies on the weekend – Adam Coleman, TPN, and Curtis Rona.
"It was an amazing feeling to get the 'Sea of Blue' to a Wallabies game … it gave me goosebumps with the 'Force' chant at the kick-off and the support for the Wallabies which is a real credit to the WA rugby community. I almost had to check what jersey I was wearing there was so much blue in the crowd," Coleman said.
TPN echoed Coleman's statements, saying "I was quite emotional, I won't lie, because I definitely felt happy but sad at the same time that this could possibly be the last time I see them, those locals who I always saw in every game for the Force.
"I think a lot of the other crowds need to take a leaf from their book because that's what you call support, right from the first minute to minute 80. We were playing for them as well."
"Hopefully, that little meaty was just a token of what they've given me throughout this whole Super Rugby season," continued TPN, referring to his lineout drive try.
On the other hand, rugby.com.au also reports that some Wallabies players rocked up to watch a grand final game in the WA Juniors comp, only to be verballed by a few angry Force fans.
"A group of players visited the Rugby WA junior grand final day on Saturday and were confronted by some angry supporters," says the article.
"Though we're told there wasn't anything too ugly about the exchanges, the ire wasn't quite directed at the right target."
Senate Thingy
John Eales isn't a happy chappy about the Senate inquiry that was announced last week.
Yep, the Senate will be looking into the ARU's running. It's been initiated by WA Senator Linda Reynolds. There's a funny photo about the Senate inquiry somewhere on Twitter but I can't find it so just imagine you saw it.
"There's nothing we can do to stop that but I know that there is nothing the ARU or the ARU board has got to hide," Eales said, according to the SMH. "People can go through that [document]. We've published everything. Go through that timeline and there's detail.
NRC + 7s
Macquarie University hosted both the latest round of uni 7s as well as an NRC game on the weekend, with UQ and the Greater Sydney Rams being the big winners.
The University of Queensland have now won both legs of the series so far, and neither have they lost a game. They beat fellow QUEENSLANDERS Bond University 22-17 in the Gold Medal match yesterday.
Griffith University made in a QUEENSLAND trifecta, beating Macquarie University 20-5 to grab the bronze medal. Adelaide beat Canberra to 5th, while New England beat Tasmania to 7th.
After the 7s was all said and done, Jed Holloway and his Rams put the Rays to sword 41-26. Most importantly, the Rams retain the Horan-Little Shield and the Benn Robinson Bell, which is really what everyone cares about when it comes to the NRC.
"We're probably a bit disappointed that we couldn't get the bonus point win, but it's two wins on the trot for the Rams, and that's something we've not done in the NRC," Holloway told GAGR friend Brett McKay.
"I think everyone's playing with a bit of a chip on their shoulder, there's a few of us coming off disappointing Shute Shield or Super Rugby seasons and we're all out to prove our point, and that's shown in these first two games."
Meanwhile, and because this has nowhere else to go, Tyrel Lomax – the up-and-coming Rebels prop – has signed for the Highlanders next year as he seeks to chase his All Blacks dream.
Lomax, the son Kiwi league prop John Lomax, was born in Australia but moved between NZ and Australia during his childhood. Lomax will join up with the Highlanders in 2019 if he isn't granted an early release before then by the ARU and Rebels.
Cheika called Lomax up in his 48-man Wallaby squad earlier this year, and so naturally it was a hard decision for Lomax to choose to play for the team that doesn't tread water.
"I grew up in New Zealand and as an aspiring rugby player the chance to play for a NZ Super Rugby club was too good an opportunity to turn down," he told Fox Sports.
"As a young prop I can't wait to get to the Highlanders, they have an awesome [winning] culture there and I just want to immerse myself in it and learn as much as possible."