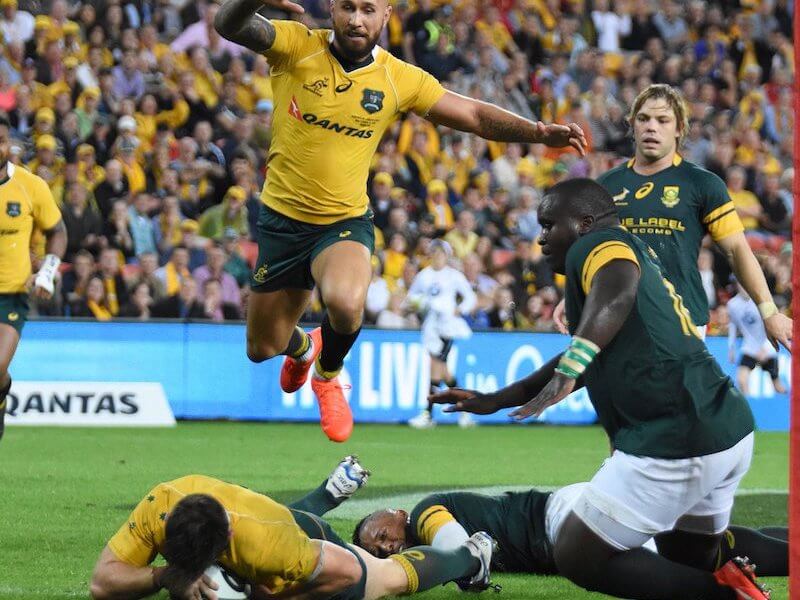 Monday's Rugby News has all the latest news from the Wallabies, with Quade and Cheika positive while Allan Alaalatoa is out injured, possibly for the rest of the RC, while in the NRC Brisbane City finally gave up the Horan-Little Shield.
---
Stability Is Key
Quade Cooper reckons that his partnership with Bernard Foley – aka the Fooper or the BerQuade – can work out, if they're only given time and stability.
According to the SMH, Quade said: "It's just good for us to have stability, to be able to have two weeks of training together, two games together. [We] were having a better time together, but it's like anything, the more training sessions you get together, the more games you get to play together, the better the combinations start to flow.
"Whether Cheik [coach Michael Cheika] persists with it or not, it's good from our point of view being able to sit in the same position and train throughout the week and prepare for a game knowing where you stand."
Wallabies coach Michael Cheika, someone who loves giving time and stability a little too much, added: "I thought their partnership improved again this week. They complemented each other well … Bernard played a bit flatter and ran with the ball as well. He's probably been a bit deep to attack in the last couple of weeks. Quade, with Bernard and Willy Genia, managed the game very nicely."
Alaalatoa Absent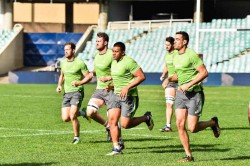 Allan Alaalatoa has been ruled out on this weekend's showdown with Argentina, after scans revealed that he's done his knee in.
Alaalatoa knocked his knee during the South Africa game, and the SMH is reporting that scans revealed he has a medial ligament strain. The prop was seen wearing a knee brace at Brisbane airport yesterday morning, where the Wallabies were preparing to fly to Perth.
While the injury isn't too much of a setback, it might see Alaalatoa ruled out for the rest of the Rugby Championship.
In his place, the Rebels' Toby Smith (four caps) and the Waratahs' Tom Robertson (no caps) have been called up to the Wallabies scout camp. It is thought that Robertson is the man most likely to replace Alaalatoa.
Is Win Is Good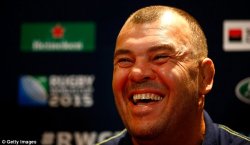 Michael Cheika is quietly beaming, and hoping that the Wallabies will now click into gear now that they've got a win this year.
As the Daily Telegraph reports,  there were five Wallabies (plus Mick Byrne) that had their first sing-a-long of the team's song in the sheds on Saturday night.
"Losing some of that anxiety 'Oh, just gotta win' is important because I want us to feel the extra freedom to play better in attack in particular," Cheika said. "Now, we can start upping our play to win again."
"I think you even saw that towards the end of the game, we had other opportunities to hit them on the counter, we kicked the ball away – little things like that, just that anxiety of being in front and wanting to stay in front at all costs," he said post-match, to rugby.com.au.
"We need to liberate that a little bit more going into next week, but we're very pleased, in particular for our supporters and our debutants."
Canberra Take Shield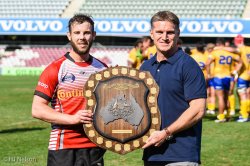 For the first time since round 2 last season, the Horan-Little Shield will change hands after the Canberra Vikings smashed Brisbane City 52-20 on the weekend. Like a boxing championship, the Horan-Little Shield is won on a challenge basis.
After a rather tight and tense game, the Vikings turned the last 13 minutes into 30 unanswered points, with Queensland representatives Nick Frisby, Jake McIntyre, Chris Kuridrani and Lukhan Tui not being able to offer any focus to stem the tide. Huh, funny that.
Apart from the Vikings – City clash, it was an action-packed weekend in the NRC:
The Western Sydney Rams had another close loss, against the Perth Spirit, 30-24;
The Sydney Rays beat Queensland Country, 30-22 in Surfers Paradise;
and NSW Country Eagles snuck over the line against the Rising in Tamworth, 32-30.
---
 Gagr craft beer discount
Enjoy smashing a tasty craft beer from time to time? What am I saying, of course you do!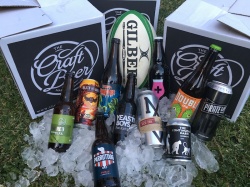 Well GAGR has organised for you to get a $20 discount when you order any of the 'Tight Five', 'The Forwards' or 'The Backline' Bledisloe special mixed cases from The Craft Beer Market. Each case has competing line ups of fine Aussie and Kiwi craft beers.
Make up for our super rugby showing – YOU decide who wins in this battle!
Just enter GAGR20 as a code on checkout to get a sweet lobster off as many of these three mixed cases as you order. Delivery is free anywhere in Straya!