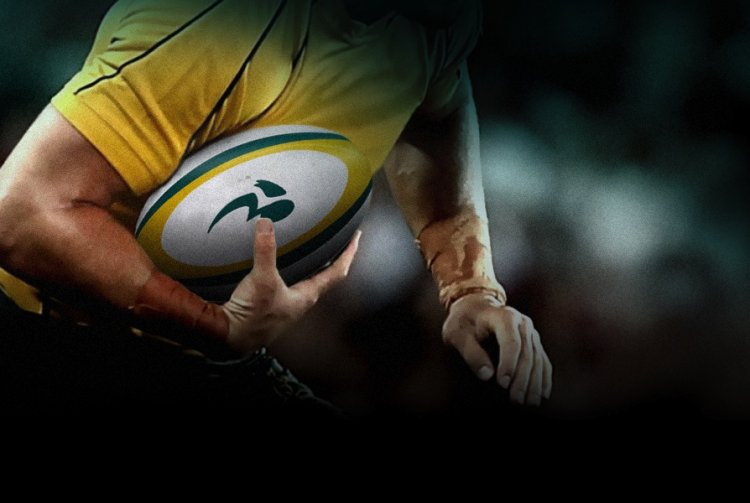 Here's the ARU's latest TV commercial which they are spruiking on their website
I was reeled in. I was excited. I watched. I was underwhelmed. Let's do a little shot by shot break down, shall we, and examine it.
First Shot – The Wallaby team running out pre-test. Fair enough. It's a relevant enough way to start an ad about the Wallabies, although players running out in tracksuits doesn't necessarily scream "check out these amazing athletes" does it?
Second Shot – Cut to an aerial shot of the team running out which is really a nothing shot. Doesn't show the players, doesn't show the crowd – just a big patch of green really.
Third Shot – A bit of camera trickery flicks us to an even higher aerial shot of the entire stadium. Again, it's probably too high. Now you really can't see anything but the outline of the stadium and a green patch, with few strange blue splotches. You can't see the size of the crowd or any of the players.
What are they selling here? The event I imagine. The grand scale that is international rugby, but these last couple of aerial shots really fails in this endeavour.
Fourth Shot – Finally, a close up of the players. Stephen Moore, Benn Robinson and Stirling Mortlock belting out the anthem pre-game, and when I say "belting" I mean it's just really a slow mo shot of them with their mouths open.
Nice. I can feel that. It's a distinctive aspect of our game, a selling point perhaps – the international scale of it. There is legitimate pride in representing your nation on the world stage. So the anthem is a valid piece of vision to show, but let's get into some action soon please. We're about a third of the way through the ad.
Might I add that the players are in their tracksuits still? Yeah, I know, that's what they wear pre-game, but the brand is the Wallabies. Showing the Wallaby jersey would be pretty impressive in this scenario. Surely there is some footage somewhere of a Wallaby anthem with players wearing jerseys rather than a nice cardigan?
Fifth Shot – Then we show the anthem, players arm bound, from the back. The words "Men of Honour", which pops onto the screen in the last shot, remains for this shot.
Not sure if "Men of Honour" is really going to get the kids playing the game or get the fans to shell out $120 to see a test match. As for the shot? Yeah, ok, we get it.
The anthem. Together as a team. Binding us as a nation. Representing us on the national stage, but surely we got that from the previous shot?
Sixth Shot – Oh come on. The anthem still? Now it's Al Baxter selling it. Is this just a ploy by the ARU to rebut Matt Dunning? "What are you saying Matt? We have the entire front row in our commercial? We love you fatties!"
New words now. "Men of Pride".Well, in fact its just one man in shot. Weird Al.Not sure he looks entirely proud at that moment. Not saying he isn't, just that he looks particularly focussed at that given time. I think it would have worked better if the "Men of Pride" words had appeared over the previous couple of shots. But anyway….yes, it's still the anthem…..and they're proud!
Seventh Shot – Finally!!! Some ACTION. And it's.…it's….it's a field goal? Half way through the ad, the build up is over, and we see Matt Giteau kicking a field goal from in front of the posts? That's it?
Look I'm not suggesting that a drop goal is not an impressive skill. Lord knows I can't drop kick a ball over the posts, but again, what are we selling here? Surely it's about action and athletic performance now? We've done the atmosphere thing. We've done the global stage and patriotic thing. Now its action time, and we see a kick? Shees.
Eighth Shot – "Men of Speed" and Ryan Cross effectively falling over one of the oddest attempted tackles ever? It's not even overly clear it's actually a try.
Now I have a couple of issues with this shot. Firstly, Men of Speed is impressive but however capable Ryan Cross is as a player, speed is not one of his dominant characteristics. Plus the ad doesn't even show any speed. He's actually caught by two opposition players.
It frustrates me also that they chose a try v the French. Their dark blue jerseys, to the untrained eye, might just as well be the All Black jersey. Rugby is a global game, filled with excitement and colour, and the only action we show is against this dark jerseyed opposition?
Why not show the dazzling white of England, or the red of Wales or the green of Ireland? Show some diversity of colour. It all looks so 'the same' so far. And pick some better action.
Something that showcases true speed and real skill. Gits did some amazing things last year. Horwill's try from that same test even, with the little spin and backhanded flick by Matt followed by Kev's dive. Anyway…perhaps we'll get something better soon?
Ninth Shot – A scrum…..hmmmm, really??. Now, don't get me wrong. I'm a former prop and have a real fondness for this aspect of the game. I also think it is another of the unique distinctions of our game.
I can't think of a greater, more physical, more confrontational battle for possession in any other sport in the world. But it's not really one for the highlight reel is it? I'm some what willing to overlook it because it is unique to the game and has a certain 'sellability' because of this. But within the scope of the rest of the ad, and the complete lack of action therein, it's just time that could perhaps have been better used.
Oh and of course we have "Men of Conviction". What a boring by-line. "Conviction". Once more, that's not going to sell anything to anyone.
Tenth Shot – What, wait? Is that it? A try celebration? Hugging and jumping? Surely we're not wrapping up? We're finished? Yeah ok, celebrations is a positive in a 'you too can revel in the success of our national team' kind of way, but in sport you can't sell the celebration because it's not guaranteed.
You need to sell the fail-safe aspects and any celebration is just a bonus. So show the magic pass, the outrageous step, the earth shuddering tackle, the pure speed on the outside, even the majesty of a perfectly timed lineout win. That's what we get every game. That will get the people in.
The odd win will just keep them coming back. The final catch phrase, and actual selling spiel "Men of Gold" appears which is fine, as we actually see the players wearing their jerseys. In itself the tagline is perfectly acceptable. I can't say the same for the extrapolations, or the uses of them, however (Honour, Speed and Conviction).
Eleventh Shot – And its back to the anthem, back shot and we get flashes "QANTAS WALLABIES" "BUILT BY RUGBY" "FORGED IN UNION", and then a sponsor page. To me I just don't get this 'built by rugby and forged in union' approach. It reeks of old private school network to me. It's not opening and inviting. It's almost saying 'well, you really need to have followed the game for a long time to understand it".
So in summary, its crap. The footage used is really pathetic. When you compare it with the action traditionally shown in AFL [2009 ad below], Cricket, NRL [2009 ad below], basketball, NFL, even bloody swimming ads, it's a clear wooden spooner. Then some of the marketing speak to go with it is way too high brow and meaningless. No effort whatsoever is made to connect with the grass routes and the uninitiated. What a big fat waste of marketing dollar at a critical time for the sport in Australia.