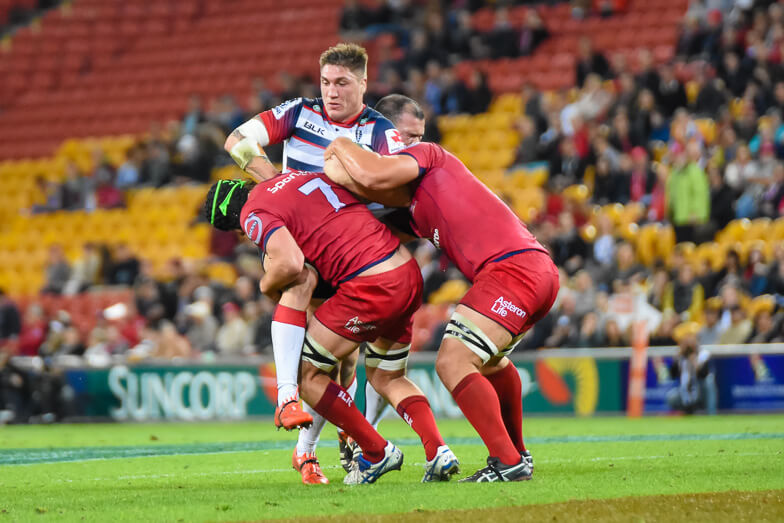 The lineup of departing Queensland Reds stalwarts was enough to bring a tear to the eye of Reds faithful – so much experience, so much Red pride was departing – Saia and Anthony Fainga'a, Curtis Browning, Jake Schatz, Benny Daley, Liam Gill and the mightiest of men and props, Greg Holmes – 146 caps for Queensland.  I know the team and the fans wanted to pull off a win against the wounded Rebels.  Two teams who were shellacked last week, playing for a scrap of pride and looking to the future.
The Match
Tom English had points on the board for the Rebels within 2 minutes off a break by Sean McMahon as it looked to Queensland Reds fans to be a repeat of last week's loss to the Chiefs.  And to be honest, I wish it was that good.  The loose and non-existent tackles allowed the Rebels to take advantage of field position.  When you combine that with the crazy and panicked passing from the Reds it was enough to drive the fans to silence.
Nick Frisby's try in the 15th minute showed what can happen with quick thinking and fast ball – but this was the only highlight of the first half for Reds' fans.  Sean McMahon proved how dangerous he is when he struck for two quick tries within 5 minutes.  He was everywhere in the first half and his workrate was seriously impressive.  Toby Smith's run to start the setup to McMahon's second try was great if you were a Rebels fan and embarrassing if you were a Reds fan – he totally brushed off Nabuli, which is no mean feat.
The Queensland Reds continued to kick possession away or cough the ball up which cruelled their chances of keeping in touch with the score and they went into the sheds down 7-24.
Handling errors for the Queensland Reds continued to hamper their momentum as they fluffed phases with poor passes and lost ball, but they started the second half much better.  Alex Gibbon in his second match for the Reds did well to position himself for Liam Gill to pick and dive over for his second try.  The possession in the second half swung the way of the Reds, but in spite of less ball Tom English, Sean McMahon and Stirzacker still had maximum impact.
A try to Kerevi followed this and the Reds were back in the game.  Unfortunately however as happened frequently in the 2016 season the Reds allowed their opposition to hit back with a quick try.
28-31.
It was edge of the seat stuff for Reds fans as the minutes ticked down.
Tupou went off, Holmes returned to the field and *surely* that meant the Reds could pull one out of the hat.  Surely.
All that was needed was level heads and no mistakes.
Sigh.
You know that was never going to happen.
Rebels won and it really was the end of an era as Saia Fainga'a, Curtis Browning, Benny Daley, Liam Gill and  Greg Holmes left the field for (mostly) the final time.
3 wins from 15 games this year is appalling for the Queensland Reds.  Sacked coach.  Chairman departed early.  CEO resigned.  Co-interim head coaches.
14 debutants in a season where we can still farewell 7 experiences players says that things didn't go to plan.
But I am looking at some bright moments – Campbell Magnay made it over the advantage line more in this match than I think we did for the last three matches combined, and he straightens in attack something we didn't do a lot of either.  He is a powerful player at only 19 and I am looking forward to more of him next year.
Tom Banks in his starting debut was very solid in attack and may be good support for Karmichael Hunt next year.
Taniela Tupou needs work in the scrum, but has no problems taking the ball to the line and using his momentum to keep driving.  Looking forward to more of him next year.
Oh my word though, we need someone next year who can direct the backline.  My kingdom for an actual flyhalf who can compete at Super Rugby level.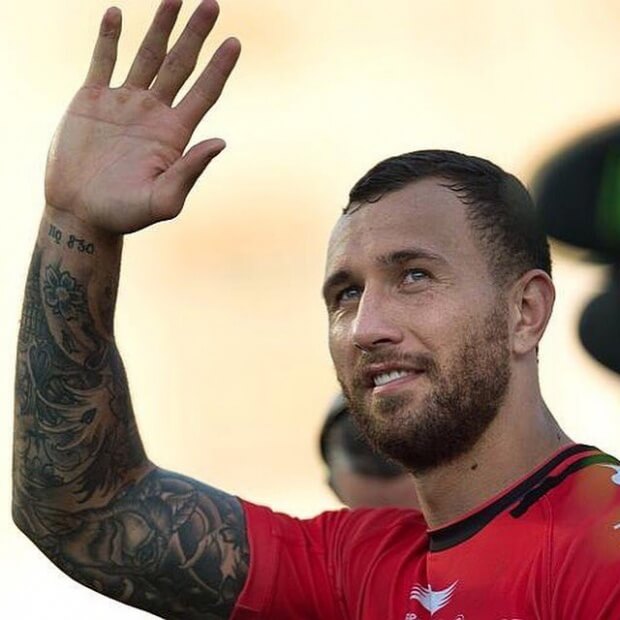 ---
The Game Changer
Sean McMahon's back to back quick tries (29′ and 35′) in the first half put the nail in the coffin of the worst first half of the 2016 Reds' season.  In the end, it was too much for the Reds to peg back.

The G&GR MOTM
Sean McMahon had a cracker of match in his return from injury and was high impact – most metres for the match, two tries, 5 defenders beaten and 11 runs.  (Unfortunately Sully he wasn't a Notta tonight.)

Wallaby watch
I don't think anyone has surprised and busted into the Wallabies squad in this match, but I think that next year for both teams might be a different story.  Hope, as they say, is eternal.

---
The Details
Crowd: 14, 126.  Bollocks to that one.
Score & Scorers
Queensland Reds: 28
Tries: N. Frisby (15), L. Gill (49), S. Kerevi (55), L. Gill (69)
Conversions: 
H. Taefu
(16)
,
N. Frisby
(49)
,
N. Frisby
(56)
,
N. Frisby
(70
Penalties:
Melbourne Rebels: 31
Tries: 
T. English
(2)
,
S. McMahon
(29)
,
S. McMahon
(34)
,
N. Stirzaker
(57)
Conversions: 
J. Debreczeni
(3)
,
J. Debreczeni
(29)
,
J. Debreczeni
(35)
,
J. Debreczeni
(57)
Penalties:
J. Debreczeni
(11)
Cards & citings
None.  Gotta love the inconsistency of the decisions over the last few weeks.  Bless.