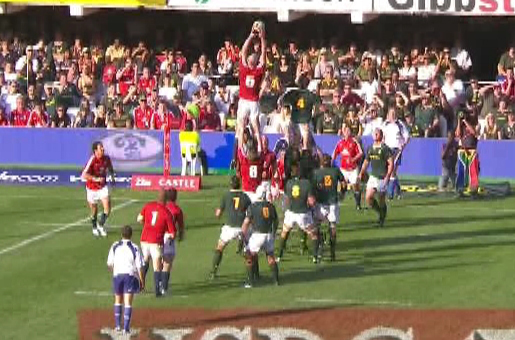 The Lions have selected five locks for their tour with two, Paul O'Connell (Ireland) and Alun Wyn Jones (Wales) having been part of all three tests in 2009 against South Africa – O'Connell as captain.
I expect that O'Connell will be an automatic selection for the first test – he has the toughness and experience that any coach would want in their pack – even without being captain he's a strong leader on the field. He plays both sides of the scrum but seems to prefer playing loosehead lock, makes a good contribution around the field and is a good lineout operator as well as an experienced lineout caller. He does the work in tight that you want to see a lock doing but does not offer many threats in attack.
The choice to partner O'Connell will probably come down to two players – Richie Gray (Scotland) and Jones. Geoff Parling (England) is a solid player and may come into contention during the tour.
Jones has the experience of 70 tests for Wales and has been a solid performer for Warren Gatland – he plays both lock and blindside flanker and was considered a potential captain for this tour – he's also a lineout caller.
Gray plays on both sides of the scrum but is a good tighthead lock, has a really good work rate around the field and is a good lineout option. He plays tight when required but also offers something extra in attack when he does get wider – despite his size he is quite mobile. He has shown that he can be an attacking threat, although his form in the 2013 Six Nations was nothing special. At 2.05 metres (6 feet 9 inches) tall and 120 kilograms he'd be the biggest man on the field regardless of who the Wallabies select.
The second lock spot is one that may well be decided by performances in the lead up matches before the first test although I expect the following:
4. Richie Gray (although I expect he'll pack at tighthead lock despite the number)
5. Paul O'Connell (who likes to wear number 5 regardless of which side of the scrum he's packing on)
19. Alun Wyn Jones (particularly with his versatility as a lock / flanker)
Northern hemisphere teams are good exponents of the driving maul from lineouts so it will be no surprise to see the Lions forward pack testing the Wallabies with this tactic. When the Wallabies try this tactic themselves they'll find that O'Connell and Gray are both good at disrupting opposition mauls. O'Connell is good at working through the middle of a maul and Gray uses his height to reach over the top and try to pull the ball carrier in.
As you'll see on Monday the Lions back row I'm expecting to be selected are all good lineout jumpers which will give the Lions five front line jumpers. Unless the Wallabies are planning on giving the Lions easy ball from the lineout this Lions threat will have to be countered which I discuss on page 2.
Watch the video below for some examples of what I think we can expect from my predicted Lions lock choices.