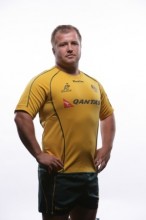 With the moment, came the man: Croks. He powered away from the field in the last couple of rounds and never looked like getting it wrong. An awesome performance with an amazing number of tips within 5 points, which seems to be the secret of success. So, Croksy, first things first.
What size are you and which KooGa jersey do you want?
Being a former prop I'll need an XXL and I think I'll go for a Wallaby jersey as I already have a fairly new Reds jersey from 2009 not bandwagon associated. Stoked to have won and can't really believe it.
What's your secret? Do you have a system?
I used to run a tipping comp at work for all three codes and  invariably I would always be worst at the rugby even though that is the game I support. So a bit surprised I won. Sorry, no great secrets  of success except that picking the Reds payed off this year compared to the last few.
How much time did you put into studying the form?
Dedicated a great number of minutes a week at work to tipping involving much deep thought and random guessing. My inspiration was Dan Crowley; nothing beats a tough nut Qld prop. A little site love for you guys, the site is awesome and I'm glad I found it the last couple of years. You guys do a great job and the stuff is so much better reading then from the so called news sites
Congratulations Croks: Pool Champion, G&GR, Super 14 2010.
Here's how the top 10 finished. Just to get close was an achievement, so all of you grab a bottle of Great Western Brut, shake it up, and give yourself a spray.
1 Croks 96.75
2 Reddy! 93.75
3 PierreMarie 93.58
4 RSEA 93.58
5 brighton 92.25
6 RunningRugby 91.25
7 Epi 90.75
8 Reido 90.50
9 robdylan 90.25
10 Eddo 90.08
At least Gagger made the coveted top 30. He came 30th as it happens.
I also really want to thank our celebrity tippers Peter Hewat (73rd) and Lote Tuquiri (98th). It definitely spiced things up a bit and gave us someone to try to beat in the lower levels of the competition.
Larkhage came 96th and was the lowest ranked tipper to finish the comp. He lost the first game of the season, and the last game of the season, and a hell of a lot of the games in between, but he kept bloody at it. We call that the 80 Minute Award around here, and Larkhage, congratulations on winning it. As Sharpey might say: I'm really proud of how the boys stuck to the task'. Full credit.
Last but not least, we'd like to thank the Official Jersey Partner of Green and Gold Rugby, KooGa. It's the best Wallaby jersey in years and  hope we can offer another KooGa prize during the TriNations.