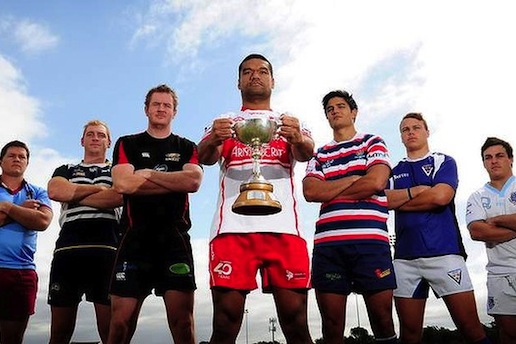 Canberra Royals v Gungahlin Eagles at Phillip Oval
The Gungahlin Eagles' finals hopes hang on a thread after going down 26-21 to the Canberra Royals in a tight battle that went right down to the wire.
With the fourth placed Wests Lions having a bye this week, Gungahlin now find themselves more than a win away from the top four, and will need to win nxt week before their final round bye while Wests lose one of their next two games to make the play-offs.
However the did themselves no disrespect on the field, only conceding defeat with three minutes to go against a second placed Royals side who had just beaten the previously undefeated Tuggeranong Vikings.
A break from Ben Johnston set up Jack Sutton with the winning try, who won a foot race to the line.
It completed a frustrating game for both sides, with over 30 penalties awarded throughout the match.
Royals coach Russell Ingram said it was important for his men to keep their momentum up through their last two games.
"We just need to get our recovery right and play again next week," he said.
"It's nice to keep winning and hold that second spot for sure."
The Royals will have a great chance to pile more points on when they take on the win-less Uni-Norths Owls next week, while Gungahlin face a tough must-win game against the Lions, who will be coming off a bye.
Eastern Suburbs v Tuggeranong Vikings at Griffith Oval
The Tuggeranong Vikings have returned to the winners list with a convincing 61-21 win over Eastern Suburbs at Griffith Oval.
The win was a clear expectation for the Vikings, being in the unfamiliar situation of coming off a loss, and facing the team second last in the competition.
For them, the game was just about returning to the winners list and ensuring set plays and combinations were in check heading into the back end of the season.
It is a very different story for Easts though, who while would have aspired to a win, are more focused now on rebuilding themselves for the future.
With four wins this season, they have performed better than what they had in two years, and coach Jeremy Osbourne said this was a positive looking towards next season.
"We set out this year to improve the club, and we didn't win a game for 22 months, so if we beat uni in the last round, we will have won five games for the year,"he said.
"We'll try and win double that next year.
Easts have battled through a high injury toll this season, and will look to nullify that in the future as well.
"When we field a full team we're as good as any team in the competition, and I think that attitude needs to come out in the boys too sometimes that they can compete with these teams", said Osbourne.
Easts have the bye next week before facing the Owls in a very winnable fixture in the final round.
Tuggeranong face the Queanbeyan Whites next week in what will be one of the best matches of the round.
Queanbeyan Whites v Uni-Norths Owls at ANU North Oval
The Queanbeyan Whites have secured a finals spot with a big 55-22 win over the Uni-Norths Owls at the ANU.
Despite facing the win-less Owls, it was an important game for the Whites, who would have been threatened by a Gungahlin win and with Wests having the bye.
A loss could have seen them drop out of the top four.
But they continued their good late-season form, and showed they will be right in the way of the likes of the Vikings and Royals come mid-August.
For Uni-Norths, it was an improved performance of their own given they managed a couple of tries and 22 points.
Similarly to Easts, they are in rebuilding stages, and have their focus on the future already.
Their best hope of a win this year is when they face Easts in the final round, but will likely struggle against a Royals outfit in bulldozer mode next week.
Queanbeyan will have their ultimate test when they take on the Vikings at home next week, but their recent run of convincing wins will give them confidence they can muscle up with the competition leaders.
It will not get much easier for them in the final round either, when they take on the Royals.
BYE: Wests Lions