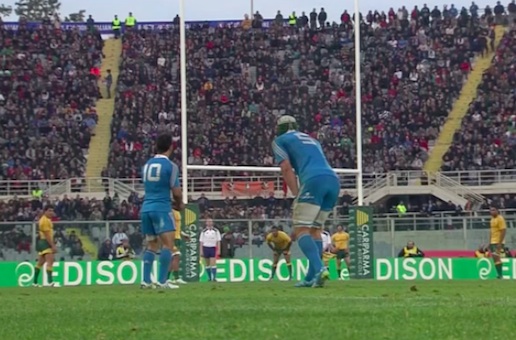 The beautiful thing about stats (God that sounds nerdy) is that sometimes they're pretty damn counter-intuitive.
Most of us swearing at our screens on Sunday morning would have been shouting "Just keep the friggen ball!" – or something to that effect – throughout the second half as the Wallabies surrendered 13 unanswered points.
And the truth is we didn't keep the ball, we only had a ridiculously low 38 per cent of it in the second half. The counter-intuitive bit is that we had even less of it in the first half when we scored all our points – 36 per cent!! The difference was that in the first half we had a territorial advantage and forced the Italians into penalties. They gave away literally NO penalties in the second half, and so our scoring dried up (remember, tries are passé).
Clearly the Wallabies went into this game thinking it would be a territorial slug-fest. While the overall number of kicks were the same (28 a piece), the Wallabies kicked at a rate twice as fast as the Azzurri – kicking after every two rucks or mauls, vs every four rucks or mauls. This is why the Italians had almost twice as many ruck/mauls as we did – 111 to 56.
Interestingly, the Wallabies kicked less in the second half. So maybe we should have been shouting "JUST KICK IT!"?
PS – check out the offloads