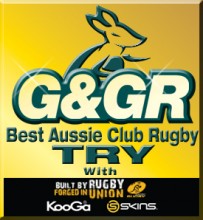 Here they are, the entrants for April's Green & Gold Rugby Best Aussie Club Try in association with the Rugby.com.au.
Have a gander, pick your favourite and VOTE USING THE POLL BELOW the YouTube video! If you don't want to watch the little video again, just click on the cross in the box.
Voting will close at midnight this Sunday 23rd May 2010, so get your last votes in.
Please don't just leave your vote as a comment!
Read more about the mega prizes from Skins and Kooga and learn how to get your entry in for May here.
To vote, click
Vote  HERE: