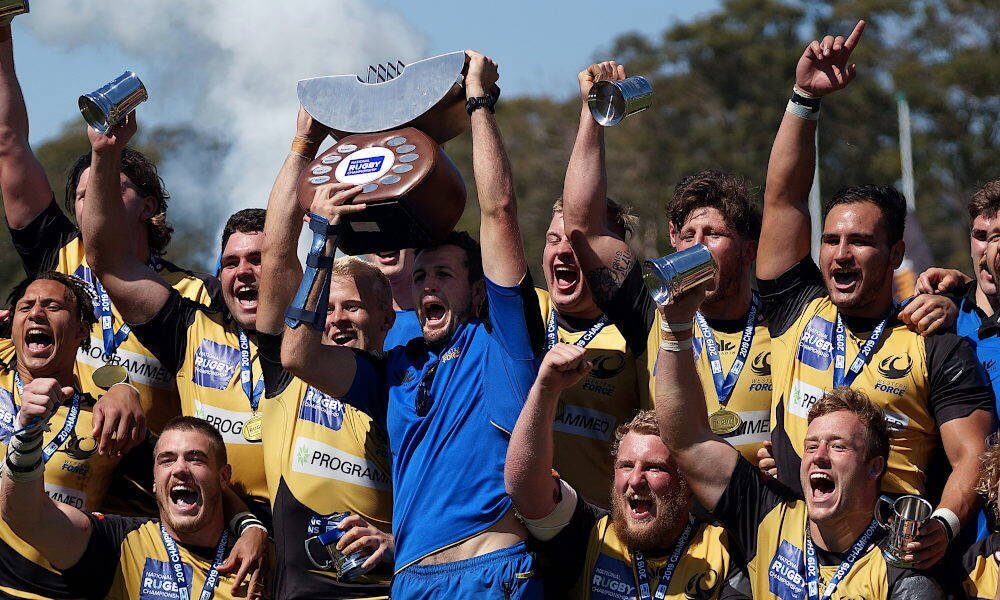 The NRC is a wonderful product. It is fast, exciting, innovative and is gaining the support of both players and fans year on year. The NRC is gaining traction and momentum, it is time to take it to the next level.
The NRC represents opportunity. Opportunity for club players to step up and mix it with more seasoned professionals in the hope of becoming one themselves. Opportunity for fringe Wallabies to keep playing and showcasing themselves at a high level when the main squad is on international duty. Opportunity for coaches and backroom staff to prove themselves at a higher level. But mostly, the NRC is an opportunity for rugby in Australia to showcase itself to the wider public. To open up new, non-traditional markets and to win over fair-weather or occasional fans and rust them on to our great game. I say, let's maximise the opportunity of the NRC, here are a few suggestions for how.
Extension:
Playing a single home/away round robin is simply not enough. As soon as the season gets underway, it is finished. This makes it almost impossible to build into a season and engage fans across all teams. Using Melbournes season this year as an example, three loses in a row to start the year and their season was done. Where is the incentive for fans to keep showing up after that? Competitions like the AFL and NBL do this a lot better, keep as many teams chances alive for as long as possible into the season to keep hope's alive. This is much easier to achieve with a longer season. If there were 21 rounds (3 x round robin, ala the A-League) instead of 7, then a slow start becomes far less consequential. This would give teams and fans time to build into a season, ready to peak when finals come around.
Promotion:
The promotion of the NRC up until now has been underwhelming to say the least, it is like a black hole, nothing gets out. The clubs themselves and rugby stalwarts have made an effort to garner interest in the competition, and this has worked well as can be shown by the crowd numbers and level of social media activity during games, but this can only reach so far, generally as far as those fans already interested in the competition. Imagine the impact the NRC could have if it were advertised beyond the already committed stalwarts. A concerted push to get these games in front of the eyeballs of casual sports fans who are not already frequent visitors to rugby news sites. Improved broadcasting of matches would also help this immeasurably, free-to-air would be ideal but at least an increase beyond one game a week broadcast live would be helpful, especially if paired with an increase in production quality.
Expansion:
I am tired of the argument that there are not enough quality rugby players in Australia. Shrinking to success is not working, it is slowly strangling Australian rugby as there are less and less opportunities for kids coming through the system. We can strengthen Australian rugby stocks by increasing the opportunities to those coming through the system. We can also bring more quality players through by providing these opportunities outside of the tradition heartlands. Give some kids from Adelaide or Hobart a chance to mix it with the traditional East Coast heartlands and I almost guarantee there will be a bolter or two with a fair chance of breaking into the Wallabies before very long. This can only be good for Australian rugby. My preference would be to focus initially on teams in South Australia and Tasmania to give a more inclusive national footprint, then look to increase the teams in the existing states. This would need to be done gradually and sensibly and hopefully according to a long-term plan (like the AFL expansions) rather than knee-jerk changes from season to season (like the NSW NRC participation to date).
Professionalism:
This would be a key factor in helping the success of any expansion teams. It is not unrealistic to imagine players being willing to relocate to Adelaide or Hobart in the hope of attracting attention of Super clubs, West Australians were making the trip to Sydney for years prior to the Force for example. This becomes an even more attractive proposition for young players if they know they will have a living wage when they get there. A professional NRC could potentially also play a role in keeping players and coaches in Australia or luring them back. An NRC contract would likely not appeal to the cream of our overseas talent, those still sought by the glamour clubs of Europe, but it might prove attractive to the more journeyman type players looking to stay or return closer to home. Rugby knowledge and experience staying or returning to Australia can only be a good thing.
NRCW:
This perhaps is the biggest opportunity of all. The women's game in Australia currently is woefully underrepresented. Make no mistake, the rise of women's sport is real and wont be stopping any time soon (hurray!), with the AFLW expanding year on year, the Matildas recently securing equal pay to the Soceroos and other codes increasing the professionalism and appeal of their women's games, rugby simply needs to step up or it will be left years behind. To call a 5 team National competition adequate is simply unacceptable and runs the risk of driving promising young rugby players away to the much better set-up rival codes like Rugby League or AFL. Where is the appeal of a 5 game (if you make the final), unpaid season against what is on offer elsewhere? I propose that every NRC team is obliged to have an equivalent women's side and every regular season NRC game becomes a double-header, women's and men's. When this is combined with the other NRC changes I flagged earlier, particularly the elongated season and even potentially professionalism for the women as well as the men, then rugby will have an attractive product to entice young athletes deciding which sport to commit to. I would daresay this model would be far more attractive to potential sponsors as well (Buildcorp anyone?).
I am sure that a lot of people will dismiss these suggestions as purely pie-in-the-sky aspirations, but what is wrong about being aspirational? It would be a welcome change from the austerity currently being touted. I repeat, shrinking to success is not working, maybe it is time to be a bit more bold. Some of the above suggestions will benefit from a gradual introduction, but some can be done right now and indeed some (improving the offering for women) need to happen right now. The NRC is an opportunity, it can be a great competition that feeds our elite ranks for years to come, but only if we support it now and allow it to grow and prosper.