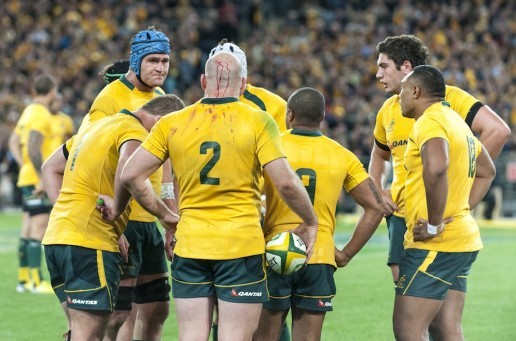 Friday's rugby news has Moore determined to regain captaincy, an off-field RUPA award nominated, concussion debates in the UK and Cipriani fighting for a recall.  
---
Moore still seeking captaincy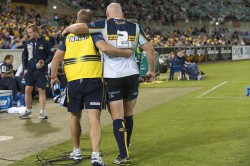 Injured Wallaby captain Stephen Moore has emphasised that he retains strong aspirations to captain the Test team, despite new coach Michael Cheika seemingly favouring replacement skipper Michael Hooper. While Moore's primary focus is on recovering from his knee reconstruction to display his previous Super Rugby form, the Brumbies hooker added, "I want to prove to myself and my teammates that I can play at that level for Australia."
Moore also commented that he trusted Cheika's long-term plan, with the recent poor results largely being a product of challenging circumstances. He also refused to comment on the David Pocock arrest.  
RUPA nominees announced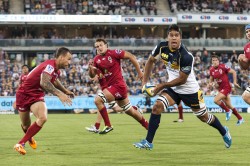 10 nominees for the Rugby Union Players Association Medal of Excellence have been announced, awarding the Australian player who is voted by his peers as having excelled both on and off the field during the season.
In 2013 the "Honey Badger" Nick Cummins received the award and RUPA Chief Executive Greg Harris emphasised that this recognition was an important element of the off-field commitment of Australian rugby players. "Many of our players are dedicated to causes and not-for-profit initiatives, donating a lot of their time and service in the community," Harris said. "It is important to recognise these areas too."
Calls for concussion consistency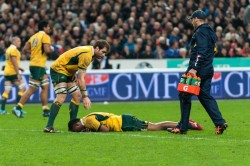 Christian Day, chairman of the Rugby Players Association in the UK, has branded the inconsistent application of concussion protocols between Premiership Rugby and the lower level Championship and Aviva A-league as "stupid". These lower tier competitions have not adopted the 10 minute pitch-side assessment as in the Premiership and Day said that this failure was threatening player welfare.
"Doctors and neurologists have said they need more time to assess players and it seems stupid that in the A-League and Championship we're making physios make snap decisions – and possibly the wrong call," Day said, adding that all professionals should enjoy the same assurances of safe protocols.
Cipriani hanging onto RWC hope
Former Melbourne Rebels recruit Danny Cipriani has vowed to continue his fight to rejoin the Test team despite being left out of the national squad for England's autumn matches. Despite his involvement in England's recent tour to New Zealand, Cipriani must now prove his place in the squad relative to recent starter George Ford and backup Owen Farrell.
'All I can do is control how I train every day, keep trying to improve and keep working on my point of difference,' the former English flyhalf said. Cipriani has been heavily involved in guiding the Sale Sharks to three consecutive Aviva Premiership wins and team management have frequently championed his playmaker's Test claims.