Friday's Rugby News sees Saracens secret, new tackle guidelines, Farrell's high shot, Laurie's cameo and a random Photo from Peter Mitchell
---
How Saracens went from 'absolute rubbish' to 'phenomenal'
I can't really do it justice here but there's a great article over on the BBC website ahead of Saturday nights Premiership Final. It's the story of how Saracens put culture ahead of winning and won. A real rags to riches story.

It was the 2005-06 season and Sarries, big names and all, finished third from bottom in the Premiership.

Now, 14 years later, England co-captain Farrell is the embodiment of how Saracens have built unparalleled success on homegrown talent over the past decade.

Will Fraser was among that glory-harvesting 'class of 08' until injury forced him into retirement in 2017 aged just 27. He says the quartet have achieved "remarkable" things together before any of them have turned 30.

"Looking back, it's absolutely bonkers," Fraser told BBC Sport. "But at the same time, it's completely unsurprising.

"It is bonkers because of where they have come from and unsurprising because all of those guys are absolutely everything good about the club.

"Faz [Farrell] – with his mentality, his drive, his loyalty – you will never meet a more honest, humble, hard working or disciplined man in your life. They are literally the four club values.

"He is everything that is 'the Saracens way' in the same way that Jamie George, George Kruis and Jackson Wray also are."

These are just four players defined by those three words – 'the Saracens way' – by which the club lives.

A total of 43 'homegrown' players have featured for Saracens in the Premiership since 2008.

Some were cast in a Saracens mould as a teenager, the way north London's own Maro Itoje was. Some were polished to a black and red sheen as young professionals such as Mako Vunipola who arrived from Bristol as an under-20 England international in 2011.

While not all established themselves as regulars, 11 have gone on to play for England and four – including Farrell, Kruis and George – have earned British and Irish Lions caps in that time.
SANZAAR holds off implementing new high tackle guidelines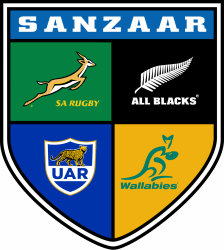 Sanzaar will hold off on bringing World Rugby's new guidelines around high tackles into Super Rugby until next season.
The step by step guide provides much more clarity around what sort of contact will constitute what sort of punishment, and is aimed to improve the consistency of the sanctions handed down by officials, and continue World Rugby's push to support protection of players' heads.
While all World Rugby sanctioned competitions and international matches, along with any competition yet to kick off, will adopt the new law guide with immediate effect, competitions currently in progress had the option of either bringing it in straight away or waiting until the beginning of their next season.
And Super Rugby have opted for the latter, with a Sanzaar spokesperson telling Stuff:
"As we are 15 rounds into the 18-round regular season we will not be introducing any new law guidelines/variations into the 2019 Super Rugby tournament. The variations will be part of The Rugby Championship."
The new law guide would give officials a more black and white path to their decisions, and allow all involved to understand them better.
Owen Farrell's ugly hit an example of 'shoulder charge"
Anyone who saw Owen Farrell's shoulder charge on Andre Esterhuizen in England's test against South Africa knew it was a shoulder charge. Except of course the guys who mattered. The Referees in charge of the game. They somehow came up with another decision. But now World Rugby is using Farrell's 'tackle' as an example of foul play.
The controversy around Farrell's ugly tackle lingered for several days, with a number of observers noting the England playmaker had a habit of not using his arms while leading with the shoulder in tackles.
It now appears World Rugby are officially deeming it to be a 'shoulder charge', according to the new video guide.
The law application guideline is designed to assist anyone involved in the sport, and with the on-field sanction decision-making process for high tackle and shoulder charges.
Research has found 76 per cent of concussions occur in the tackle, with 72 per cent of those to the tackler. The risk of head head injury is 4.2 times greater when tacklers are upright.
The 'decision-making framework for high tackles' was developed in partnership with union and competition delegates attending the player welfare symposium in France and includes player, coach, match official and medic input.
Why the Wallabies turned to a champion swimming coach
I've had a little to do with Laurie Lawrence, both my kids learnt to swim at his swim schools, and his passion for saving young lives from drowning is legendary. What you mightn't know is that Laurie played rugby and was pretty damned good. He toured New Zealand with the Wallabies but couldn't crack a test start because of a little known halfback named Ken Catchpole. 
After rugby, Lawrence went onto become one of Australia's greatest coaches, mentoring Steve Holland, Tracey Wickham, Jon Sieben and Armstrong among many others. His swimmers won 10 Olympic gold medals between them.
 Wallabies management bought Laurie in to speak at the Wallabies recent Brisbane training camp. He rocked up in his 55-year-old Wallabies jersey. I don't know about you guys but just fitting into my old rugby jerseys is an achievement. 
"I don't know if it'll make any difference but I had a bit of fun and I think they enjoyed it. It was a good night," Lawrence told the Sydney Morning Herald. "If you don't think you can do it, you bloody can't. That's number one.
"I spoke to them about belief and whether they could believe they could do it [win the World Cup].
"Number two was trusting your mates. Number three was to pay your price and get ready to race and compete. If you do those things, you can look yourself in the mirror.
Known for his light-hearted banter, Lawrence singled out Tom Robertson after he noticed the prop's cauliflower ears.
"I said obviously you're not a halfback, son, with ears like that," Lawrence said. "I also told Samu Kerevi he looked about 36 and it brought the house down."
"He commented on my ear a fair bit," Robertson said. "You don't go to six Olympic games without being some sort of coach. He had some inspirational words and was just saying you've got to be willing to pay the price and do the hard yards in order to have the success at the later end of the year."
Other interesting headlines