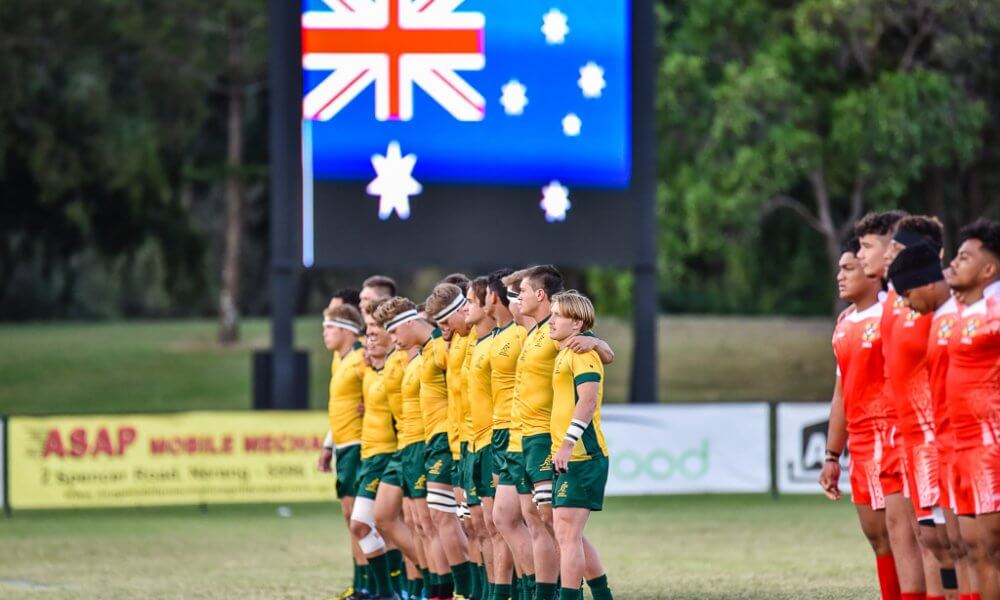 Friday's Rugby News sees the squads for the weekend, club corner, chewing the fat with Harry Johnson-Holmes and Super Rugby going stateside.
---
The Game Goes National
Well, look who's back!
It's fantastic to see the return of the Western Force to Aussie rugby. After the year WA fans have had to go through, to come out the other side and see that they'll be taking the field tonight against the Fiji Warriors will really be something special.
On that, Nick H and I sat down and chatted to scrumhalf Ryan Louwrens ahead of tonight's clash on our brand new podcast show 'The Dropped Kick-Off' which you can check out here.
In regards to their team, the Force have put together a solid outfit, with eight players from the previous squad returning.
Force Squad: Peter Grant, Rod Davies, Marcel Brache, Rodney Iona, Brad Lacey, Andrew Deegan, Ian Prior (capt), Brynard Stander, Chris Alcock, Tevin Ferris, Johan Bardoul, Fergus Lee-Warner, Chris Heiberg, Heath Tessmann (vc), Harry Lloyd. Reserves: Alifeleti Kaitu'u, Tom Sheminant, Kieran Longbottom, Leon Power, Harrison Orr, Ryan Louwrens, AJ Alatimu, Clay Uyen.
I am not sure what the Fijian Warriors will bring, and this is a young Force side. But they will be hungry and keen, and I predict the men from the west will start the year with a win in front of a sold out crowd. Force by 14.
Now, we head into Super Rugby.
Starting off in Melbourne, the Rebels will be up against a tough Crusaders outfit who are currently on a five match winning streak.
The Stockade have been boosted by the return of Will Genia, as well as the promotion of Fereti Sa'aga, Sam Talakai, Geoff Parling and Colby Fainga'a to the starting side.
Rebels Squad: Jack Maddocks, Sefa Naivalu, Reece Hodge, Billy Meakes, Marika Koroibete, Jack Debreczeni, Will Genia, Amanaki Mafi, Colby Fainga'a, Angus Cottrell, Adam Coleman (c), Geoff Parling, Sam Talakai, Anaru Rangi, Fereti Sa'aga. Reserves: Nathan Charles, Tetera Faulkner, Jermaine Ainsley, Matt Philip, Lopeti Timani, Michael Ruru, Tom English, Semisi Tupou
The Rebels should improve a lot compared to previous weeks, but this is the Crusaders, who are in flying form at the moment. I only see this going one way. Crusaders by 20 or more.
And finally, the Waratahs host the Blues in Sydney in a match that every Aussie fan will be desperate to win. Please, I'll take anything at this point. Let's just beat a Kiwi side.
Israel Folau is back in the starting lineup, alongside Cam Clark, Lalakai Foketi and Will Miller.
Waratahs Squad: Israel Folau, Cam Clark, Lalakai Foketi, Kurtley Beale, Taqele Naiyaravoro, Bernard Foley, Jake Gordon, Michael Wells, Michael Hooper (c), Will Miller, Rob Simmons, Ned Hanigan, Sekope Kepu, Damien Fitzpatrick, Tom Robertson. Reserves: Hugh Roach, Harry Johnson-Holmes, Paddy Ryan, Tom Staniforth, Jed Holloway, Nick Phipps, Curtis Rona, Bryce Hegarty
Yeah I know, if there is any match we could win against the Kiwis, surely it's this one. But we're 35 games down at the moment, and so often with the Blues we've been here before and got spanked. I'm not going to make a prediction. I refuse. I don't want to jinx anything.
The Reds and Brumbies have the bye.
In other fixtures, the Chiefs will host a red hot Jaguares outfit, the Hurricanes face the Lions, the Stormers will host the Bulls, and the Sharks will come up against the Highlanders.
Club Corner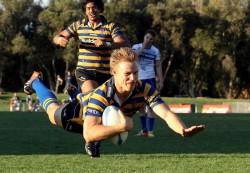 Club Corner is back again for another week, and we'll kick off down in the Nation's Capital.
In the fight for the John I Dent Cup, round four saw a couple of close quarter games. Easts pulled off a big win over Royals 25-23, Gungahlin got back to winning ways against Wests with a 36-31 win, and Tuggeranong prevailed across the border in Queanbeyan with a 10-29 win.
Round Five Fixtures:
Royals v Wests
Uni-Norths v Gungahlin 
Tuggeranong v Easts 
Queanbeyan have the bye.
Next up, we head up to Sydney for round five of the Shute Shield, coming off what has been a controversial week for the competition. In the round four results, West Harbour defeated the Wicks 30-12, the Beasties knocked over Manly 16-9, the Rats demolished Penrith in their last game 5-87, Eastwood grabbed a surprise win over Southern Districts 30-28, the Students went down to Northern Suburbs down in Bowral 26-32, and the Two Blues grabbed their first win of the season with a 37-26 win over Gordon.
Round Five Fixtures:
Gordon v Sydney University 
Randwick v Eastwood 
Manly v Penrith (Bye)
Northern Suburbs v West Harbour 
Warringah v Southern Districts
Eastern Suburbs v Parramatta
Down in Melbourne, the Dewar Shield enters into Round Three this weekend. Round Two saw Box Hill beat Footscray 42-19. Harlequins defeat Moorabbin 38-17, Melbourne Rugby Club pump Melbourne Uni 57-3, and Power House knock over Endeavour Hills 45-12.
Round Three Fixtures:
Box Hill v Harlequins
Melbourne Uni v Footscray  
Moorabbin v Endeavour Hills
Power House v Melbourne Rugby Club
Heading West, on top of the Force returning the RugbyWA Premier Grade continues into round five. Round Four saw Palmyra, Associates, Nedlands, Joondalup, UWA and Wanneroo pick up impressive wins.
Round Five Fixtures:
Palmyra v Wanneroo Districts 
Wests Scarborough v Perth Bayswater 
Nedlands v UWA 
Associates v Joondalup
Cottesloe v Kalamunda
Coastal Cavaliers v ARKs
Southern Lions will have the bye.
And finally, we head over to the Hospital Challenge Cup in Brisbane for Round Six of their competition. Round four saw Brothers smash Bond Uni 47-8, Easts knock over Sunnybank 45-17, Norths go down to GPS 17-40, and Wests go down in a thriller against Souths 31-33.
Round Six Fixtures:
Norths v University of Queensland 
Souths v Bond University
GPS v Wests GPS 
Sunnybank v Brothers
Easts will have the bye.
On a side note, I have had folks request I review that we start including the South Australian competition. Unfortunately, I'd love to, but currently the Rugby.com.au site RugbyLink has absolutely nothing updated on any of the competitions in South Australia. Rest assured, I'll try and find the results another way for next week. Hope everyone enjoys their weekend of rugby.
Here with Holmes
The Waratahs have an awesome opportunity this weekend to break the Kiwi streak with a win over the Blues, with every Aussie rugby fan and his dog desperate for the losing streak to end.
Harry Johnson-Holmes admitted things have been pretty up and down for the Tahs so far, with a four match winning streak brought to a crashing halt by the Lions a fortnight ago.
However, he admitted that the loss then might could prove beneficial in the long run when he sat down with yours truly.
"[With the Lions game] I think it was a good timing. If it was to happen, it was good time for it to happen," he said to GAGR.
"We had just come off the four game winning streak, and feeling pretty good about our game. Really, when that happens it might give you a false sense of security and and you might think you'll be getting away with it.  To have that loss early on in the season was a good reality check.
"There is lot of potential still left in the team…  It's all about building on what we've got at the moment. We're showing some real glimpses of greatness and our true potential at the moment. It's about putting together structures and systems, so that we can do that for the full 80 minutes and not just 20 minutes at a time.
"Everyone knows the against the likes of the New Zealand outfits, that's not going to cut it. We're completely aware of that and we're just looking at making sure as a group we start being more consistent."
While many are always quick to squawk the Kiwis current record, but Johnson-Holmes admitted that doing that would not help the Waratahs players.
"We have to keep our focus in the present," he added.
"The whole record of the New Zealand teams against opposition isn't really fazing us; we're just focusing on making sure that we can be effective on the night to get that win, that we stick to our strengths and nullify their strengths.
"We've got the calibre of players, we've got in the combinations. That's really going to be the best way to show Super Rugby what we are capable of and that we are able to play against the best in the competition."
'murica!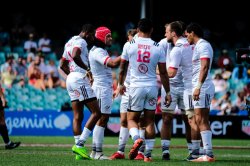 Finally, to finish off this week, Super Rugby has leaked a paper outlining their 2030 strategy for the game, and all roads are pointing to the USA.
The US has seen more and more folks start to take up rugby, and that has been seen by the improvement of their Sevens teams in the World Series.
But according to Duncan Johnstone from stuff.co.nz, America is the holy grail of up-and-coming rugby, and Super Rugby must make a move on it before the Northern Hemisphere teams do.
"Just to see SANZAAR looking ahead is encouraging," Johnstone wrote.
"They have been accused of being reactionary rather than visionary and its right for them to be looking at ways to improve their competitions and the southern standing in world rugby.
"You can be sure their northern counterparts won't be sitting on their hands. It would arguably be easier to involve the US in a trans-Atlantic conference than in one of Europe's multi-tiered continental championship.
"The rugby world is waiting patiently for the sleeping giant that is the United States to awaken.
"It might be some time coming but it will happen."
Rugby has currently had mixed success in the US, with a first tournament having mixed success overall. However, a new Major League Rugby tournament is set to start in 2019, which could see the game take off properly in the States.
"Asia remains a key market in a time-friendly zone for New Zealand and Australia and there will be hopes that the untapped market of China can eventually be stirred," Johnstone added.
"But rugby in the United States is more advanced and, for all the geographical complications, it would be foolish to ignore because if Sanzaar can't come up with a formula to find inclusion, you can be sure someone else will.
"Whoever gets in first will likely laugh all the way to the bank."
What do you reckon Gaggers? Will we see and American Super Rugby team in the future?
For more on American rugby, check out our latest article on the American rugby scene, courtesy of our resident yank Jamie Miller.
---
***
Do you like writing about rugby? You passionate about pursuing a career in writing and online sports journalism?
We're looking for enthusiastic rugby sports writers to join us and help with doing our weekly rugby news segments, like the one you see above.
Previous writing experience desired. Opportunities include having a recognisable independent sports journal on your resume, and you may also get the chance to meet Rugby Reg. We also can pay you $20 per news day.
If you are interested/ know someone who would be interested, send an email to admin@greenandgoldrugby.com or message us on Facebook.
***