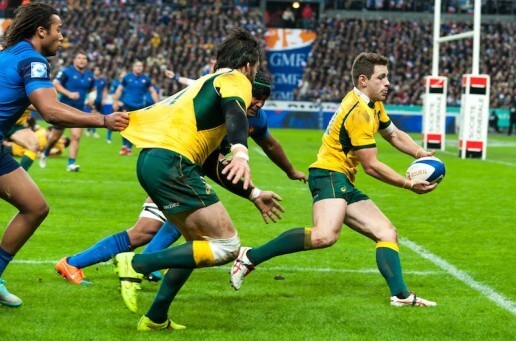 The Wallabies second test of their spring tour took them to France where a vengeful home side inflicted the first loss in Michael Cheika's short reign as Wallaby coach. Losing by three the Wallabies could have definitely snatched this one at the death but in fairness they were chasing France for most of the match. Here are some observations I made from the match:
Were We Up For it?
Clearly the French were, but the Wallabies seemed lacking in intensity. During a rugby match their are always ebbs and flows with regard to momentum and like all sport emotion plays it's part on how a team performs. Just looking at the body language from the Wallabies it just looked like the players seemed a little distracted.
I saw this right from the start, when Simmons knocked on with the try line at his mercy. It was a difficult chance and I can understand his disappointment at failing to convert the opportunity, but he looked like he'd just cost us the match. This was odd, because the Wallabies had just charged down a kick, nearly scored a try and now France had to negotiate a five meter scrum just to clear. On balance we should have been pumped and excited by the strong start and ready to pounce on any further French stutters, but instead we just looked flat and we were only two minutes into the fixture.
I don't know whether it was always the plan but France from there on decided to push and shove the Wallabies after any stoppage. There wasn't all that much malice, but it made me wonder whether they could taste the blood in the water and were intent on trying to further get into the Wallabies head space.
Israel Folau knocking on two seemingly easy kicks also seemed to suggest a level of distraction. Normally so composed, Folau had little excuse, although everyone has a bad game once in a while, right?