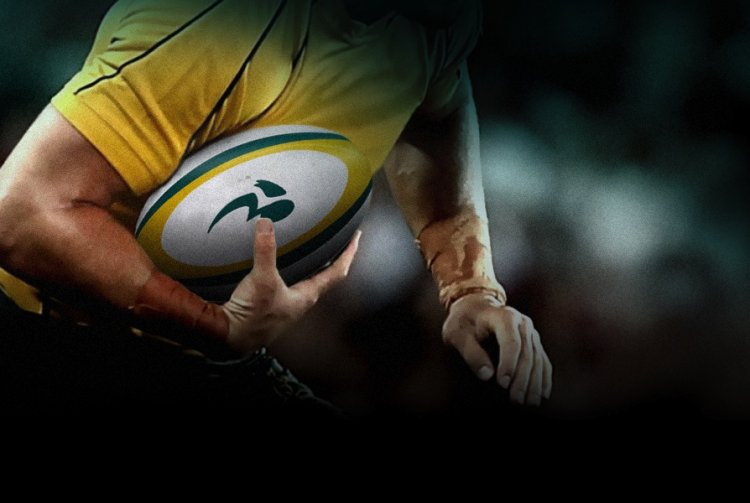 England 14 – Australia 28

There is only one test match I've been to that felt better than that, and it was the 1991 World Cup final. What a game. What a vindication.
In world sport there can't have been many who have carried the stigma that Al Baxter and the rest of the Aussie forward pack has carried for the past three pus years. We've all been guilty of heaping it on him and, and none more guilty than the Pommy press. This week it's been at fever pitch.
What a way to answer it. Front row shenanigans can be confusing, but watching the game first hand and listening to the ref by radio, it was very fucking clear what happened today. The Aussie scrum not only matched the self vaunted Pommie eight, it smashed it.
There were two tight head scrums today, both won by the men in gold. The second, in which Australia literally ran over England was right in front of me. It was the culmination of a number of scrums in which it became increasingly obvious that far from it being the Aussie pack hiding their inadequacies, it was the men in white who were fragile.
Within three packdowns Jonkers and his assistant refs had picked Vickery for tugging Robinsons bind and most importantly the whole England scrum for pulling back after the hit. So much for all the bitch tits whining from Stephen Jones et al about Australia's 'nepharious tactics'. Once England found they couldn't trick the ref into penalising the Wallabies as per popular wisdom, they had nothing. Literally.
In a bitterly ironic opposite to the 2005 game, both Vickery and Sheridan eventually left the field physically shattered, leaving Baxter and Robinson victorious and undefeated to the end.
As my old man said afterwards:
"We could have lost the game, I couldn't care. To see those two tight heads was all I wanted."
It wasn't just the scrum in which the Wallaby pack excelled. Restarts, line-outs and most of all defence were all met with a complete disregard of personal safety. The hits I heard through the ref-link were unbelievable. Chisholm, Sharpe and Palu (when he came on for a fantastic cameo), put in massive tackles phase after phase, without let up.
Twenty minutes to go and most of the players looked out on their feet, I'm not sure I've seen internationals so spent. Yet the big hits continued. They wanted this, more than I've seen a Wallaby team want another game since a semi-final in 2003.
Many aspects were far less than perfect. Most notably the tactical kicking. Save two, it was embarassing.
But what gave me a smile almost as wide as the scrum's dominance, was the constant ticking over of the scoreboard from pommy penalties. How fitting it was to see the country that brought us the Woodward/Wilkinson penalty machine and the the most vociferous objections to the sanction ELVs hoisted on their own pitard. Giteau chip kicked us on throughout the match with a regularity that kept 80,000 poms quieter than I have ever heard them.
No, it didn't make for the most beautiful game. But hey, they're the rules the north wants to defend. And when in Rome……
But here's the thing that's most satisfying of this whole win. It was built on the grit of a forward platform that any side who want a shot at greatness must have. The frilly bits Australia can do, it's a few positional changes and a few passes going to hand. But the forward performance we saw today was one that could well enable greatness.
What a day
A few photos from my crappy iPhone camera below (did I mention I was there?):
Scores: 0-3 Giteau pen, 0-6 Giteau pen, 3-6 Armitage drop, 3-9 Giteau pen, 3-12 Giteau pen, 8-12 Easter try, 11-12 Cipriani pen. 14-12 Cipriani pen, 14-15 Giteau pen, 14-18 Giteau pen, 14-21 Giteau pen, 14-26 Ashley-Cooper try, 14-28 Giteau con
England: D Armitage; P Sackey, J Noon, R Flutey, U Monye; D Cipriani (T Flood 71), D Care; (H Ellis 66); A Sheridan (M Stevens 34-42), L Mears (D Hartley 70), P Vickery (M Stevens 64), S Borthwick, T Palmer (S Shaw 64), T Croft, T Rees (M Lipman 64), N Easter (J Haskell 59).
Australia: A Ashley-Cooper; P Hynes, R Cross, S Mortlock, D Mitchell; M Giteau, L Burgess; B Robinson, S Moore, A Baxter, M Chisholm (D Mumm 65), N Sharpe, H McMeniman (T Polota-Nau 79), G Smith, R Brown (W Palu 45).
Referee: M Jonker (South Africa).