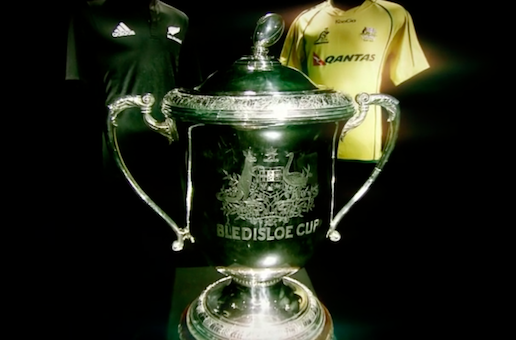 I thought it was a pretty strange game. Sure, the Wallabies ended New Zealand's long winning streak and they must get credit for this, but neither side played much quality rugby. Certainly, neither side created much. Neither side constructed any continued attacking play – not with well executed 'starter plays' nor quality support play that could open up opposition defences. Consequently, no tries were scored – and this was the first time the All Blacks had been held tryless since 2004.
But the game is not just about attack and we can certainly give credit for committed defences on both sides. We've grown accustomed to seeing such defence from this All Blacks team, but it was here that I thought the Wallabies took a big step forward. We're clearly not short on courage or commitment – that's been clear for some time now – but our speed off the line in defence was world class last night. I reckon that was the major contributor to what was a less-than-clinical All Blacks performance.
All teams, and New Zealand are no exception, are vulnerable when the pressure to win is off them. Sure, they went into the game with high aspirations of continuing their winning run, but without the pressure of having to win. Nevertheless, I'm sure that the speed and intensity of the Wallabies defence was the major cause of the lack of finesse in this All Blacks performance.
Our attack similarly lacked any finesse, but this is not unusual. We haven't produced a quality attacking performance for a long, long time. One of you readers complained some time back that, in this analysis, I say the same things over and over again. There is some truth in this complaint, but I only comment on what I see in the match and the same faults and omissions continue to be repeated by the Wallabies week after week.
The number of overlaps that we ignore, in every game, is disgraceful. Sure, slide defences can cover extra numbers sometimes – even a lot of the time – but there are ways of making this difficult for any defence. For whatever reason, however, we just ignore the opportunities. I'm not sure if we fear getting the ball too wide – indeed our support play is so bad that we should worry. Second touches, or the potential for second touches, have disappeared from our game – such support lines also serve to limit the capacity of sliding defences – and Mark Ella, Michael Lynagh and Steve Larkham must just shake their heads.
While I'm reminiscing, I shudder to think what Des Connor, Ken Catchpole, John Hipwell and Nick Farr-Jones (to name a few) must think of the quality of our scrum-half play. Such deficiencies are not hard to fix – of course, you can't make a silk purse out of a sow's ear – but they do require some attention to detail on the part of both the coaching staff and the player. As an exercise in judging my opinion here, take a look at the telecasts of the NZ provincial rugby currently on display. I have not seen one scrum-half, from any of the divisions, who is not superior in his 'scrum-half craft' to Nick Phipps. Phipps has qualities, for sure. He has pace and courage, but our number 9 has to play scrum-half and that requires the accurate execution of certain fundamentals required of the position. There are many such fundamentals that need attention in our game. There is no point of going over them again!
We had some pluses:
[checklist]
The result. But we should never be blinded by the result.
Mike Harris's goal kicking. He's not a bad player either.
Our front row went well/OK, but TPN is making a habit of losing the ball in contact.
Sharpe, Timani and Douglas are right up at the required level and the latter two have plenty of improvement in them.
Wycliff Palu's return.
Hooper continues to impress. Hopefully he will learn that there are laws to the game.
We didn't have any near our recent numbers of chip or grubber kicks.
[/checklist]
On the downside:
[badlist]
We gave away numerous senseless penalties. Sharpe is a serial offender; Hooper should come back down to earth and Kepu's final lazy, useless belly flop on the tackled player probably cost us a win. None of this is acceptable.
Our restart receptions were still under pressure, but the All Blacks are exceptional in this aspect of play and, something new, we put them under pressure with a few restarts of our own.
Our depth, alignment, spacing and support are still way off the pace.
We never run any unders lines. This is much more direct, makes it more difficult for the tackler and, dare I say it, for a sliding defence. And, by the way, it makes it easier for support play.
In many aspects of our play, the key principles of accurate technique remain absent.
[/badlist]
Admirable qualities though they clearly are, we cannot continue to rely solely on courage and commitment to win – or even draw – our matches.