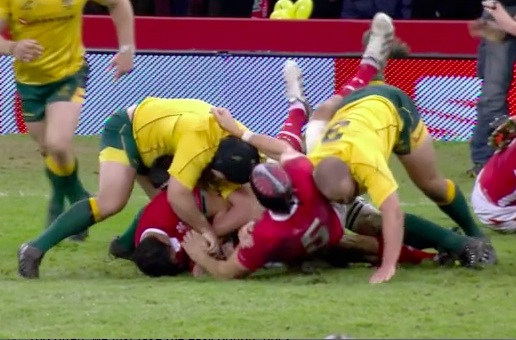 I have to say that I frequently disagree with a lot that Rod Kafer says during his commentary, but this week I was so strong in my support of one particular comment that I have used it above as the title of this article.
He is spot on. Way too often, we just take the easy option and kick possession away, hoping for an opposition error or a flukey bounce, while frequently wasting genuine opportunity.
Wales, ranked seventh in the world, can run the ball from their own 5 metre line, in the 12th minute of the match and do so with such success that it took an excellent last-ditch tackle from Berrick Barnes to save the try. Not for us though. Not for the Wallabies, who for decades showed the rest of the rugby world just what skill, vision, imagination and 'ticker' can do. We have become the 'win ugly' champions of world rugby. I just hope that our coaching group and our players watched England take New Zealand apart. I was excited and full of praise for their display – one of skill, vision, imagination and 'ticker'. When was the last time an Aussie said this about the Poms' rugby team?
Some positives, though. We won and that's important, but it's not getting us anywhere. We are not getting any better. We had to fight hard and it has been an exceptionally long season – much longer than the other major teams. Well done for this, but, if we had enough energy and skill, etc to score in the last minute, why not in the first minutes, or the middle minutes, or any time at all in the first 75 minutes. My guess is that we are scared of making mistakes and indeed, we should be because our skill levels are generally terrible.
We are 'kick happy', but despite the huge amount of in-game practice that we get at it, we don't get any better.  For the most part, we have no length in our kicks. This is not surprising, because we almost invariably favour the drop-punt rather than the out-of-favour (at least here) torpedo punt, which travels much farther. The drop-punt is generally considered more accurate, but shorter, and recommended where accuracy is paramount.
If I was sarcastic, I could say that we are very accurate. In fact, we hardly ever miss the target – that is, if the target is an opposition player. We get them dead centre almost every time! How can this be? Because, our constant kicking is so predictable that our opponents play three, and frequently four, players back – and we are so blinkered that we cannot even attack with 15 against 11 in the front line.
When Robbie Deans first took over the team, one specific area that he targeted for improvement was our kicking game. Well, for sure, that has been a five-year project that has failed dismally.
Kicking is only a part of the game and all of the parts of the game have to fit together to make a cohesive whole.  If one's attack, with the ball in hand, is challenging, then additional tacklers – open-side wing, for example — are called into the defensive line. The fullback must then move across to cover in behind the wing, drawing the possibility of the blindside wing being needed in towards the middle of the pitch, etc, etc. But, if, like the Wallabies, you kick all or most of the time, then no wide defenders are required at all, thereby neutering your kicking game. That's us!
Subsequently, and in no time at all, potential support players lose interest in the supporting task – they figure that they're just wasting energy – and our support becomes virtually non-existent. That's us! Just ask Berrick Barnes. How can opposition players, who have to turn and chase the line-break and get back behind for legal entry into the tackle, arrive before our support players? With some difficulty, I would have thought, but that's our situation, and, indeed, it has been for some years now.
Now our game, frankly, has no cohesive whole and, when we win, we generally win ugly. This is not good enough and we must change if we are to progress.
As they say, 'on a more positive note….'
We won and that was important for a lot of reasons, but none more important than as a fitting send-off for Nathan Sharpe. He has had a truly great career and, in fact, has never played better than in this year. The captaincy clearly sits comfortably on his shoulders and this will be a big loss to the Wallabies.
Our numbers and body position at the tackle contest were better again, especially in the important first 20 minutes. I hope that the team can reflect on the fact that this gave us quicker phase ball and opportunity. Phipps was better also in his clearance of this ball – not fantastic, but better. This was progress; now all we need is for our attacking line to realign with urgency and we will have progressed still further.
Benn Robinson looked a lot more like the 'old Benn Robinson', prior to his longish injury lay-off! He was, or is, a very talented player – a very good scrummager and a genuine contributor around the park in both attack and defence. It sometimes takes a player a long time to come all the way back after such an injury. I hope, and I think, that this augurs well for the future.
We made better use of our bench and they contributed. Mike Harris, who hasn't quite looked the real deal at this level, was important in the closing minutes. Digby Ioane consistently threatened, where very few others had done earlier. The whole front row squad were again a force and David Dennis went up in my estimation.
Perhaps our biggest plus, from this and other games earlier, is that we seem to be building a good stock of genuine international level locks. Timani and Douglas can definitely hack it at this level and we have another five or so who can do the same. Now all we need is to start playing some quality rugby and their talent will come through.
However, the real measure of our season is this question:
Are our players better players now than they were at the start of the season?
Across the board, they are clearly not!