How did we win that match? Virtually no ball, no field position, dusted in the lineout, creaky at the scrum, kicking out of hand average at best. Our defence was fantastic, that's how! So Phil Blake, as our defence coach, you can take a well-earned bow. Actually, you can also take a much-needed rest: you did nearly as much work as the players, running back and forth with the water and, from my observation, with advice and encouragement.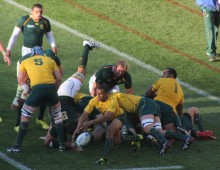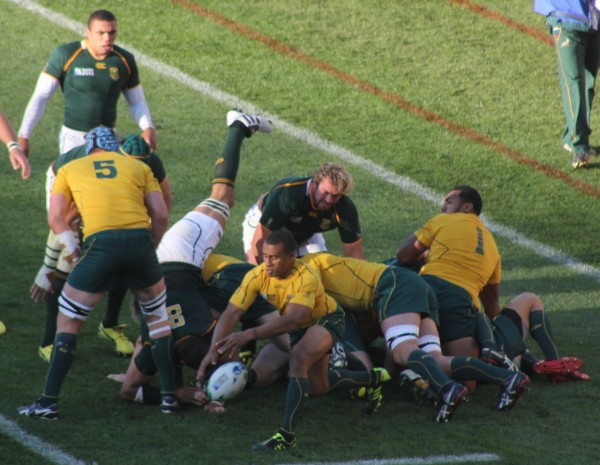 To the Wallabies players also, you can all take a bow. I don't think that I've ever seen a more courageous tackling exhibition and our defensive strategy, plus our scrambling, when required, were also first class. Full marks to all — I was going to give a special mention to a few, but I just kept going through the names. So, our praise must be shared by all of you. There are thousands of very happy, although still shaking, Wallaby supporters in Wellington today.
James Horwill played a great captain's knock. I've been critical of James in recent weeks. His play has not yet reached the high levels that he established a couple of years back before his injuries kept him out of the Wallaby team, but yesterday he took some giant steps forward. His tight running lines in support of the ball gave him our early try yesterday — from a McCabe pass! Well done. This is what we need from all our forwards and I hope that they follow suit.
The big men — Vickerman, Elsom, Horwill and Moore — were fantastic in defence. Vickerman alone must have forced turnovers in four crunching tackles in the first half – and how we needed them. Samo made some massive hits also, but in the wider positions. These were also much needed!
We did not, however, play well. Our use of whatever ball we did have was poor. More often than not, we were too deep, with — dare I say it — Quade Cooper looking for the 'miracle play'. One early wipers kick for the openside wing that went directly into touch was hope-beyond-hope. It was poorly conceived and poorly executed. Given the number of South African defenders on hand, it was never going to succeed and was decidedly risky.
This is just not good enough. Cooper was indecisive and fumbling. He needs an urgent injection — perhaps a re-injection, if that's a word — of Jim Mackay fundamentals. An early ball from the flyhalf to the inside centre, with a possible second pass to 13, 15 or even a second touch for Cooper himself, are simple and effective plays. The Kiwis call the no. 12 position the 'second five' (that is, a second five-eighth) and with good reason. Cooper's insistence on the miracle ball from him is ruining any chance of quality backline attack. As I keep saying, it's time for a rest for him. Off the bench, against tiring defence, he would present a whole new set of problems – this time for the opposition.
I suggested last week that Elsom play at 8 with Horwill at 6, and was questioned by readers on the basis of a lack of 'combination' between him and Will Genia. I thought at the time that the existing combination between Samo and Genia was hardly outstanding anyway — time is not necessarily the great solver of problems. Accurate technique will give you a quality result, first time and every time. Samo was terrible at the back of the scrum yesterday and frequently put Genia under dreadful pressure. He did make significant contributions elsewhere in the match, but this simple area of his game must be fixed, and very soon. I have never seen Will Genia so flustered and indecisive and I think that most of this was not of his doing.
We had many players returning from injury for this match. This presents its own problems, both for the individual and the team. Ioane, Beale and McCabe all play in 'touch positions' and only game time, under maximum pressure, can bring back the best from them. They will be better for the run but they all contributed yesterday also.
McCabe's courage, which was never doubted, was outstanding in the crunch defensive position of inside centre, particularly given his return from a dislocated shoulder. David Pocock, the player of the match, had shown in his return match against Russia just what a massive difference he makes to the Wallabies' performance. Yesterday he was immense and stole some miracle balls. Indeed, the turnovers conceded by South Africa kept Australia in the match, against what seemed like irresistible odds.
Our kicking game, for so long the target of Robbie Deans's efforts, was way below standard, with a lack of distance, or height, and accuracy. One second-half penalty kick for touch – it was much needed – gained us only 20 metres! We need at least 40 from such easy positions. Our goal-kicking is also not up to standard. The easy opportunity for the conversion of Horwill's try should have earned us two points. Surely this fact points even more strongly to the inclusion of Berrick Barnes and Robbie, you are allowed to change your mind — some may even consider it a strong and brave decision — and give the kicking duties, all of them, to Barnes. Just an aside, but could someone please explain to the players the benefits of the torpedo punt! Like, distance!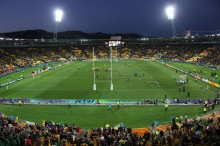 There are lots of ways to win games. Sometimes you win with speed and finesse. Sometimes you need power and relentless intensity. Sometimes constant pressure and great goal-kicking will get you home. Sometimes things are just not going your way, but you still have to find a way to win. The Wallabies yesterday had to call on incredible courage and commitment, against what may be the most physically committed team in world rugby. We've played better and lost, but we found a way. Again, well done!
We will have our day in the sun at this World Cup and play to the level achieved in the decisive Tri Nations match earlier this season. Maybe next week! And the week after!