We had two teams with a bye weekend – Reds and Force – but we still gained some valuable information, for both the immediate and long term benefits of all of our coaches and teams.
The Brumbies seemed a little off their game in their match against the Rebels and, as we saw with the Crusaders a few weeks ago in Melbourne and with the Sharks yesterday away to the Lions, any team can win any game, if you're not switched on and ready. I hope that the Brumbies can refocus during the break and get back to doing the easy things well and let the talent of the players do the rest.
Nic White's play, for example, had been an object lesson for all other Aussie scrum-halves – including Will Genia – but recently he has developed a back-swing and a little skip-step before delivering. Whilst seemingly minor problems, they are actually big faults which detract significantly from his team's attacking play.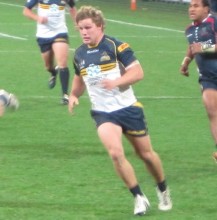 Michael Hooper gave away three penalties in 30 minutes, giving opportunity, points and confidence to the Rebels. But to me, of much more importance, is the indication of a negative mind-set on his part — 'I have to cheat in order to beat my opponent'. He played OK, but I want to see the fresh, brash, 'let-me-at-'em, I couldn't care less about their reputation' Michael Hooper again. The good signs for the Brumbies were that Kimlin was great again, Fardy was effective and non-stop, Andrew Smith has a bit more about his game each week, Coleman again showed his pace and balance, and a 20-year-old prop, Scott Sio, did not look out of place.
The Rebels are not a great side, but they did very well for half a game, showing great commitment and determination. As I said a few weeks back, Luke Jones looks good at No. 6 and may well develop to the next level. Phipps had his moments, but boy, do we need some quality scrum-halves to support Genia. They deserve their five players – plus O'Connor when fit – in the Wallabies squad and have given opportunity and direction to Neville, Pyle and Vuna. This is significant.
We learnt a few things also about the Waratahs; perhaps we already knew them. They ask no questions in attack and they're not fit. We've probably seen one or two well executed starter plays from them, all season. And this is the easy bit. You get to rehearse these repeatedly at practice, against both little and increasing pressure. You'd think that with Barnes, AAC, Horne, Foley and the wingers, you'd be able to come up with something. But no, virtually nothing at all!
Perhaps the fact that they cannot pass accurately for any sequence of plays, could have something to do with that fact! The Hurricanes had only to tackle – not read quality attacking threats, just tackle – for a number of phases, then prosper from a Waratahs mistake. Then the Tahs ran out of puff and the quality attack from the Hurricanes – accuracy, pace, support, urgency – gave them another try.
I was remembering the Hurculean defensive efforts from the Wallabies versus the Boks in Wellington last year and then I saw the same from the Stormers versus the Bulls in Pretoria yesterday – now this is fair-dinkum commitment! (By the way, if you want to see a genuine contribution to team performance from a No. 6, take a look at Siya Kolisi with the Stormers yesterday.)
Positives came from TPN, Dennis and Palu. Foley had his moments and Mitchell played a game. The Waratahs need some more good players – Hooper is a good start – and they need to train harder and tougher. Surely backs coach Alan Gaffney, with all his ability and experience, can help Barnes get his attacking line going. (Standing about five metres flatter and getting rid of a preponderance of poorly executed second-line plays would be a start.) If he can't, then Barnes is going to have to move, possibly even to the bench.
The Test selection looks good – especially so, given the Saturday-Tuesday-Saturday programme.
I like the front row. I think that Slipper at loosehead is our best; Moore is in form and very good; Palmer is a great tighthead, almost in the old mould. It's best to start with Timani; he plays best with the game at pace. Tomane, Ioane and Morahan should be a potent force from the back. We lack creativity from 10, 12 and 13, so counter-attack will be important for us.
I'm looking forward to it.