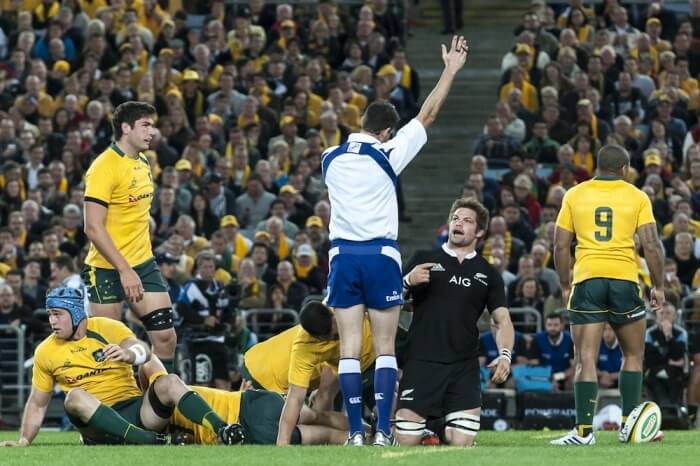 I read a piece in yesterday's Times by Stuart Barnes titled Yes, Richie McCaw is a cheat, but that is his job and what makes him great. It agrees (as I do) that to deliberately play outside the laws of the game is to "cheat". To cheat is to take an unfair advantage on someone who is, or chooses not to play outside the laws of the game.
There are a lot of things you can't do outside the laws of sport. Drugs for example. Anyone who takes them is rightly castigated and banned for a long time. In some sports you are absolutely ostracised if you play outside the laws. Take golf – no one will play with you.
The laws of the game aren't there to hinder you – they're there to help you. To make it so that everyone knows what's going on.
However certain individuals  – and one team in particular – make a mockery of this; namely the All Blacks. McCaw is labeled the chief transgressor, although he's not the only one.
Let's be clear, no one doubts that this is a great All Blacks side – of any era. Which to me makes it even more insulting that they should want to break the laws to their advantage; it's NOT OK to play outside the laws, and it's NOT OK for respected commentators to say that's reasonable (take note Stuart Barnes).
There's a school of thought propagated by many All Black apologists that if you haven't been caught you haven't infringed. Clearly untrue. You've cheated, but just not been caught by the referee.
Richie McCaw's latest transgression is that on their own ruck ball he comes in at 90 degrees at the line of the ball carrier ALL THE TIME – blocking the abilities for defenders to contest.
In the scrum the New Zealand flankers – especially if the scrum starts to turn – just detach and start to play at the ball with their outside foot – witness the image below from earlier this year.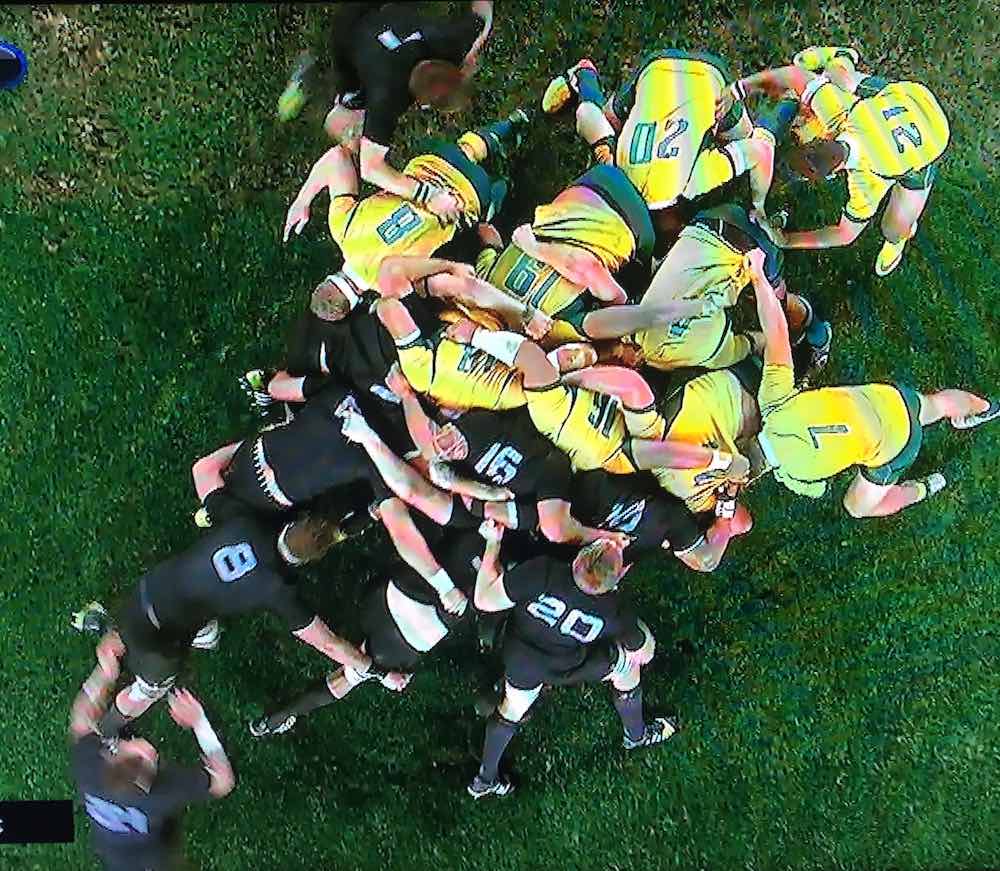 In the semi final Kaino was sliding up the side of the scrum and doing the same thing. He was transgressing so many times it was as if he was asking for a card. The final straw for which he finally got one was just ludicrous!
One of the the other things New Zealand do are that if they get you going backwards at the breakdown with good low drive (full marks to them for that) they then all go off their feet over the ball and make it unplayable – resulting in them getting the feed. That's illegal. They do it well and in numbers – perhaps that's why they don't get penalised?
But we certainly can't intentionally play outside the laws of the game and no respected sports writer should condone it. These condoners will say "other people do it too". Now, just because half a dozen people play outside the laws of the game doesn't mean we shouldn't penalise any of them, it means we should penalise all of them.
I used to say to my players that to deliberately give away a penalty is an insult to your team mates and the team. It says that you don't believe they can win within the rules.
There's a famous poem about sportsmanship called Vitae Lambada. The last line is
"Play up! play up! and play the game!"
As the poem says – it's not about winning or fame, it's about the game itself, and if our game is to continue to exist and grow then it cannot be OK that at certain levels a team and individuals be condoned to cheat.

This weekend
Everyone in the UK is saying this is the final we had to have sometime, somewhere. On this occasion the two best teams in the world are playing against each other in the final of the competition. There's rejoicing therefore that this tournament has brought this final confrontation.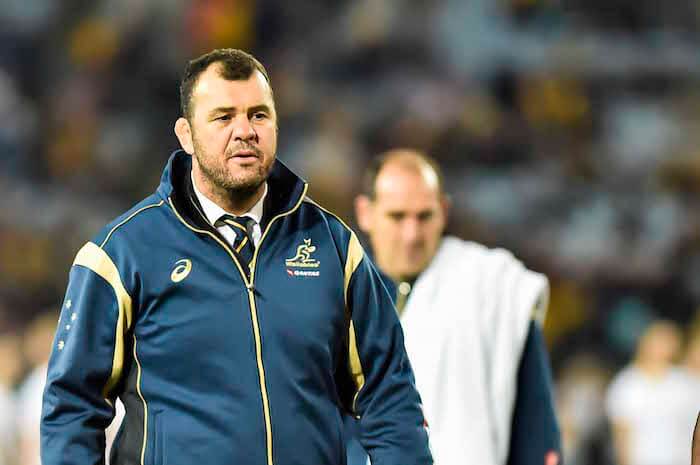 New Zealand are deserved favourites. The Wallabies are worthy opponents and can definitely win, although only if we play at our very best. But this team has the habit of rising to the occasion. Michael Cheika has a phenomenal record in tournaments like this where you have to win one match at a time to progress.
He and his assistants have won the admiration of the whole of the UK and as it should be the outcome is in the balance. We'll go to the game giving ourselves a chance and my understanding is that everyone will be fit with just a little doubt about Folau. However, Beale had a great game when he last started so we can assume that if necessary he can do it again.
Sio's presence is vitally important even though we got away with it against Argentina. If Sio starts, they may play Smith on the bench as James Slipper has looked a little out of place when on the field of late. This is vital as the front row is where we could gain some advantage.
We all go the game full of admiration for the Wallabies in what they've been able to achieve and full of spirit and hope for a great performance and a victory.