Last weekend, I challenged you all to name your alternative Wallabies XV to be coached by me to challenge the Wallabies in a trial match. So, it's about time I picked my team.
One of you suggested that Jake White should coach the team – given the success and style of this year's Brumbies – and I agreed. However, when I subsequently discussed the fantasy proposition with a friend – an ex-coach and player at international level – he responded with 'we're calling time on the non-Aussie coaches, OK!'
So I'm coach again, but I'm bringing in the Brumbies' back-up team of Laurie Fisher and Steve Larkham. We don't want to lose all of the benefits that the Brumbies have gained, do we? Anyway, there'll be a pile of Brumbies in the team, so we should maintain the consistency.
Here goes: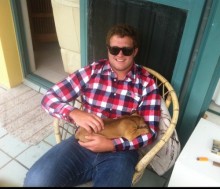 Loosehead Prop: James SLIPPER. He's a great scummager on the loosehead side and he can maintain his fantastic workrate better, without the added workload of the tighthead side.  I like Cowan and Daley too, but Slipper is bigger and stronger.
Hooker: Tatafu POLOTA-NAU. Best scrummaging hooker of the lot and fantastic around the pitch. Will suit my game.
Tighthead prop: Sekope KEPU. Needs to continue to improve his scrummaging, which he is doing under Michael Foley, but he is a freak athlete. When he reaches his peak he will be a world-beater. Palmer is also very good and probably a the best technical tighthead scrummager.
Locks: Hugh PYLE & Scott FARDY. Pyle is the athlete – I'll make sure that he does his share of the hard stuff, also – and Fardy is, in the words of the SA commentator 'a 100 per center'. I thought of David Dennis here also, but I like Fardy's consistent nose-to-the-grindstone approach.
No. 6: Rocky ELSOM (captain). I'm assuming that Rocky will continue to play and settle in, in which case he is an obvious selection for me. I like Dennis and Mowen also.
N0 .7: Michael HOOPER.  He has pretty much everything. If he were as big as his dad, he'd be a World XV selection.
N0. 8: Fotu AUELUA. Reminds me a bit of Willie Ofahengaue — he has the mentality to back up his physical qualities. Say no more. Someone queried his qualification; he was an Australian Schoolboy, from Trinity College in Sydney, back in 2001. There are other contenders around – e.g. Mowen, Vaea – but Fotu could be special.
Scrum-half: Nic WHITE. No problem for the selectors; just had to write down his name. A fair dinkum scrum-half who knows his trade.
Fly-half: Christian LEALIIFANO. Likewise, no problem here either. A fly-half who runs straight; what next?
Inside centre: Ben TAPUAI. Looks the goods. Carter and Harris are both worth a look also. All are tough and hard-nosed. Harris carries for more hard yards for his team than Higginbotham.
Outside centre: Nick CUMMINS.  I'm not entirely convinced. His recent form has not been quite as convincing as his earlier season, but he is big enough and quick and agile. I'll back him! Not many others with Horne way off the pace.
Wings: Tom KINGSTON & Joe TOMANE. Great pace, great footwork and not afraid to have a go. Both are strong and tough and skillful. Tomane also could be special. There are others worthy of consideration — Speight, Shipperley (though defence is a question).
Fullback: Jesse MOGG. Foley looks good also and Gerrard is a rock for the Rebels, but Mogg wants to play.
So the team is:
SLIPPER, POLOTA-NAU, KEPU, PYLE, FARDY, ELSOM (C), HOOPER, AUELUA, WHITE, LEALIIFANO, TOMANE, TAPUAI, CUMMINS, KINGSTON, MOGG.
Coach: DWYER.
Assistant Coaches: FISHER & LARKHAM.
Bring it on!
Who came closest to selecting the same team last week?