Harlequin complete the perfect season with a 38-20 victory over Melbourne in the grand final.
After coming agonizing close to a perfect season in 2016, Harlequin finished undefeated for the entire 2017 to claim the 4th title in 5 years.
Harlequin played with far more intensity and looked like the deserved winners.  Melbourne played valiantly and maximised their opportunities to score, including two intercept tries.
Melbourne wasn't helped with the yellow card to number 8 Joe Maiava for a no-arms tackle on Jason Havea.  With the Man down, Harlequins were able to two fairly easy tries.
Harlequin controlled the match against defending champions Melbourne Unicorns from the start in perfect conditions at Box Hill and ended it with a convincing 38-20 win.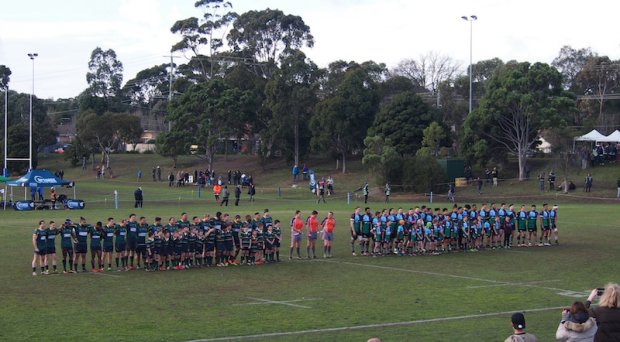 The minor premiers were the first to score a few minutes into the game with a try to outside flanker Sione Taufa. The Unicorns were quick to react thank to a penalty from scrum-half Thomas Donaldson, but this was the only time the defending champions were on the board in the first half.
A clinical display from the Harlequins forwards saw them tear up the Unicorns defense and allow open spaces for the backs to run into. Excellently lead by former Wallaby Lloyd Johansson, Quins scored another three tries before the end of the first half to lead 26-3 at the break.
Unicorns Coach Tumai Edwards must have given his chargers a real halftime rev-up, as they came out firing in the second half.   Melbourne came back spirited and found two tries in quick succession, thanks to wingers Nairavu and Ling to put pressure on the Harlequins.  Unfortunately for the Unicorns neither of the two scores were converted, moving the score to 26 – 13.
The Harlequins were quick to regroup and managed to score a fifth try to virtually close the game.
Melbourne made one more late charge and managed to sneak a try and narrow the gap to 31-20.  It was too little too late; Harlequins would score one more converted try, and finish with a 38-20 victory.
Lloyd Johansson was awarded the Gascoigne Medal as best on the ground.  He was presented with the medal from the great man himself.