The Rugby World Cup is just a few short days away, and we at G&GR are incredibly pumped to watch the Wallabies play.
But the problem with this excitement is the Wallabies only play once a week. What to do with the other six days? What do we make of the midweek minnow games if we have no skin in the game?
What we need is a second team. A bit on the side, if you will. Someone we can throw the full weight of G&GR behind whilst the Wallabies are resting up in readiness for their next match. Obviously it can't be someone who will threaten the Wallabies in their run to claim Bill, they have to come from low in the rankings.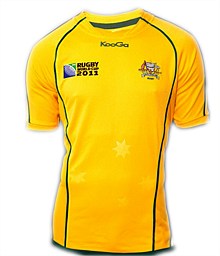 But here is the problem: we have no idea who to support. We need your help.
Tell us who should be our second team, and more importantly why. The reason doesn't have to be significant (the more obscure the better), or even make sense. It could be because they have a flanker with a funny name, or you ran into their reserve outside centre during a recent trekking trip to the rugged mountains of Turkmenistan.
 
The best response (as judged by the G&GR panel of experts) wins a Wallaby jersey signed by Rocky Elsom. What a shit hot prize. So get cracking- tell us your second team, and why we should be supporting them.