On a sodden, windy day only one CAS 1st XV match was played, with Cranbrook visiting Trinity at Summer Hill.
The team that beat both its rival and the wretched conditions would stake a strong claim for a top-three finish this season.
First half
Cranbrook kicked off and Trinity simply watched the ball bounce into touch. There was too much of this sort of thing from the home side – unforced errors at restarts and miscommunication between full back and wingers when the ball was kicked high.
The swirling wind, which tended to favour Trinity in the first half, did create some problems. In the early stages 1 James Wayland and 6 Liam Rasch ran hard for Trinity, as did 7 Josh Kemeney for Cranbrook. At times it seemed as though Rasch and Kemeney were staging a personal duel in midfield.
Both sides had reshuffled back lines: Searl's injury put Finbar Stenmark at 10 for Cranbrook with Ed Renton at 15, while Trinity moved Ryan Longville to 10 and Kordell Payne to 15, where he seldom seemed comfortable.

The scrums were a mess. Trinity shunted the Cranbrook pack backwards at will but couldn't, or wouldn't, do it in a way that satisfied the referee and gave away eight penalties on Cranbrook's feed. With Rasch stealing Cranbrook's lineout ball, it was only Trinity's indiscipline that kept the visitors in the game, and after 14 minutes an infringement at the breakdown allowed Stenmark to open the scoring with a penalty from 30 metres out.
Neither side fully grasped the notion that the essence of wet weather football is to play in the other side's half, until a raking kick from Longville found touch five metres from Cranbrook's line. Cranbrook's throw was crooked, and Trinity launched a rolling maul.
After a few barges from the forwards, the Cranbrook defence compressed, and Longville had the presence of mind to spin the ball wide. 13 Matt Langham scored almost unopposed and 12 Jordan Morris converted. Trinity 7-3.
Trinity launched an exciting attack, with some clever passing between the big forwards, which set 11 Brian O'Neill on a long run, but scrambling defence held the Cranbrook line intact.
Half-time.score: Trinity 7 – Cranbrook 3
Second half
The second half was an arm wrestle. Stenmark gave Cranbrook a great attacking opportunity when a pinpoint kick forced a 5 metre scrum but, not for the first time, Cranbrook's backs spilled the ball forward while looking to offload in the tackle. From a free kick near his own line Rasch took a quick tap, only to be penalised for not releasing. The penalty might have gone the other way, since none of the players who tackled him had retreated ten metres, but Stenmark unapologetically potted the penalty to reduce the margin to a single point.

This roused Trinity to produce some of the best attacking play of the game, and a deft short ball from Morris sent Wayland on a surging, curving 40 metre sprint. He was pulled down just inches from the line in a heroic tackle by 8 Mack Matters. Wayland left the field soon afterwards with an ankle problem. Trinity bashed away some more at Cranbrook's line, but the defence held until the final whistle.
Both sides were often tactically naive, trying to run the ball from inside their own quarter when the smarter option would have been to clear the ball. Teams today are taught not to kick away possession, but it's different in the wet.
Final score: Trinity 7 – Cranbrook 6
The players
For Trinity, it was the usual suspects. Wayland, with his power, aggression and surprising speed was the best on the field before his injury. Rasch, busy and tough, wasn't far behind. 7 Stead foraged tirelessly and ran hard. Longville was elusive, handled beautifully and generally kicked well. Morris carried strongly, always straightening the attack.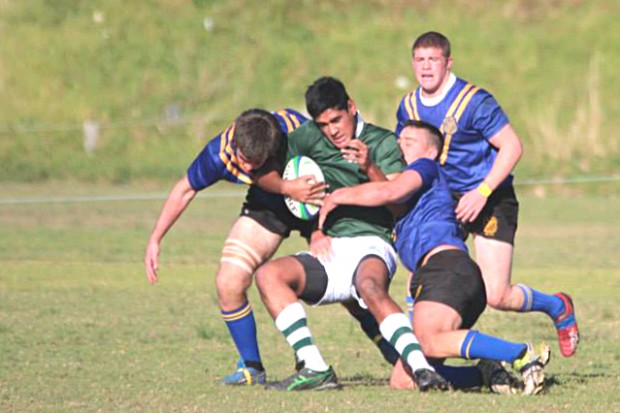 Kemeny, as always, was excellent for Cranbrook, but he wasn't better than the tireless Matters, who tackled himself to a standstill. 2 Jack Suriano and 4 Oliver Burston also worked hard around the park. There was too much loose handling in the backs but Stenmark often kicked intelligently while Renton was solid at the back and ran with immense determination.