Barker and Waverley played an epic game that will be talked about for ages.
In the end, only one point separated these two competition heavyweights and the victors, the "Double-Vee" from Waverley, now sit tied with Knox, at the top of the CAS table with two rounds remaining.
In other matches, Knox beat Aloys 50 zip and Trinity stormed home in the second half to record a 31 – 10 win over Cranbrook.
---
By Rod Skellet
Two of the best teams in NSW schoolboy rugby put on a showcase today. This game was the epitome of how rugby is meant to be played and demonstrated why we love watching schoolboy rugby.
Waverley defeated Barker 15 points to 14, in a game that will be remembered for the spirit and commitment in which it was played and for the skill and determination of those 30 lads who contested this epic game.
For the record, the starting XV for both teams played the entire 70 minutes.
This game was so tight and competitive, that every single lad, irrespective of whether they were wearing the Double Vee or the Mighty Red, gave their coaches no reason for substitution.
The season build-up had Waverley as clear and deserved favourites, despite missing Finn Wright and Luca Moretti, with many Green & Gold punters expecting a 20 point margin over a Barker side that was flying below the radar, but who had developed a resolute belief in themselves that they could beat any team on their day.
First half
The opening 15 minutes was hard committed rugby from both sides. Barker with 55 to 60% possession played things tight and error free, with Harry Flaherty (4) and Mac Northcote (5) taking it to the Waverley forwards, bending the line and slowly marching the ball up field.
The defence shown by Waverley was equal to the task, with Doyle (1) and Murphy (6) blunting the attack, time and time again, to keep Barker scoreless.
The set piece was Barkers weapon, disrupting the Waverley scrum and stealing at least four Waverley line outs, denying the most potent backs in NSW – Bell (9), Donaldson (10) and Hardaker (12) – the ball.
Clearly the Barker coaching staff had done their homework.
After, 20 minutes of brutal rugby, having been camped within 15 metres of the Waverley try line, Barker received an easy penalty almost dead in front. They chose a scrum instead of taking an easy 3, and on the following play coughed up possession.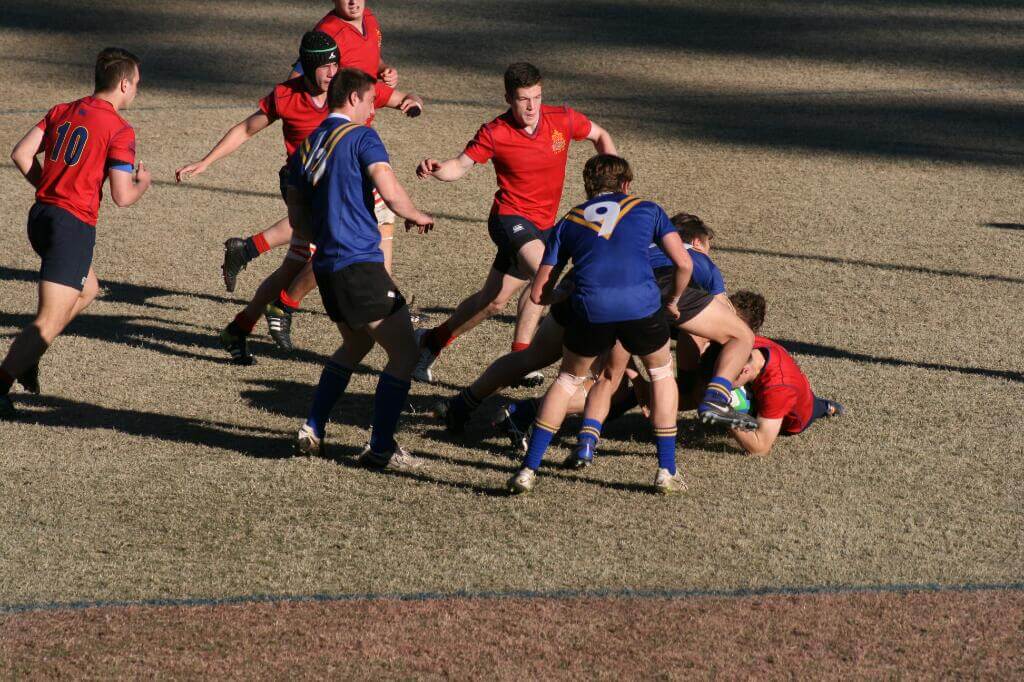 Waverley, through Donaldson, kicked long and through some determined work by Cornish (8) and Wallace (12) turned over possession again, and now it was Barkers turn to tackle.
Barker's defence was up to the task; with Hardaker (12), Howard (13) and Andrews (14) finding no way through the Red wall.
It was a defensive infringement by Barker that gave the opportunity for Waverley to put the first points on the board, with Donaldson realising that points for both sides were not going to come easy. Waverley lead 3 nil with five minutes left in the first half.
The Barker restart, was clinical, with Reimer (8) regaining possession. Quick ball from Tejcek (9) to Pollard (2) had the Red forwards rumbling towards the Waverley line yet again.
This time the rolling maul stayed tight, and with ball safely in Harry Flaherty's (4) keeping, the big lad crashed over for the first five-pointer, and the extras were added.
Half-time score: Barker 7 – 3 Waverley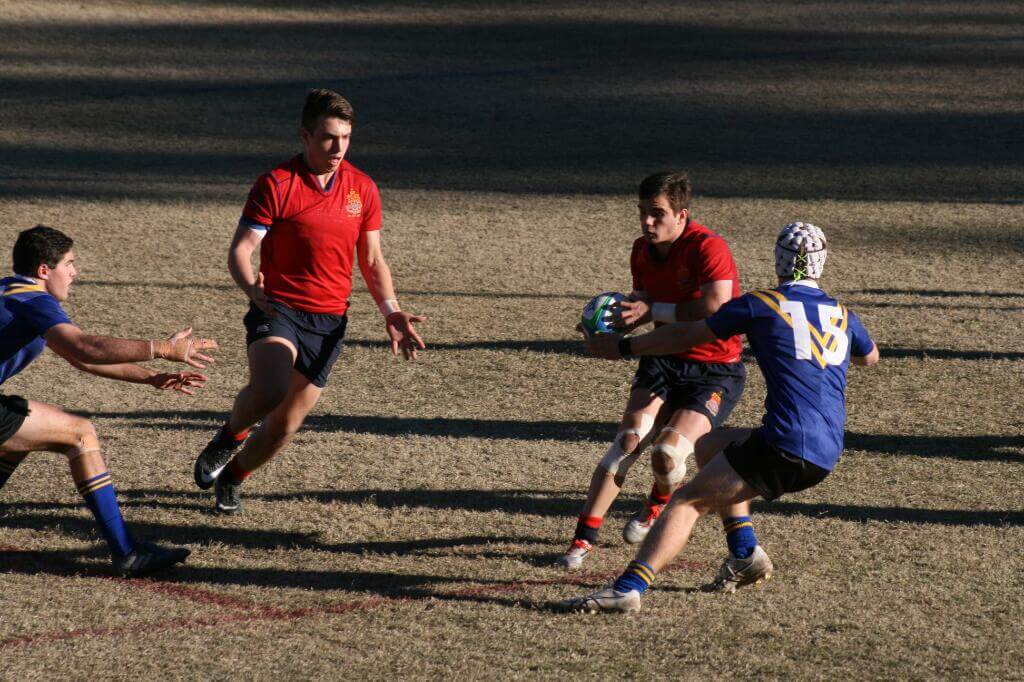 Second half
The second half was just as brutal. Baker dominating scrums and lineouts, while Waverley were always threatening with ball in hand.
Waverley's defence was just outstanding with Hardaker and Donaldson showing they could do the hard yards as well as the flashy stuff, against a Barker backline through Nercessian (10) and Van Woerkom (13) that were forcing the Double Vee into desperation mode.
Another technical penalty had Waverley on the attack, and after several pic and drives following a clinical lineout win, Cornish (8) scored in the corner. The conversion was wide. Waverley led 8 – 7 and the game was in the balance.
With 15 minutes to go, both teams dug in. Possession was king, and the fight by the loose forwards on both sides at the breakdown was immense. Reimer and Cornish were in face off mode while Barkers (6) Wilson had declared war on Cornish (8) who was up to the task.
A tight head, seven-man scrum win by Barker was the catalyst for Reimer to launch one of his signature crash ball runs up the guts.
With Barker's Capt Harding tacking a timely offload, the Barker forwards bound tight to roll Harding over the try line. With the extras it was 14 – 8 with seven minutes on the clock.
Despite Barkers slender lead, Waverley showed no signs of submission.
A committed restart saw Waverley regain possession. Several pic and drives and a scything run from Hardaker, had Waverley within 10 metres of the Barker line.
The following maul had the ball with Cornish (8), and with a bumping twisting run, he dived over next to the uprights.
Donaldson, secured the extras, and Waverley were in front 15 – 14 with four minutes to play.
Barker had their opportunities in the last four minutes, to win the game, but simple knock-ons or technical penalties relieved the pressure on Waverley who ran out winners on the day.
Games like these in a one round competition have binary outcomes, and today Waverley celebrated like they had won the grand-final, and that may well be the case, while Barker were gutted realising they were so close to the biggest upset of the year.
This was a game of inches, where the skill determination and courage of both teams was a testament to CAS rugby.
It was a privilege to witness.
Full-time score: Waverley 15 – 14 Barker
THE PLAYERS
Best for Waverley: Numbers 1 to 15
Best for Barker: Numbers 1 to 15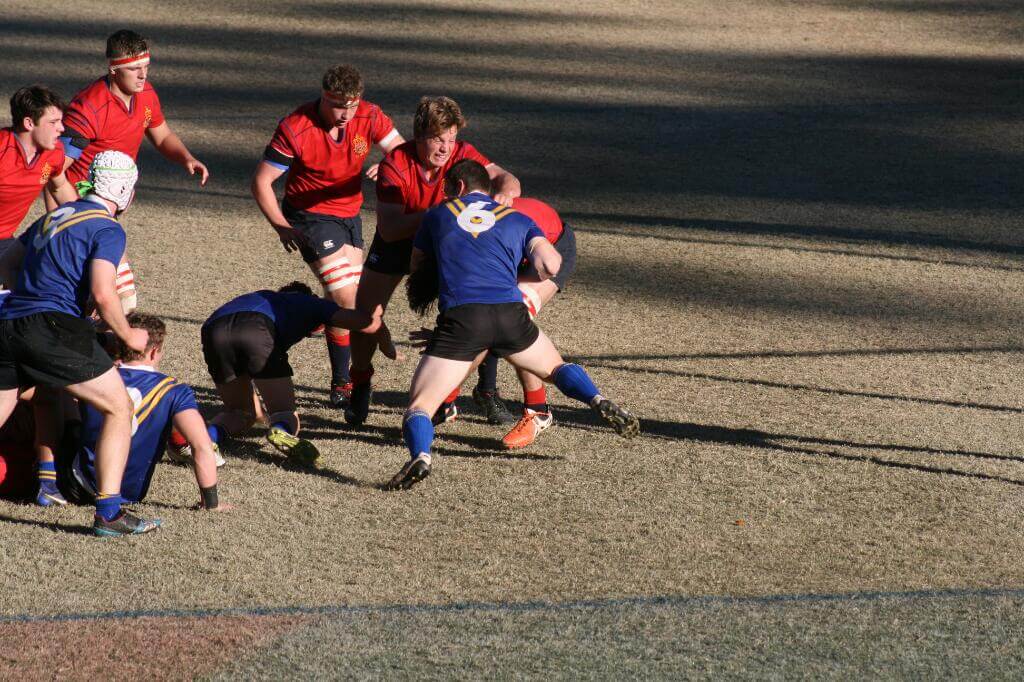 By "Up the Guts"
Those who witnessed the Aloys vs Knox game on Saturday would have seen a slick, well drilled Knox outfit dominate every facet of the game against a dejected Aloys team.
First half
It was clear Aloys had not turned up to play from the beginning, with the Knox team running rings around their opposition and scoring three tries in quick succession, all of which came down the left side of the Aloys defence.
Pavlakis was instrumental in these tries. His speed and ability to scoot through holes, meant that teammates Frost (5), Cameron (11) and Galletta (12) all had easy tries by this stage.
It was always going to be tough to come back from this dismal start for Aloys, and they did themselves no favours in giving away penalties and dropping the ball.
Knox continued their dominance as Pavlakis went over for his first try down the right-hand side, showing sheer pace to outsmart his opposing defenders.
Soon after, Knox again found their way into the Aloys 22m, and whilst Aloys showed some good goal line defence, in the end, they couldn't hold on as Humphrey (4) barged over for a try of his own.
Half-time score: Knox 31 – 0 Aloys
Second half
With Aloys all but out of the game, they had to do their best to salvage some respect in the second half.
In the first 10 minutes, they seemed to do this somewhat, with new flyhalf Ben Pollack controlling the game nicely, along with a smart kicking game from fullback James Westbury, showing that Aloys certainly has the talent to do well in the future.
However, this glimmer of promise was cut short by some Pavlakis brilliance, his speed was again on show but this time it was combined with a scintillating step and a fierce fend, allowing him to go over for his second in his MOTM performance.
Just after a Garing (8) try, Knox produced some set piece finesse, with youngster Sean Kennedy (2) steering a driving maul towards the line for a try.
Some late brilliance from wing replacement Lewis McNamara was not enough to get Aloys on the scoreboard, as Knox were able to finish 50 nil victors.
Full-time score: Knox 50 – 0 Aloys
THE WRAP
Knox were brilliant on Saturday; however, they must now focus on what will be their two toughest games, Barker and Waverley.
Yet if they play with such skill and flare as they did today, both those games look like they will be absolute crackers.
Aloys on the other hand, have a slightly easier run home, however, with their poor performances in the first three rounds, they need to be weary of Cranbrook, and even more so Trinity, whom themselves only lost to Knox by five points.
It has not been Aloys season, however, there has been enough on show from their youngsters to suggest they will be a better side next year. Good luck to both teams in their remaining fixtures.
THE PLAYERS
Best for Knox: Pavlakis (15) – proved why he was robbed of a Barbars position, Woodcock (10) and Cutrone (1).
Best for Aloys: Pollack (10), Westbury (15) and Flaherty (12)
SCORING DETAILS
Knox 50 (Pavlakis 2, Humphry, Kennedy, Frost, Garing, Cameron, Galletta tries; Pavlakis 5 cons) def. Aloys 0
---
Apologies that there is no report on this match. Based on some posts in the CAS thread:
Cranbrook lead 10 – 5 at half-time, after playing really well, especially in defence
Trinity's outside backs didn't receive much clean ball in the opening stanza
Trinity came back strongly in the second half
With Ilias out for Trinity, Stead was moved to the centres and his combination with Payne was lethal, breaking the line multiple times
Stenmark put on a great show for Cranbrook with his kicking and Antonelli on the wing played well running and defending.
Full time score: Trinity 31 – 10 Cranbrook