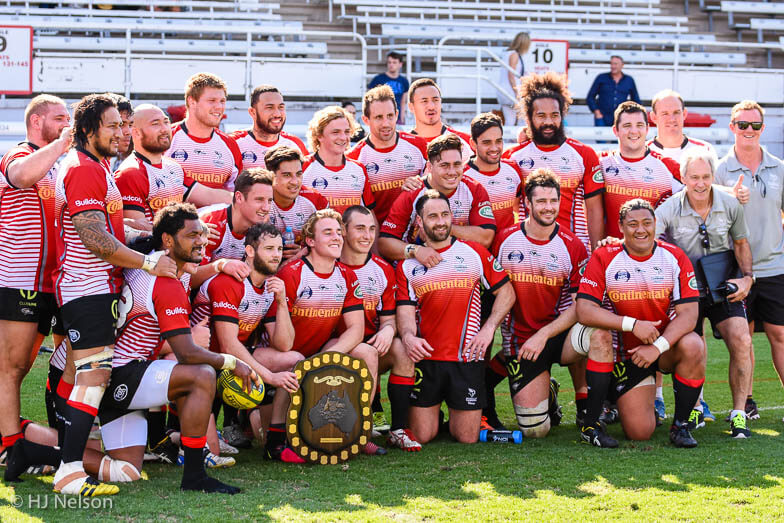 A perfect afternoon at Ballymore saw the grand final rematch between Brisbane City and Canberra Vikings.  The City boys have had a couple of ill-disciplined weeks and this week would be looking to tighten up the penalty count and retain the Horan-Little Shield.  The Vikings travelled north in the hopes of erasing the ignominy of last week's loss at home and wrenching the Shield away from Brisbane for the first time since Round 2 2015.
The Match
For the home crowd the match started the right way with a try to Isireli Naisarani inside the first 3 minutes.  The conversion was unsuccessful from McIntyre but Brisbane City were on the board.    The scrums from both teams were solid and unlike the previous seasons, City didn't dominate in this space.  Individually the players in the pack are quite strong and they certainly worked well together, but other teams are catching up in this space, nullifying their strength.
Canberra Vikings hit back in the 10th minute with a try to hooker Robbie Abel who took advantage of a lapse in defense to crash over.  (Why is it always the descriptor 'crash' I use for a prop or hooker try?!  I mean, I know they aren't ballet dancers likely to flit over, but still a back is just as likely to crash through defenders.  Note: use thesaurus next time.)
Brisbane City sustained pressure inside Canberra's 22 and were rewarded with a penalty.  The ever-quick Nick Frisby took advantage of this and went the quick tap to score.  This conversion too was unsuccessful and between the unsuccessful kicks and his general play, it wasn't McIntyre's finest match.  He never looked settled and is a shadow of the player he was last year.  Recently back from injury perhaps he is a little undercooked and perhaps his time as playmaker for the Reds has dented his confidence a little – I want the McIntyre of 2015 NRC back!
As a City supporter I think the try scored by Canberra in the 21st minute was a little dubious as Ojay Noa's foot appeared to be in touch.  Nic Berry ruled the try however and Isaac Thompson converted. Brisbane City were committing too many men to the tackle and were too flat in defense, and these two elements plagued them throughout the match, leaving them exposed.
A series of errors from Brisbane City saw Canberra cross again within 5 minutes, this time from an almost length of the field try by the uber-fast Andrew Robinson after missed tackles by Lacey and McIntyre.
The third (and final) Brisbane City try was scored by Chris Kuridrani who was quick to snaffle a loose ball after a poor lineout by city and McIntyre converted.
The return after halftime saw Robbie Abel crossing for his second try of the match and Thompson converted to put Canberra further ahead.
The second half was a different story from Brisbane City who made as many errors as opportunities. This was typified by a fabulous attacking scrum that saw them mount sustained pressure on the Canberra line, only to knock on.  Players made fabulous moves but it was countered by their boo-boos.  Lukhan Tui made some great attacking runs, but knocked on three times.
Brisbane City saw their 7th yellow card in 3 matches when Chris Kuridrani was binned for no arms in the tackle.  Canberra waited only a minute to capitalise and Jarrad Buttler (starting from the bench) crossed near the tryline.  Nick Jooste missed the conversion, but it was clear we were watching a very different Canberra to the team who had 60 points put on them at home last week – they used the 80 minutes to attack consistently, encouraging errors while minimising their own.
Canberra crossed again through lock Sam Carter and Speight in a cameo kicking role converted for them.  But the Vikings weren't done.  And neither was Speight, crossing for his own try in the 77th minute.  Jooste converted this one for a final score of 20-52.
Brisbane City didn't score at all in the second half.  For those following them this season (and the crowds are very low) 1 win from 3 starts is a poor title defense.  Their attack isn't as fluid as last year and their discipline (or lack thereof) is hurting them.  Canberra Vikings on the other hand looked like a team who realised their groove and their match at home when they defend the Horan Little Shield against the Rising next Sunday should be a cracker.
---
The Game Changer
Half time certainly was a circuit-breaker for the Brisbane City team who couldn't score at all in the second 40minutes.  The Vikings were disciplined and took advantage of the error-riddled play by City.

The G&GR MOTM
Robbie Abel was solid in the scrum and his two tries were right place, right time, showing up the City defenders.  Isireli Naisarani for Brisbane City was impressive and will really benefit from this step up from club rugby.

Wallaby watch
Henry Speight was good off the bench and will be a great addition to the Wallabies backline.  That does of course assume that Cheika might start playing people in position.
Houston appears to be heading overseas to Bath as medical cover for a few months so City will lose him for the rest of the season. Unconfirmed as yet, but expecting this to be finalised in the next day.

---
The Details
Crowd:  Not enough, which is concerning a GF rematch, great weather and a competition struggling to demonstrate relevance to fence-sitting rugby lovers.  My local club gets more people to their matches than we had at Ballymore this Sunday afternoon.
Brisbane: 20

Tries: 3
Naisarani 3'
Frisby 16'
Kuridrani 37'




Conv: 1
McIntyre (1/3) 38'


Cards:
Kuridrani 66' – YC

Canberra: 52

Tries: 7
Abel (2) 10', 45'
Noa 22'
Robinson 27'
Butler 66'
Carter 74'
Speight 78'

Conv: 5
Thompson (3/4) 23', 27', 46'
Jooste (2/3) 76' 79'

Cards:
n/a
Referee: Nic Berry

Attendance: tba
Brisbane City: 1. Pettowa Paraka, 2. Andrew Ready, 3. Sam Talakai (c), 4. Luke Beauchamp, 5. Lukhan Tui, 6. Isa Naisarani, 7. Michael Gunn, 8. Leroy Houston; 9. Nick Frisby, 10. Jake McIntyre, 11. Alex Gibbon, 12. Patrick James, 13. Chris Kuridrani, 14. Mitch Felsman, 15. Brad Lacey. Replacements: 16. Matthew Mafi, 17. Markus Vanzati, 18. Feao Fotuaika, 19. Jeremiah Lynch, 20. Criff Tupou, 21. Moses Sorovi, 22. Jayden Ngamanu, 23. Jack de Guingand. Coach: Rod Seib.

University of Canberra Vikings: 1. Sione Taula, 2. Robbie Abel, 3. Les Leulua'iali'i-Makin, 4. Blake Enever, 5. Sam Carter, 6. Tom Staniforth, 7. Dean Oakman-Hunt, 8. OJ Noa; 9. Brent Hamlin, 10. Robbie Coleman (c), 11. Lausii Taliauli, 12. Jordan Jackson-Hope, 13. Andrew Smith, 14. Andrew Robinson, 15. Isaac Thompson. Replacements: 16. Connal McInerney, 17. Faalelei Sione, 18. Ray Dobson, 19. Soakai Tai, 20. Jarrad Butler, 21. Joe Powell, 22. Nick Jooste, 23. Henry Speight. Coach: Wayne Southwell.