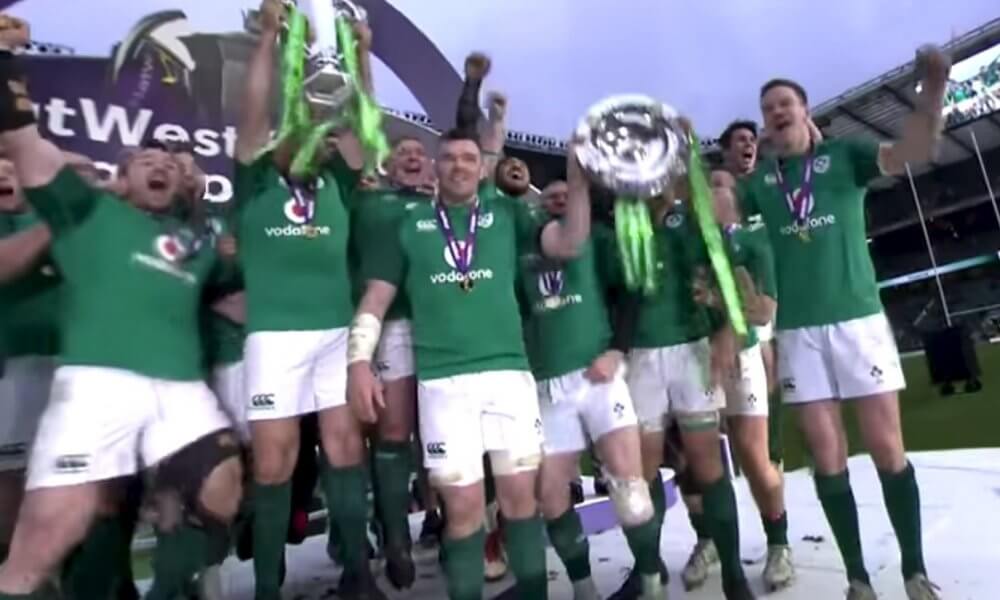 Ireland comprehensively rolled England at Twickenham on St Patrick's Day to win the Grand Slam and send shockwaves through English rugby. Last season in the reverse position, Ireland had a chance to rain on England's parade in Dublin and did so, denying Eddie Jones' team the elusive Grand Slam.
This time around England could not return the favour and were well beaten by half time with Ireland going into the sheds at 21 v 5. This was such an epic game that what follows is a blow-by-blow of how it unfolded. A story board of the match if you like.
High Ball Fast Start – Eng 0 Ire 7
Ireland got off to a very fast start with an age old tactic called the "Garryowen". Johnny Sexton basically put up a high ball to test out Anthony Watson. It is called a Garryowen after the rugby club in Limerick that used the tactic in the 1920's to great success – the name of the club has been synonymous with the tactic ever since.
Whatever it's called it was effective with Sexton's kick chased well by Rob Kearney to force the error from the rookie England fullback. If Watson has an issue it's the high ball, and Ireland asked the question early in the contest. They came up trumps with Garry Ringrose benefiting from the skill of Sexton and Kearney
Ireland's Strike Play – Eng 0 Ire 14
Midway through the first half Ireland threw a peach of a strike play at England and came up trumps as CJ Stander scored from a Bundee Aki bust. The play started with a 4-man lineout and a regular looking runaround play that is Johnny Sexton's calling card.
However, Ireland had laid the trap for England's Sam Simmonds and instead of Sexton receiving the ball on his runaround it was Aki taking the short ball to make the bust. The fact that it was Tadhg Furlong, the big Irish tight head prop, being the ball player makes it more embarrassing for England's young back rower.
England Hit Back – Eng 5 Ire 14
Having conceded 2 tries in the first quarter of the match England simply had to strike next or it was game over. They did so from a penalty advantage play that saw Owen Farrell put in a beautifully weighted kick for Jonny May to score.
Keith Earls got far too narrow in defence and could not scramble well enough to stop the try being scored. England had the strike back but they failed to convert the try.
Game Breaker – Eng 5 Ire 21
With the clock at 41 minutes into the first half Ireland's young left winger Jacob Stockdale delivered the killer blow to with Ireland's third try in the first half. It was a brilliant chip and regather effort down the shortest of short sides and England's Mike Brown could not do enough to stop the Irish flyer touching down inches inside the dead ball line.
The game was turning into a nightmare for England and Sexton slammed home the conversion to pile on more misery
England Hit Back Again – Eng 10 Ire 24
Eddie Jones must have had some choice word at half time and England rallied.
They should have scored on their left edge as Keith Earls was again caught out in defence by the Farrell and May combination. However, Earls somehow scrambled enough to tap the ankle of May and a certain England try was denied.
England continued to fight and their next try came from a lineout drive again under a penalty advantage. It was midway through the second half and Jones had injected Danny Care and George Ford into the action. With nothing to lose under a penalty advantage, Care bounced out from the maul and fired a long ball across Ben Te'o to Owen Farrell standing at outside centre. Farrell turned the ball back to Ford and fired another cutout pass to Brown how drew to Irish defenders giving Elliot Daley a free run to the line.
Again England attacked Earls and it paid off. However, England missed another conversion and they were fast running out of time
The Last Say – Eng 15 Ire 24
Towards the end of match the Irish contingent in the crowd were singing "Ole Ole Ole Ole". It's originally a Spanish bullfighting chant but has been adopted by European football and rugby crowds when their team is going to win easily. Let's just say it was salt into English wounds and there were some English fans booing their team at the end – I guess with the going rate for a single ticket at £900 the punters are entitled to do what they want.
Anyway, if you listen at the start of the clip the Irish fans are singing "Ole" as England run in their last try to make the game respectable. This time it's Ford putting Te'o into space on the right edge and it's May who catches Jacob Stockdale too narrow
Conclusion
For England the tide has well and truly turned. They entered the Championship as favourites with dreams of winning the Grand Slam themselves. They've now been humiliated at home with their third consecutive loss and Ireland have won the Grand Slam at Twickenham. Finishing 5th in the 2018 RBS 6Nations Championship was never on the cards.
All teams have a bad run and sport can be fickle, but remember this England team have won over 80% of their last 30 matches. That being said, the England coach will need to move decisively now to address this slump. He's got some breathing space until the November Test Series but his team will need to bounce back. With Billy Vunipola fit he'll have the back row in better shape and there will be pressure for him to restore the Ford & Farrell combination. Captain Dylan Hartley is aging too. so Jones'll also have leadership questions to answer.
The life of a coach – it's never easy. That's why its so enticing.