The Rebels have only played two games this year but ex-Force centre Bill Meakes is already making his case for selection in the Wallabies' backline. He was a product of the noted St Joseph's College in Sydney's North Shore which has produced 45 Wallabies including Matt Burke and Kurtley Beale. I have been reliably informed by another Old Boy that Meakes made the switch to centre in his final year having played flyhalf in year 11. Born and raised in Manly, his lifelong goal has been to play for the Wallabies.
Meakes played representative rugby for New South Wales in the Australian Schools Rugby Championship, and spent several years after his 2008 graduation earning his stripes in the Shute Shield playing for Northern Suburbs and Randwick. His first taste of national representative rugby came when he managed to pick up a number of caps in the 2011 Under 20 World Championship and Sevens World Series.
Despite being featured in all of these pathways as well as being a member of the Waratahs "A" squad and the ARU academy, Meakes never got a Super Rugby contract and was instead snapped up by English club Gloucester in 2013. He spent two years playing in the bottom tier of the English relegation system for Clifton before being promoted to the Premiership after they'd suffered a few injuries, with Meakes featuring prominently at outside centre in Gloucester's 2015 European Challenge Cup victory. He played 46 games in total for the club.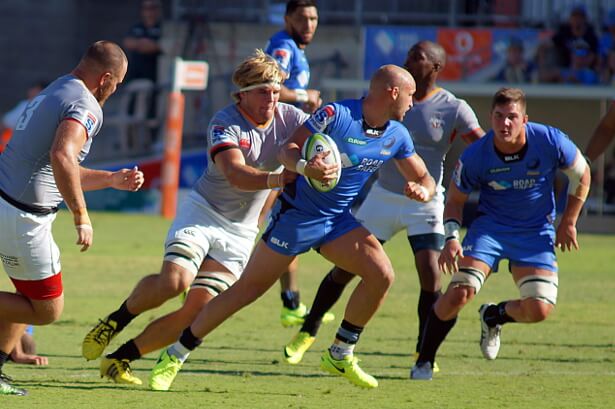 Meakes always had his eyes set on Super Rugby however, and in 2016 he sought an early release from his Gloucester contract to accept an offer from the Western Force (above). He started almost every game for the Force at inside centre in 2017 and moved with his coach (and half the rest of the team) to Melbourne in 2018 as a result of the eviction of the Force from Super Rugby. Meakes started in 11 games for the Rebels despite heavy competition in a star-studded backline where he was sometimes displaced by Reece Hodge. This earned him an appearance in the green and gold against the Barbarians, although he is still searching for an elusive test cap.
Meakes has a 95% tackle success rate in 160 minutes this year. He had an 83% tackle success rate last year, which is the best of the Australian-capped Super Rugby centres. To be precise, incumbent Wallaby inside centre Kurtley Beale had a 66% tackle success rate, Samu Kerevi had a 74% tackle success rate, Tevita Kuridrani had a 79% tackle success rate, Duncan Paia'aua (who also played against the Barbarians) had a 78% tackle success rate, and Bernard Foley (who played 2 games at inside centre for the Wallabies in 2018) had a 69% tackle success rate.
Meakes is a different mould of player to his competitors. While Kuridrani and Kerevi are known for their ability to make the advantage line and break tackles, and Beale and Foley are known for their playmaking skills, Meakes is an all-rounder who gets the basics right. This is perhaps what makes him the ideal partner to Quade Cooper.
The Rebels have only played two games in 2019, yet there are already several striking examples of Meakes' game sense and broad capabilities. His 72nd minute kick-pass to unmarked winger Jack Maddocks against the Brumbies in round 1 (below) sealed his team's victory, and perhaps most importantly showed a great deal of trust by Cooper that Meakes recognised the try-scoring opportunity. If Cooper had tried to make the cross-field kick himself it is likely that Maddocks would have been taken by Kuridrani, however the Brumbies' outside centre was forced to turn inwards to prevent Meakes from running outside Lealiifano.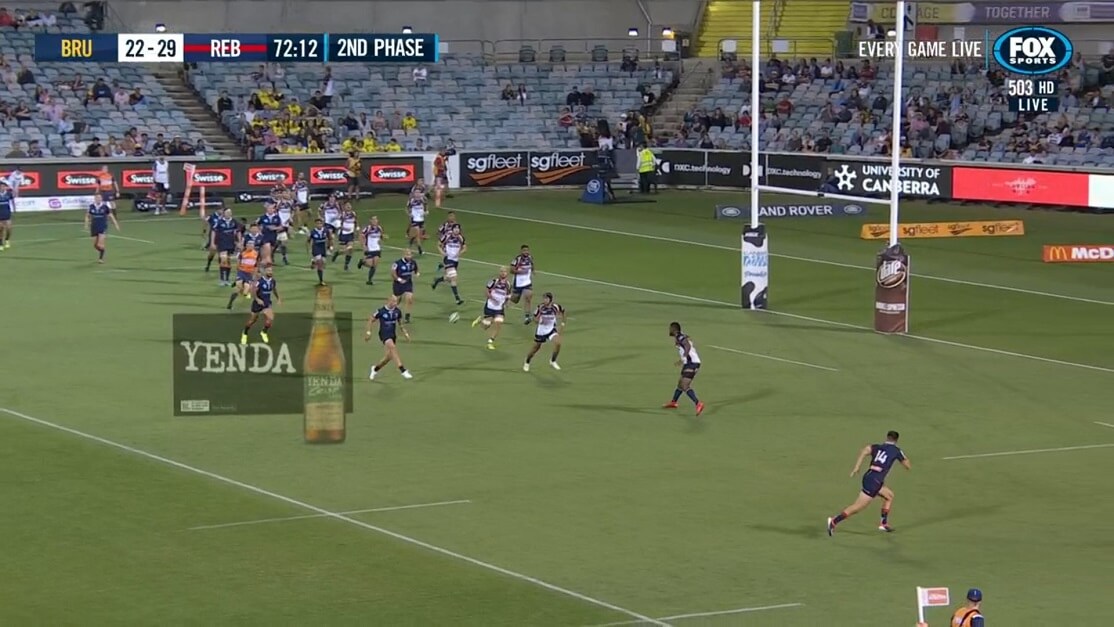 Quade Cooper is billed as flyhalf, but Meakes appears to do a lot of the decision-making and communicating for the Rebels' backline. In the picture below, Meakes is seen telling Cooper and then Maddocks what the play is going to be off the back of their attacking scrum. This is a regular event, especially during scrums.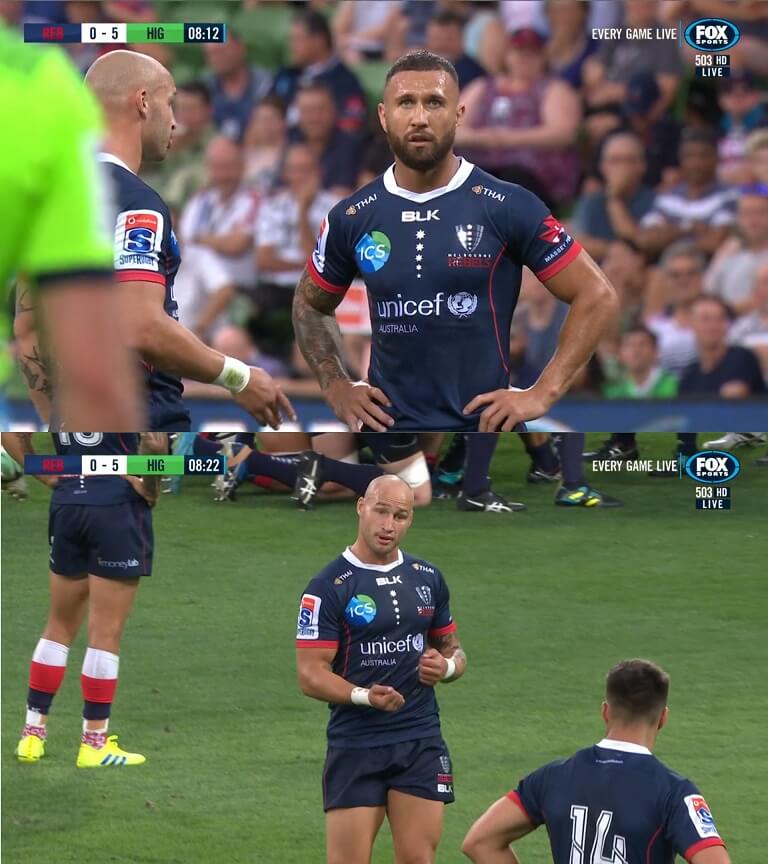 20 minutes into the first half, the Highlanders put a chip kick in behind the Rebels' defensive line (below). Meakes typically rushes up to shut down opposition backline plays, but despite doing this he is still the first to understand what is happening and is the only player to get back and cover the kick. If Meakes had been half a second slower, Thomas Umaga-Jensen would have recovered the ball and almost certainly put Walden in for a try after committing Dane Haylett-Petty. Meakes also manages to stay on his feet and then roll about on the ground for long enough that supporting players can arrive to secure possession. He is very astute at predicting and reacting to short kick plays and defuses a similar situation in the 58th minute.

One of the benefits of being a born-and-raised rugby player rather than a league convert is that Meakes understands how the ruck works better than most high-profile Wallabies stars. After Kayne Hammington makes a short break off the back of the Highlanders' scrum, Meakes recognises that the Highlanders' pack is trailing behind and takes the opportunity to get over the ball and win his team a turnover as seen below.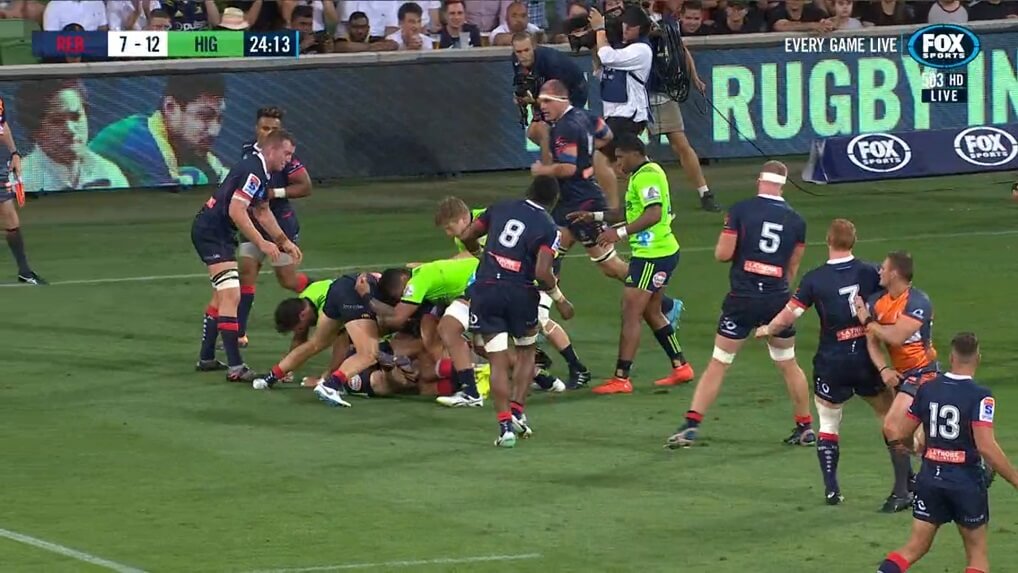 One memorable contribution to this game by Meakes was creating the 29th minute try for Tom English by drawing the tackle of Jackson Hemopo and then flicking the ball back on the inside (below).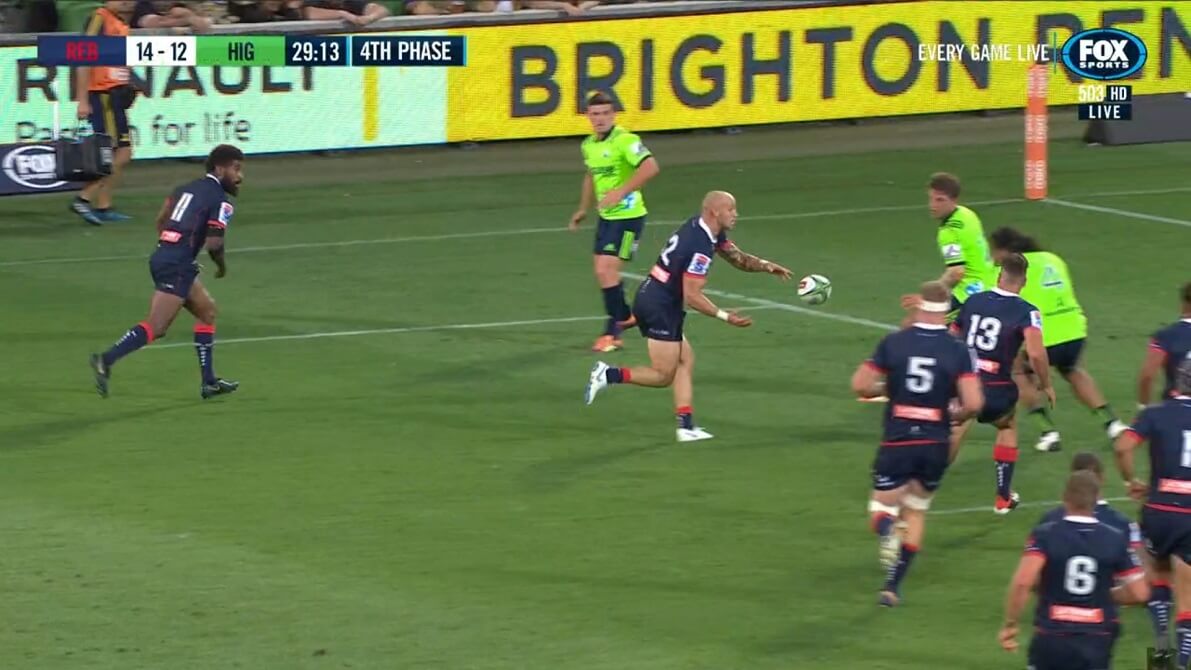 In the 34th minute, the Rebels have another attacking scrum. Meakes shows that he has a playmaker's ability to unlock backline talent by spotting that Maddocks only has one defender to beat and half the width of the field to do it in. He throws a long cut-out pass over Haylett-Petty's head despite being tackled by the Highlander's rush defence (below). Unfortunately, Maddocks is tackled just inside the 22, but giving a talented winger a 1-on-1 opportunity with that much space will often lead to points on the board.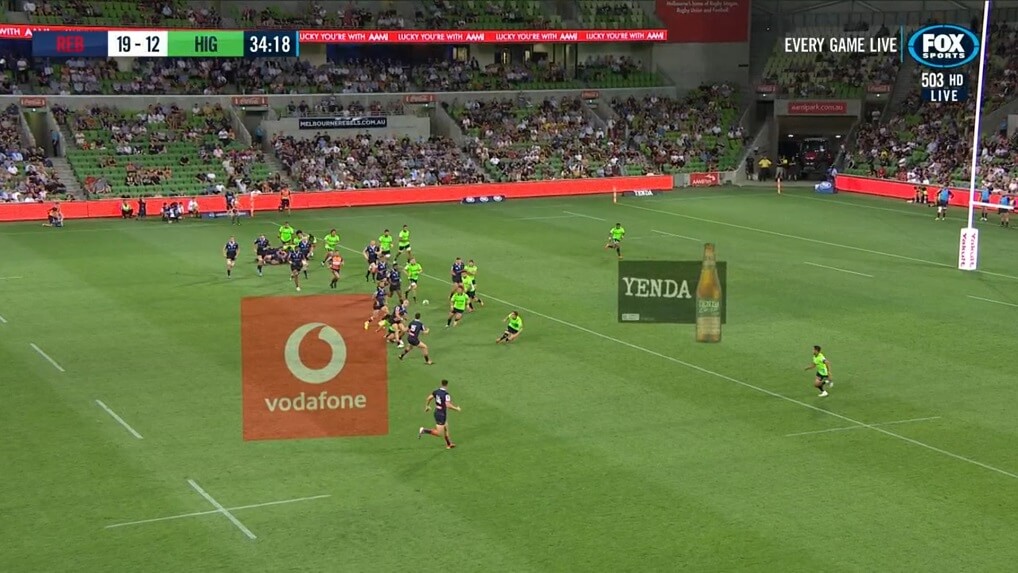 Meakes and Cooper interchange their positions in the first and second lines of attack to provide a second option to the inside backs (usually Will Genia, although in the below image Haylett-Petty is up from fullback slotting into the line at first receiver). This 9-10-12-15 combination (the "spine" of the backline) is one of the most intelligent in Super Rugby, and very different to the Phipps-Foley-Beale-Folau setup of the Waratahs.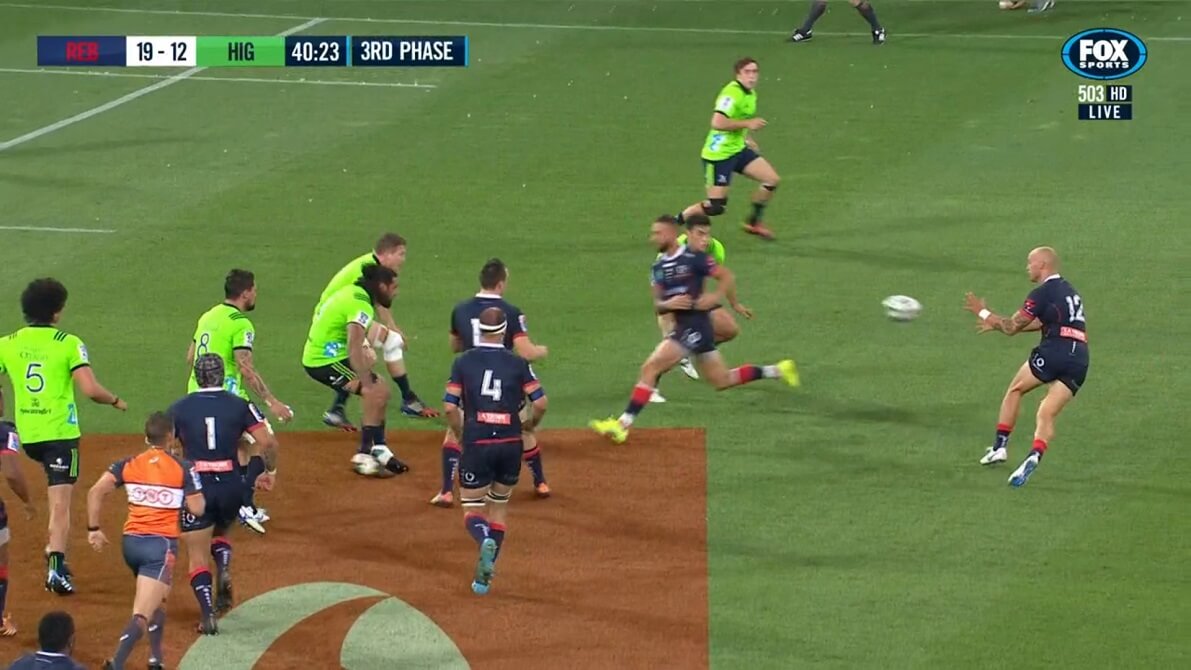 Meakes' top contribution against the Highlanders takes place in the 42nd minute (below) where he races onto a Cooper grubber to notch a crucial 5 points, the exact margin by which the game was won. Perhaps the most notable thing about this try is that Cooper and Meakes realise that Hammington (who usually plays the short kick sweeper role for the Highlanders) committed to a tackle in the previous phase and was lying at the bottom of a ruck.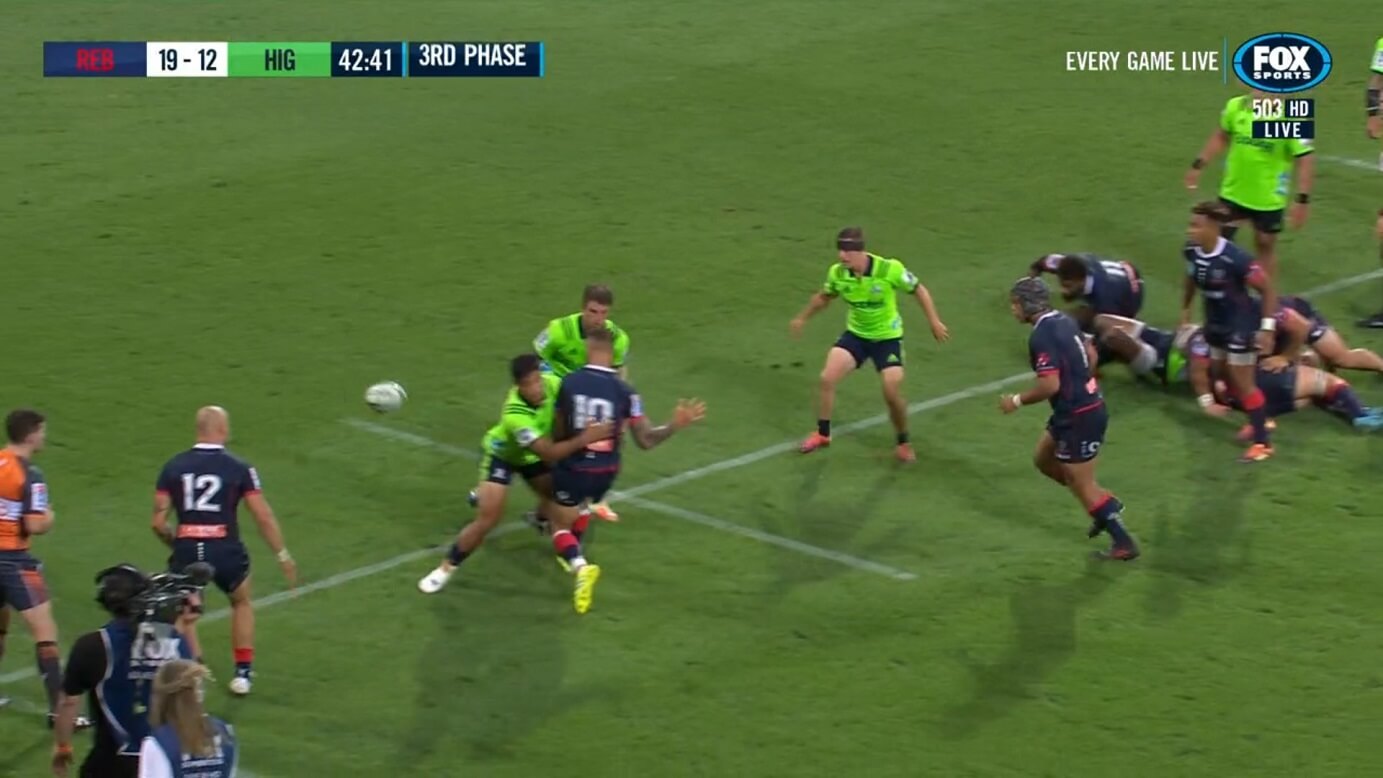 Meakes' plays off the ball are similarly astute. He always runs good supporting lines and deftly extricates himself from rucks to get back into the defensive line quickly. On two occasions with Cooper he tries to hold up an opposing player to create a maul turnover, and this succeeds in the 72nd minute. Perhaps even better in the context of the modern professional game, Meakes has never suffered a major injury – he hasn't missed a Super Rugby game since entering the competition in round 1 of 2017.
When interviewed in the 45th minute of the Highlanders game, coach Dave Wessels said that the Rebels, "try and run an attack where we can change our shape pretty quickly, we can do different things with it." This is a style of rugby I propounded in my first article and stated was directly opposed to the Wallabies' preferred style of set plays and predetermined positions/running lines. This is why the Rebels v Waratahs game in April 20 is such a mouth-watering prospect, because it is a clash of diametrically opposite styles (though Super Rugby is inherently less structured than the Wallabies under Michael Cheika). Meakes is also the only one of those 8 players to not have made at least 30 appearances for Australia, and will be able to compete directly against the likely Wallaby World Cup inside centre.
It is highly concerning that a talented player like Meakes has never even come off the bench for the Wallabies, not even last year when Cheika was showing a willingness to experiment with benching/switching Beale and Foley. It is an even greater indictment of the Australian development pathway that Meakes could not get a Super Rugby contract between 2009 and 2013 when Australia had 5 professional teams. In an article for PlayersVoice, he said that, "I reckon England is where I really turned it up and became a much better player." Meakes was developed into a better player by a foreign system (much like the recent cases of Pete Samu and Will Skelton).
Meakes is now 28 and in a few years his age will begin to become a factor when considering his potential selection for the Wallabies. Following Cheika's departure at the end of 2019, I fervently hope that someone like Dave Wessels with a willingness to play a flexible attack and trust his players' instincts takes the reigns. Such a coach will certainly see Meakes' value, and hopefully give him the Wallabies start that has been his lifelong dream.