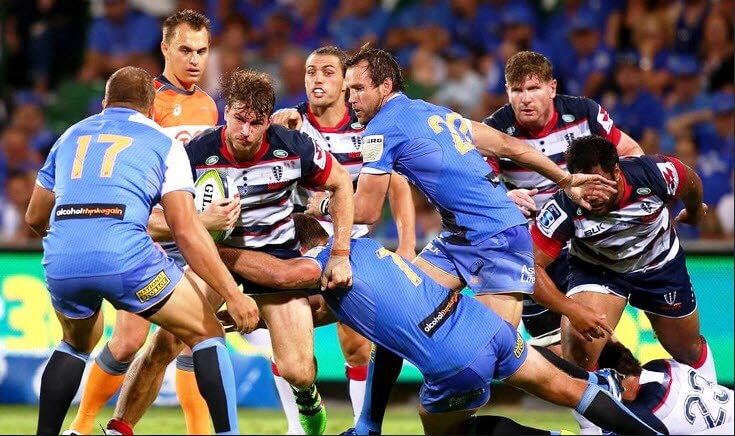 The start of a new season provides an opportunity to do something different. I've collected the normal ruck stats for all 5 Aussie teams. Rather than give tables for all players, I've attempted to provide some insights into who, or which group of players, is doing the hard work at the breakdown for each team.
Brumbies and Waratahs showed similar ruck involvements against very different opposition.
Reds stats reflect their 62% Possession.  Little pressure on the Waratahs ball carriers and a very low (75%) tackle success rate.
Force and Rebels were evenly matched for ruck involvement, however, the Force was generally slow to rucks all game and showed little of the quick line speed and strong support play which was evident in their trial matches..
Round 2 matches present fairly even match-ups regarding rucking strategies and involvements.
The Waratahs spread the Total Ruck workload fairly evenly across all player groups.
Front Rows for the Reds and Rebels were very involved in Total Rucks.
The Force Back Row carried a heavy workload.
Total Ruck involvement by the Backs from each team was remarkably similar.
Fairly even stats across the teams, except for the Force and Rebels Locks who were a bit off the pace in support of their ball carriers.
The different team or match strategies are most evident in involvement in Defensive Rucks.
The Reds Front Row was most involved in pressuring the opposition ball carrier.
The Brumbies Back Row were strong leaders in Defensive Ruck involvements.
The  Waratahs and Force Locks  showed a high level of involvement in pressuring opposition ball carriers.
The Rebels Locks had minimal involvement in Defensive Rucks.
The slightly higher involvement by the Waratahs Backs reflects the Reds higher possession and territory.
Not surprisingly, ball retention proved critical for the winners during Round 1.
INDIVIDUAL PERFORMANCE – THE TOP 10
Remember:
Early means 1st or 2nd of player's team AFTER the ball carrier has been tackled and brought to ground.
Impact means active engagement: strong physical contact, changed shape of ruck, clean-out, protecting ball etc. (more than hand on someone's bum or arriving after the hard work has been done). Yes it's subjective – but as I collect all data at least it's consistent.
Impact DOES NOT equate to Effectiveness. I've concluded that coming up with an effectiveness measure is just too hard in the time that I have available – but open to suggestions.
I am continually impressed by the consistency of effort shown by some 80 minute players.
And even more amazed by those who substantially lift their workrate in the 2nd half.
A few more of interest who didn't make the Top 10:
Sean MCMahon – 27 Total (19 Attack/8 Defence)
Geordie Reid – 26T (19A/7D)
Brynard Stander – 25T (12A/13D)
Michael Hooper – 24T (14A/10D)
Will Skelton – 21T (9A/12D)
Best rucking by a Back – Samu Kerevi – 21T (18A/3D)