You may have seen our anatomy of a try posts, pioneered by our resident English analyst, The Dead Ball Area. Well, we've decided to take that a step further and apply it to WHOLE TEST MATCHES by picking out what key areas of play through the games.
What better test to try it out on than the Wallabies victory over England in last year's World Cup? Enjoy – Ed.
00:00 – 3:00 – Kick off to Exit: 3 minutes that defined the first half
You can tell a hell of a lot about a game in the opening few minutes and this game is no different and in three minutes the Wallabies set their stall out with three sequences of brilliant play:
the kick off receipt and 22 exit,
two pieces of defensive play
a fantastic long range exit from their own half
000 – 00:38: Kick Off
Australia recycle and sensing space wide, from England sitting back on the kick chase, move the ball into it. Foley is hauled down and the Wallabies recycle with Giteau clearing the lines.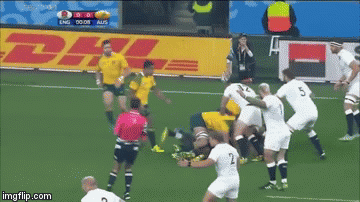 The Wallabies have had a fair amount of issues with exit strategies over the last few season, but here they know exactly what they are doing and as a statement of intent it says a lot, by moving the ball they are showing England there is no where on the pitch they can sit back on defence.
The kick is actually quite poor from Giteau and falls to the waiting Owen Farrell who brings it back to the tackle line, but is hunted down and smashed by Michael Hooper. It's a big tackle from Hooper and even though the ball is knocked on in the tackle it shows how determined he is.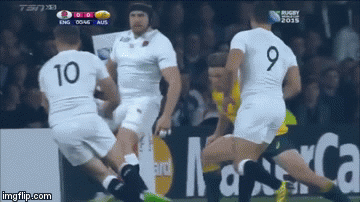 However, what follows is an even better example of how determined Australia were to set down an early marker in defence.
01:23 – 1:42 First Defensive set
Australia concede a free kick and England Tap and go – the intention from England is to take the game to Australia but the Wallabies meet fire with fire as we see with Horne flying out of the defensive line to hit Barritt as he receives the ball.
England go to their power game and try to build a flow pattern, but watch who's back on his feet and making the very next tackle, Horne.
Work rate and aggression are the template here and Young's, frustrated at their lack of progress, kicks to the corner sending the ball dead.
02:31 – 02:46 Exit from own Half
From the ensuing scrum Foley kicks from left to right, a long raking kick catching both May and Brown out of position and drives England back to within 5m of their own line. Play will stay in the England red zone for the next five minutes and the Wallabies will walk away with the first points of the match.
So in less than 3 minutes of play we've seen two sequences of play dominated by Australia, and one of the best tactical kicks you'll see. All sequences of play are about putting the ball in England's court and saying "is that the best you can do?"
13:05 – 14:00: Swarming Defence
England exit and get into attack mode.
But Australia have other ideas. England have the Numbers and the space so Beale makes an excellent decision to shoot out of the line and shut down Joseph as he gets the ball – then Kuridrani and Moore blitz and swarm.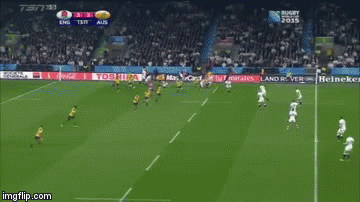 The net result is England go back a full 20m, but do well to get back on the front foot with two breaks down the left by Brown.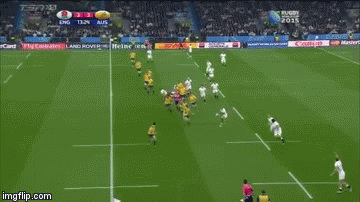 As the Australian 22 looms their defensive intensity increases and from here we see Australia's tenacity as they regroup defensively and then frustrate England's phase attack pinning them back behind the 22, and flooding the breakdown when they can.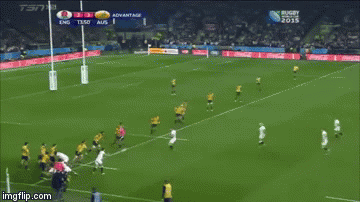 Until after 6 phases on their 22 they eventually effect a turn over.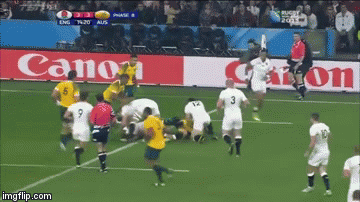 It's frenetic defence lead by Hooper who continually gets up and in the English faces.
32:00 – Scrum battle decided
It's been a ding dong battle in the scrum so far, with penalties about even (you can see our in-depth analysis of that battle here).
However, this is the scrum that seals the deal for referee Poite on England loose head Joe Marler.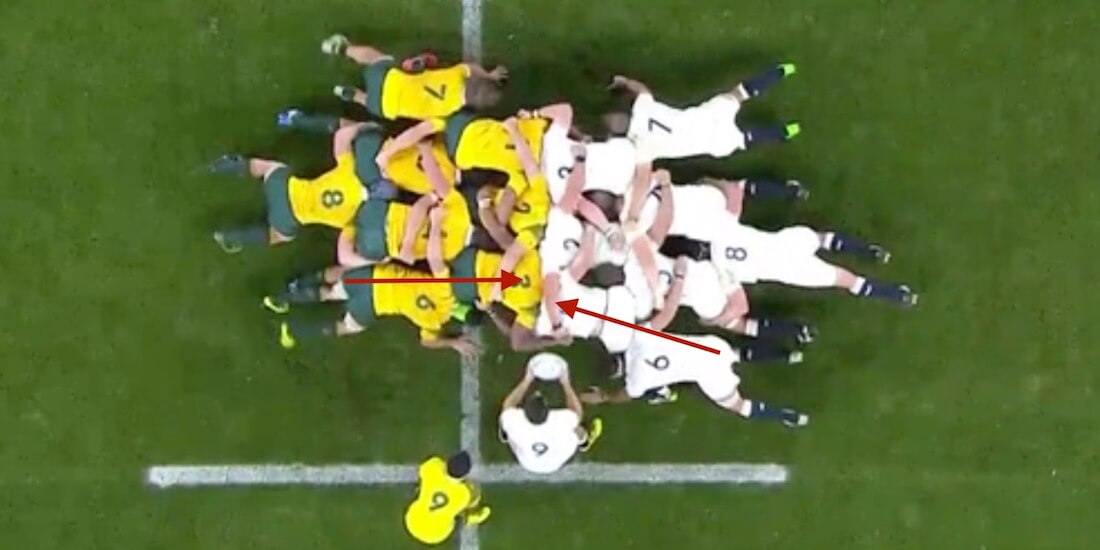 On set up Marler is already at an angle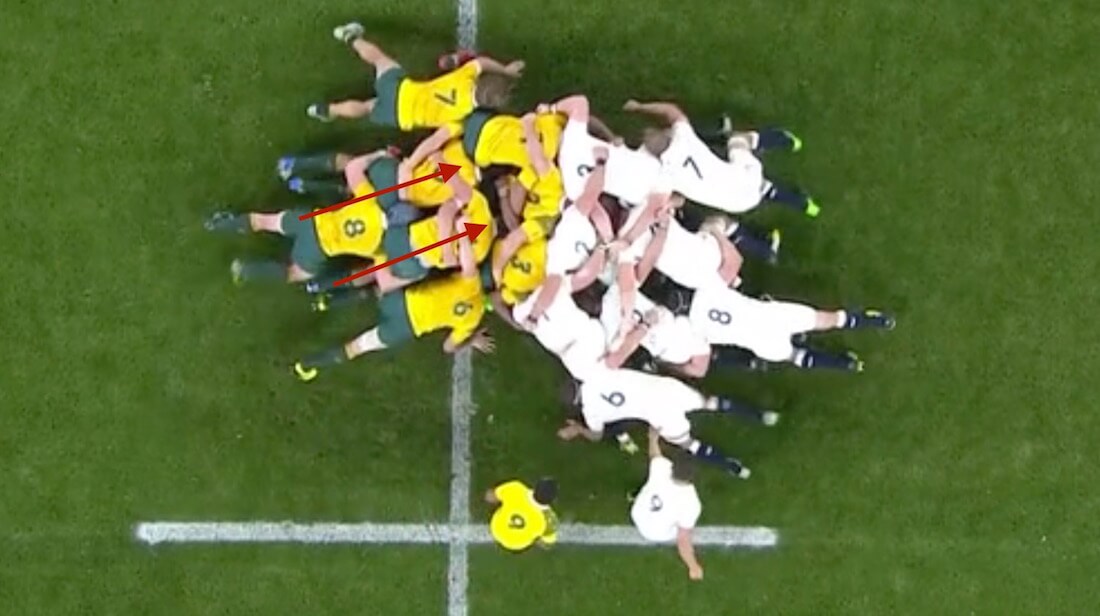 In the drive, the Wallaby front row fights to stay square – Kepu contorts his body to do so, but the back five again drives up and to their left. This accentuates Marler's angle and as the power comes on he spins in and the scrum collapses.
Polite does his famous windmill penalty reversal…
…and that's it – his mind is made up.
The Wallabies go down town and score their second try from the ensuing lineout.
34:33 – Australia moves away
See more of this try analysis here.
Half time
Guess what the Poms are discussing….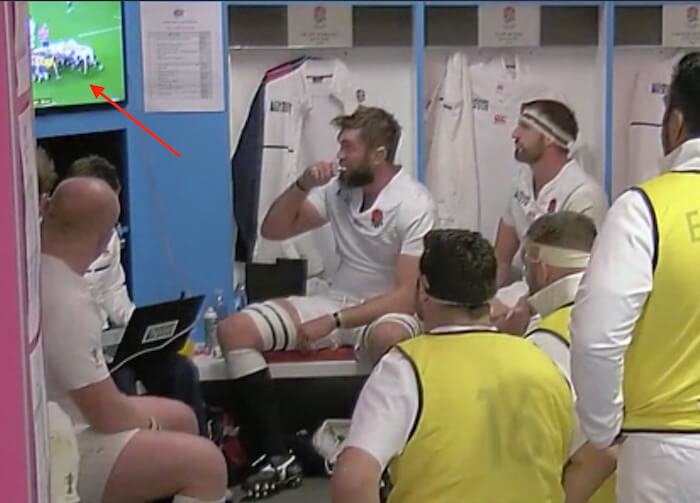 55:35 – A lifeline for England
England run a screen move in midfield and Beale reads it well shutting Farrell down.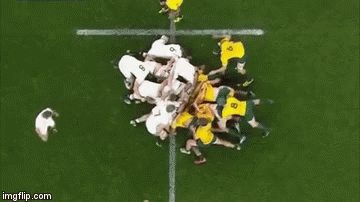 As they build the phases Australia's aggressive defence get off the line and shut them down on or behind the gain line over the course of four phases:

Until Mako Vunipola takes an inside ball from Ford and England get over the gain line and on the front foot. Watch how Ford Squares the defence, and then lays the ball off to Vunipola:
England keep the tempo up with a lovely pass from Ford to Wood to get in behind the defensive line.
England run a punch in midfield with Vunipola again carrying short off Ford and turning the defensive line in, and then as they move right to left England keep the ball alive down the left touchline, offloading out of contact
And when the space opens up a fantastic pass from Ford and great catch and pass from Launchburry creates a 2 v 1 on Foley, with Watson and Wood wide (Beale is covering across but Foley is isolated) and Watson powers through for a really well constructed try.
A lifeline for England, and a huge momentum shift away from Australia.
Game on.
70:00: The Final Nail in the Coffin
England have done well to claw their way back into this and make it a 7 point game. Farrell and Ford together have changed all the momentum of the game in England's favour. Ford and Farrell's distribution has got England making a lot of ground in the wider channels with and Watsons has snuck in for a try but at 70:00 mins disaster strikes with Owen Farrell's yellow card.
Australia go off the top and run a midfield strike move:
Pocock takes the ball at 10 and plays a screen behind Ashley-Cooper with Foley sliding behind. Kuridrani runs an unders line.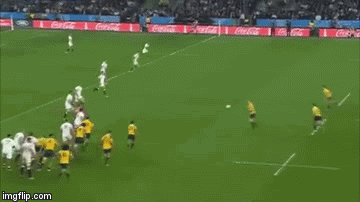 This move is all about isolating the English 13 (occupied by Farrell) with multiple runners.
The issue is Giteau overshoots the ball and Hooper on a late line plucks it out of thin air, Farrell misreads this and obliterates Giteau.
Now, is there an argument for obstruction on Farrell? Yes and no. To me it looks like it was meant to be a screen behind Giteau, but Hooper realises it's gone wrong catches the ball on the inside and adjusts his run.
In all reality I think it's a tough call on the Yellow card in regards to Farrell, but there is certainly an element of justice in the fact if Farrell didn't deserve one then Burgess wild swinging arm to the head of Hooper most certainly did.
So it's six of one half a dozen of the other and the end result is England reduced to 14 men. It's the game, and there is literally no way back for England from here. Australia stretch the lead out to two scores again and England have 10 minutes left with only 14 players.
Momentum changes and the game is Australia's to lose.