About 15 minutes into the first test I nearly turned the TV off, I'd had enough. Another hiding down South, and it being courtesy of England's nemesis the Wallabies was making it all the more painful. Yep, another test series gone. It wasn't even the thought of losing the series that was making me angry, it was the way Australia were coasting through the abject English defence, literally scoring tries for fun.
15 Minutes and we'd had a try apiece from Hooper and Folau as well as Foley's disallowed try for crossing. Gustard's new look England defence was getting found out, big time.
But Eddie rolled the changes, Big Luth was removed from duty with immediate effect. Ford came on and Farrell shored up the midfield defence and the general consensus is that England strangled Australia out of the test series. 145 minutes later England have got a historic test series win and Cheika is under pressure to make sure England don't manage a whitewash.
There's been a hell of  alot said about the Wallabies style of play, some of it fair, some of it not so much. Cheikas response?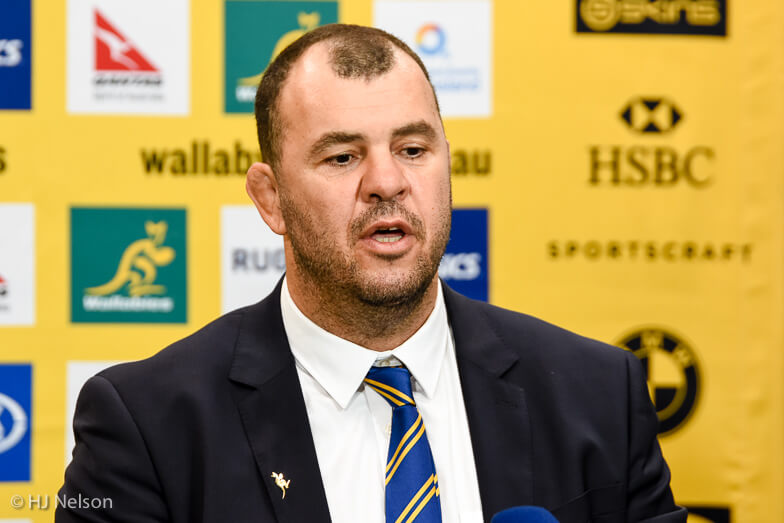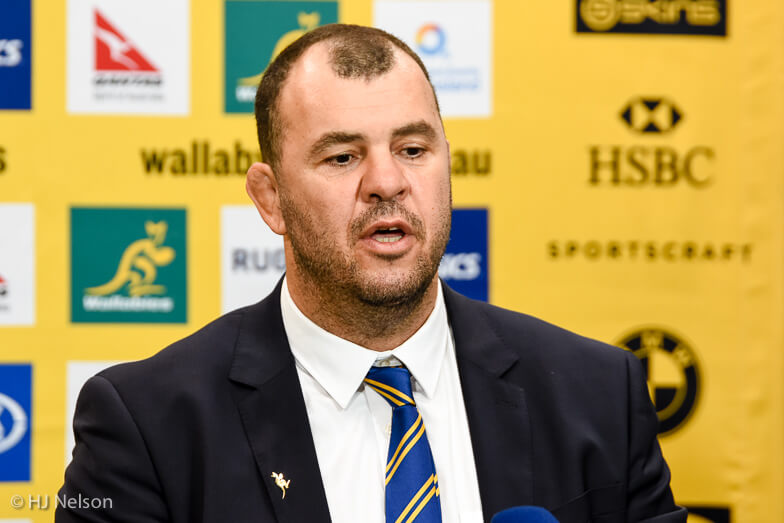 "We are going to continue to play running footy. That's something that we want to do. It's part of how we play."
That's all fine and dandy but with 74% territory, 71% possession and one try in the game Cheika and co must be questioning their ability to actually do this.
Execution has been probably the biggest issue and to be fair Cheika has said as much. But let's consider a couple of things. First we should remember that a week ago not only did the game came down to goal kicking but that Australia outscored England by 4 tries to 3 with one of those England tries coming after 80 minutes, when Australia coughed up the ball chasing the game at the death (it happens).
4 tries is not to be sniffed at in test level Rugby. Especially when you consider that since Gustard took over as England defence coach they have conceded a measly 5 tries in 480 minutes of Rugby.
Whatever way you look at it Australia for the first 20 minutes of that 1st test tore England a new one, playing with a level of pace and width that they just hadn't experienced before, and yes, England adjusted eventually taking control of the game but in that first test they still managed to score two tries in each half by generating quick ball and using the width of the pitch.
So what changed from week one to week two for Australia to not even be able to land a decent body blow?
Depth
If we put aside set pieces and concentrate purely on the ball in hand play (because that's how Chieka wants his side to play) the thing that immediately jumps out to me is a lack of depth.
In this instance when I refer to a lack of depth I'm not talking about players on the bench, or not having that Giteau 2nd play maker. But how flat the Australian attack set up during phase play in the second test.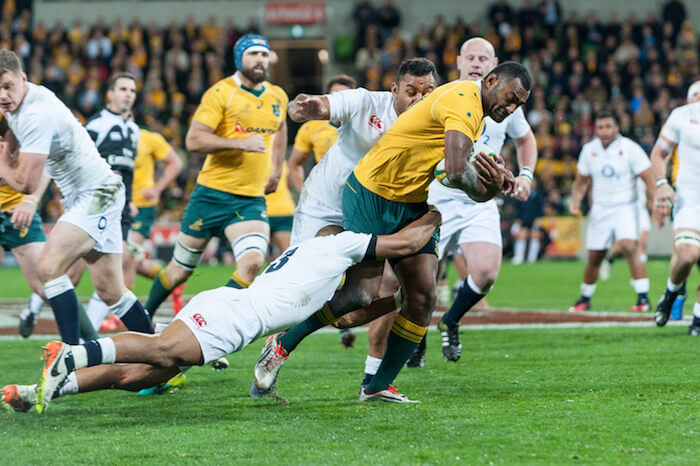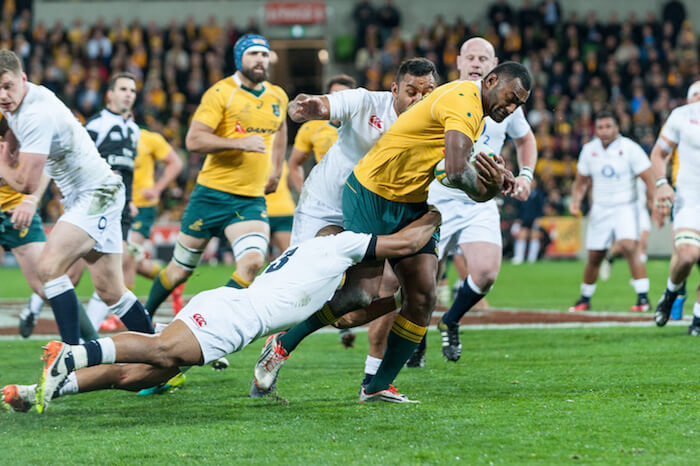 When they have the numbers Englands defence naturally shows the outside on phase play; they defend with the 13 as the last defender, and sit the winger back a little deeper to work a pendulum system in the back three (essentially it gives you two full back options). If a team attacks wide they try and shut if off by blitzing in that 13 channel and whilst that happens the winger flies up to fill the space they've left.
In the first test we saw Australia exploiting that, but the way they got there is important. If you've not read it then do check out Murray Kinsella's brilliant analysis of the 1-3-3-1 system that Australia deployed in that first test it is a wonderful piece of analysis looking at how the Australians structured their attack in Brisbane.
The abridged version is that they leave a loose forward on each touchline (usually Hooper and Fardy) with two pods in the middle. Within those pods Moore, Holmes, Pocock (and Foley slotting in at will) will generally act as play makers, making a decision as to whether or not they punch it up and clear to generate quick ball or play out the back.
That last bit is important , because it's the key to how Australia attacked so well in the first and last 20 of the 1st test, and it's also key to how you shut down this aggressive line speed.
TEST ONE
If we look at the opening sequence of Australian attack in the first test we can see how the Wallabies counter and move the ball wide across the face of the English defence, getting around them. It's not a clean line break but it's enough to TURN the defence, and that is incredibly important to the Australian game plan (as we'll illustrate later).
Now as they come back from right to left (below) Australia will usually use a punch group about 10-20 metres off the ruck to generate quick ball and suck in a couple of big defenders, it might come from Phipps or if they really want to generate speed it will come form Foley. Here though that's shut down by a bad pass from Foley that gets Pocock lit up.
It's still quick ball though and they've set up a screen formation (Red Circle) and come out the back door to Folau who generates a line break down the right.
If we look at to the first Hooper Try (below) it's a similar story.
It's been an untidy start to the sequence of play but Australia have managed to get across the pitch and are now ready to work back. First we get Arnold laying a lovely ball off to Simmons to change the point and target weak shoulders.
That allows Australia to get on the front foot, which they exploit by coming out the back to Folau who releases Fardy and Horne out wide. Notice how they've held that wide channel whilst Yarde defends almost like a second center.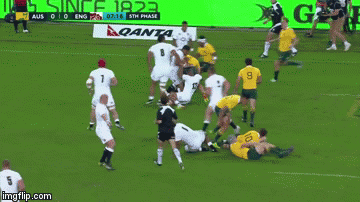 Australia are in behind and the English defence has had to turn and re-set. This means Australia's big ball carriers now have quick ball to come onto, and it turns the English defence in – watch Haskell's head, he has to turn in to watch, just in case the tackle isn't completed, and then reset to get off the line – this all makes a small but important difference to England's line speed.
Again it's quick ball and Australia play out the back to Folau (again), and he makes the break that leads to Hooper's try.
Throughout this opening period we see the screen used over and over again, Foley's "No Try" for example again comes from a screen pass:
And even later on in the game when England have subbed off Burrell and moved Farrell into 12, Australia got plenty of success from using screened passing off quick ball.
Hoopers second try (below) is a prime example: The ball is carried up, Lealiifano brings it to the line – stopping the defence advancing and plays out the back to Foley who hits Folau with a peach of a pass creating a 2 vs 1.
TEST TWO
But a week later, and all of that structure and formation has gone from the Wallabies attacking game. Some of that is to do with the English defence,  some the forced changes. The 1-3-3-1 relies hugely on having 3 breakdown specialists Hooper, Pocock and Fardy who can pass, clean and carry in their respective locations. With the powerful running McMahon coming in they seem to go back to a naturally more traditional flow pattern with Hooper and McMahon covering the ground.
But importantly for me, the attack becomes flat and there are limited or no back door passing options.
Australia are no longer turning the English defence with ball in hand and end up opting to take contact time and time again, which for a heavy set blitz defence like this is bread and butter. They get stopped on the gain line and suddenly the next formation in the flow of the pattern has flattened out and those passing options and angles are erased from the Australian attack.
As we can see here as the phases build early on Australia persist with these one-out runners despite them yielding much success. They are isolated and constantly met with two men and stopped on the gain line, even when they do have some success wide and get over the gain line because they are isolated the ball these runners generate isn't great. The knock on effect is basically more big guys running into a set defence (as we see in the final frames with Carter getting destroyed in the contact ).
Even when they do try to use the screen the formation is all askew. From this one out runner position Arnold plays out the back to a very flat standing Foley who gets clattered, and it's back to the one out runners with little success.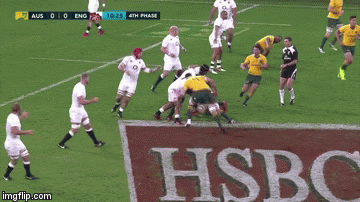 As the game moves on we can see the panic getting smashed back creates and when Australia finally get the ball wide Fardy wastes it by kicking away a 3 vs 1. It's not all on Fardy though, because if you look how his two support runners haven't worked hard enough off the ball and are in front of him, you can understand why he felt he had no options.
It's really poor play from Australia, but also look how flat the openside attack has set up? There is no one sweeping around behind able to select a late running line.
Even when they generate quick ball, as we see here from McMahon attacking the kick off, they opt to go head down instead of out the back  exploiting the space and numbers.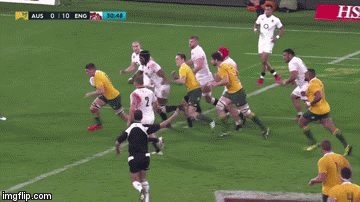 At 40:57 if we watch that 20 phase sequence we can see it amounts to little more than one out runners – yet how often have we seen teams like the Rebels play out the back close to the line and manufacture a score, but here we see Australia just hammering on the door wasting space wide on phases 11 and 13 (look at Kuridrani signalling it's on) .
WHAT TO DO?
It's easy to get caught up in the brutality of England's defence and sucked into their game. But even during the second test Australia demonstrated they can break down the English defence.
At 31 minutes, even though England are having a field day, we can see when Australia do get it right it opens the English defence up with Moore using the backdoor to set Kerevi and Folau free:
And then Foley gets it out the back to Haylett-Petty, though it's worth noting how disorganised Australia are with Slipper having to duck out of the line of the pass). It's great hands from Haylett-Petty to take it off his bootlaces and two passes on Kuridrani is outside the defence:
If you scan the discussion boards, most people think the way to break down a blitz defence is to chip over the top or use pick and goes. It is to a degree, but chipping is a 50/50 call, you run as much chance of giving the ball away as you do of regaining it and pick and goes will narrow a defence but it's not going to do much on the goal line other than just bash into the defenders (as we saw in this game Englands ruck defence is exceptional).
For me depth and using these screened passes are a good option, and certainly fit in more with Chiekas desire to play with ball in hand. You sit deeper, and you have two or three options for the ball carrier, out the front to a short runner, wider to a second short runner or in behind to a slider. Having those multiple receiving options create uncertainty in the opposition defender as to who is coming down their channel and as we've seen all through the Super 16 if you flood a defenders channel with options they will make 50/50 calls.
Additionally by coming up and putting the ball in their faces and then playing out the back they stop that defence rushing up.
Sitting deep off the ball affords the supporting player a chance to see what's happening, adjust their run cut a line, stay deep they have time and space to choose the best option. If the ball carrier drifts they can still adjust but if they are flat they pretty much have to go with them or have their space shut down.
That doesn't mean they can't play flat, but there is a big difference between playing flat and standing flat, if  Australia want to bust the gain line they need to use more of those short one off passes from a forward in at 1st receiver, if they want to go wide they need to break the tackle line in that 13 channel and they will only do that against this blitzing defence by using depth and giving the ball carrier lots of options.
To me it seems Australia are struggling to find a balance between the power game that gets them on the front foot and using the passing and pace out wide, if they want to salvage some respect come Saturday evening they are going to have to revert to the attacking flow of game one to beat this English defence.