There's just four days until the Cook Cup begins, and I am pumped.
Yesterday Paul Bains outlined the reasons England would beat Australia. Well we couldn't let that stand for long, so here is my reply – the five reasons the Wallabies will triumph over the Poms and hoist the Cook Cup in Sydney:
It's all about experience
Touring Australia can be a confronting task for a Northern Hemisphere side, and it pays to have a few wise old heads in the line-up. But the problem for England is… they don't really have any. Just six players have played in Australia before (Courtney Lawes, Danny Care, Ben Youngs and Dan Cole featured in 2010, with Owen Farrell and Mako Vunipola touring with the Lions in 2013). Their two most capped players are Dylan Hartley and James Haskell, two blokes who you would hardly be a calming influence on the side. In amongst these players is a host of very green youngsters like Maro Itoje, Elliot Daly, Anthony Watson and others.
These guys may be going great guns up north, but as the World Cup showed us, Southern Hemisphere rugby is a different game, baby. They will be coming up against one of the most experienced forward packs we have ever assembled, and a backline chocked with established stars. Despite chalking up good wins against weak Six Nations opponents, this England team is still very much a work in progress. This might augur well for 2019, but here and now? I don't think so.
We've got a great Pooper
To watch the Australia vs England pool game from the World Cup is to watch two backrow masters at their very best. David Pocock was over every ball, either stealing or slowing down, while Michael Hooper roamed the field like a rabid dog, savaging everything that came his way. At the time England had no answer to their play, and in the ensuing months they are still yet to find one. Add in Scott Fardy and it's an unstoppable force.
This is the Wallabies point of difference, and it's like Kryptonite to an England side that relies on quick ball to feed their big forward runners. It allows us to set our defensive line, and makes it easier for Hooper, Fardy and Rob Horne to line up the English receivers.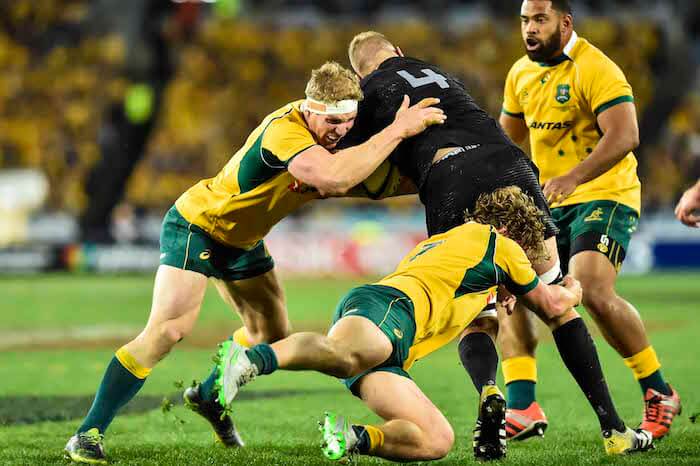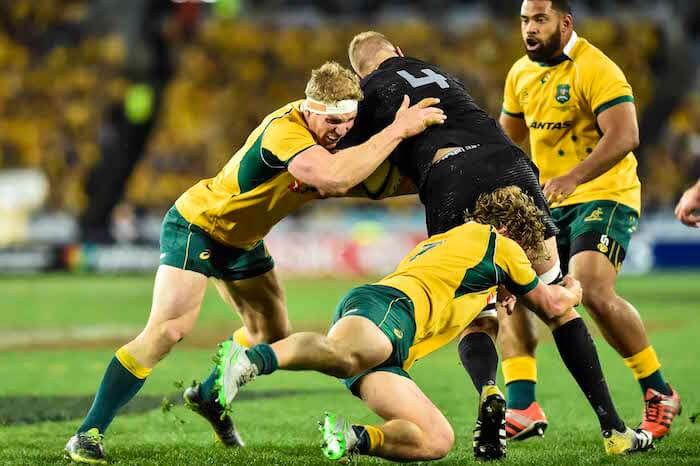 The new Gregan-Larkham
Australia has struggled for a settled 9-10 combination since the end of Gregan-Larkham in 2007. We had a fleeting year of Genia-Cooper, but since then it's been a pretty barren time. But that's all about to change. Nick Phipps and Bernard Foley have been in sensational form for the Waratahs, and are on the cusp of breakout Wallaby seasons. Foley showed us what he had to offer at the World Cup, where he was in our top 3 or 4 players overall. Phipps is set for an extended time in the gold 9 jersey, free of the challenges of Genia and White.
Put simply, if these guys are on they can cut England to pieces. Throw in their established combination with Israel Folau and you've got a recipe for exhilarating, winning rugby that our northern friends just can't match.
Front. Row. Dominance.
With Sekope Kepu returning we've never been better placed in the front row, capable of fielding two international quality units – something that hasn't gone un-noticed up north (just ask the EggChasers). Mario Ledesma will be working his magic in camp, and the competition for starting spots will be intense. Will Cheika opt for hometown heroes James Slipper and Greg Holmes in the first test, or trust incumbents Scott Sio and Kepu? Either way it's a safe bet neither combo will let the side down.
England have restored some pride by putting in a good scrummaging effort during the 6 Nations, but Joe Marler's absence shows that some scars remain. Putting any bets on what happens at scrum time is an exercise fraught with danger, but the Wallabies will rightly be confident heading into the scrum battle.
Timing is everything
The Wallabies are fit and firing, and about to start their international season. They had a break over summer and most players are just starting to hit their peak. England, on the other hand, are at the end of their season, some having played almost continuously since the World Cup. Their greener players are in their first season of proper International footy, and there is a big question mark over their ability to get up for this series.
When the Championship minutes come around, will they have the run in their legs? Can they summon the necessary energy and clarity of thought to perform when the going gets tough? Maybe. But combined with the reasons above I think it's going to be mighty hard for them to produce their best.
That's why I am tipping an Australian series victory. 3-0.
What do you think?  I've gone the full Glenn McGrath, am I on the right track?