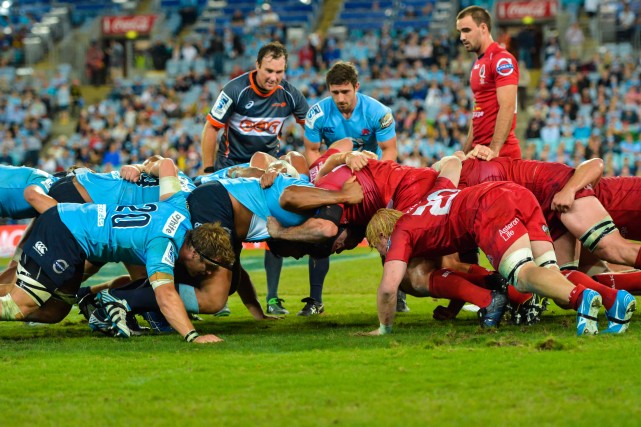 3. Saying farewell
There's no missing the fact that there are a number of Queensland players whom we will, quite likely, never see again in a Reds jersey. For a handful, this will be their last chance to run out with the mighty Q on their chest and our last chance to see them do so.
What I would give to see another Rocket Rod Davies try, all blistering speed and finishing from a precise backline move. To see Aussie Mike Harris bounce back from an off game against the Force to finish a season in which he has produced his career best form. How about big Albert Anae destroying a Waratah scrum and maybe even scoring his second ever try for the Reds?
For some, however, we won't get the chance to watch them do what they do best for us again. Dom Shipperley is off to the Rebels, but will forever be the man who took down the Tahs a couple of years ago with one of my all-time favourite rugby tries. We finally got a glimpse of the brilliance that is Aidan Toua earlier this year when he scorched the Brumbies. We should count ourselves blessed that we saw it before he departed for France. Jono Owen is a popular and unheralded member of the Reds set up who was working his way into some solid form but, now, he too is off to France.
I have a sneaking suspicion there will be more to come too. Ones we don't know about, yet. So use this week as your chance to say farewell and good luck.
The Reds have always done such a tremendous job of engaging with their fans over recent years so I'd suggest we have all had a chance to connect with one of these players, in some capacity, in the past. Personally Toua and Anae are two of the genuinely friendliest and impressive young men I have been fortunate enough to meet. It will be sad to see them go, but what fantastic opportunities they now have.
But it will not just be us saying good bye. It will be the rest of the team too. What greater way to go out than to take down the mighty Tahs? Our hopes of a dynasty on the back of the 2011 win are gone. But this was an extremely successful, and very tight, Queensland team. It seems only fitting to close the book on this chapter with a happy ending. Doesn't it?