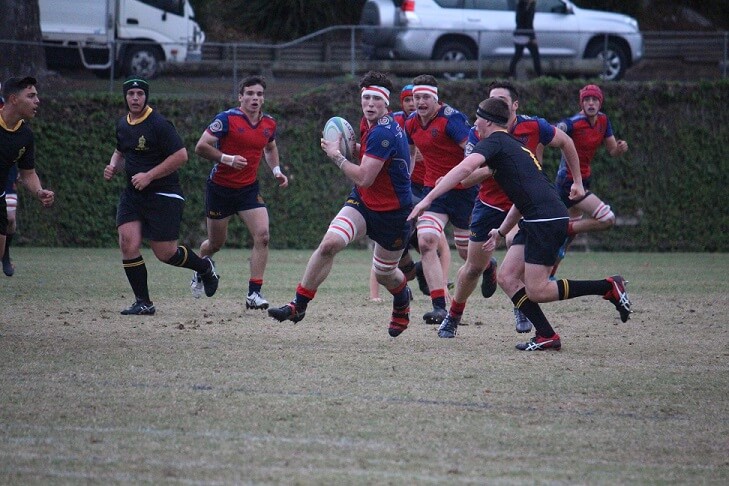 Barker vs St Patricks
75- 5
Report by Rod Skellet
A cold and windy afternoon presented players and parents alike at Hornsby to see whether St Patricks could stop Barker's solid start to the 2018 season.
Following a historic win at White Oval v Kings last weekend, Barker were firm favourites for this encounter, although comparing the run on sides, the St Pats forwards were in size at least were on par with the Barker lads, which lead to no one on the sidelines predicting a result either way.
That view changed from the kick-off, with Barker receiving the pill and quickly settling into their game. Barker's strength this year is that they value possession, and their forwards are big and skilful enough to consistently link 10 phases together to gain field position without giving the opposition a touch of the ball.
This confidence then flows into the backs, who run hard and straight, yet take the right passing options to give their outside backs room and opportunity to stretch their legs. With Barkers second row pairing of Dring and Flaherty (in this writers eyes the standouts for CAS1'selection) providing so much go forward with ball in hand, St Pats got an early taste of what was instore for the rest of the day, tackling.
The points flowed, with Pollard 2, Bryden 11 (3 tries), Graham 13, Weymouth 7, Reimer 8 all crossing to grab 5 pointers in the first half. With the windy conditions making conversions difficult, it was 39 nil when the ref called half time.
The second half was more of the same, and with the game safely in Barker's control, coach Hargreaves rang in the changes bringing on a good number of 2nd XV and 16A players to sample 1st XV rugby.
Additional tries to Dudley 10, Collison 1, Cameron 6, (and I am sure I missed a few) and with just about all the backs trying their luck at conversions, had Barker run out easy winners 75 – 5.
This was a game that St Pats could take little from despite them having some good rugby talent in their side. Harrison Armour 5 and Harry Manenti 8 played their hearts out in a well beaten forward pack, while Marrk Nawaqanitawase 12 who scored St Pats only try, is a big strapping centre who would do well given more ball rather than tackling all day.
Next week Barker take on Shore, who as this report goes to press had a tough day against Joeys. Barker have earned respect this year but as this writer over the years has witnessed, the Reds never underestimate any GPS opponent and Barker will no doubt bring their A game to try and claim another victory over their GPS bretheron.
Best for St Pats
Armour, Manenti, Nawaqanitawase
Best for Barker
Dring, Flaherty, Tejcek, Dudley
Newington vs Scots
0-54
Report by Crackerjack
In a game predicted to showcase skills of two rejigged backlines, the Lion Rampant of Scots built a veritable brickwall of Gold across the park in front of Newington's Wyvern, eventually holding the hosts scoreless in a 54-0 demolition.
First Half
An opening armwrestle was broken apart by Scots. First, back-to-back bullocking runs from Captain, Will Harris(8), and then human-tank Brett Wellington(6), shredded Black & White defenders. An unselfish pass at the line from Loosie Patterson(1) welcomed new boy Seamus King(5) to open Scots' account. Converted from out wide by custodian Mossman(15) in blustery, swirling conditions, was remarkable. Scots 7-0
Scots have someone special this year at the scrum-base. Mid-half, Seb Strang(9) sniffed opportunity at the base of the ruck, dummied right, galloped over flailing Newington arms and legs, and crashed over with maximum attention from New's custodian, Saul Lewis(15). Scots 14-0
Having competed well in the middle stanza, Newington began to tire as halftime loomed. Scots stepped it up, controlling the ball through sustained phase play, and tries in quick succession to Patterson(1), Will Harris(8), and Toby Gavin(4), all converted, saw Scots take a healthy lead in to oranges.
Half Time: Scots 35 led Newington 0
Second Half
Scots scored early from an attacking lineout deep in New's tricky south-east corner. Scots 40-0
Scots' Gold wall of defence continued to hold, but not all was on their terms. New's lock, Damon Foley(5), mid-field, put an absolute bone-rattler on Scots' loosie Patterson(1), to the collective gasps of the small but enthusiastic hill crowd.
Scots' scrum gained ascendancy, and took a couple of tightheads. One was pounced on by Strang(9), scarpering to the south-east corner and popping the final pass to a teammate to score. Charlie Savala(16) now playing down back, took over kicking duties, and despite adverse winds, slotted the touchline conversion. Scots 47-0
Still 20" left, and assisted by penalties giving them field position, Newington were knocking on Scots' door. But sustained phase-ball pressure was being constantly undone by turnovers – some forced, others self-inflicted. New's day was summed up by a magnificent charge down from rake, Tua Mahe(2), with the line open and begging. That Mahe was thwarted by bobbling the ball in the act of going over, said it all on a dark day for New.
In the shadows of full time, a streak of blonde hair belonging to Scots' Mossman(15) flashed down the outer touchline to score, and Savala's(16) second conversion from touch closed proceedings.
Full time: Scots 54 def. Newington 0
Best Players
Scots:
Seb Strang(9) – laser-like service all day; superb game awareness
Will Harris(8) – outstanding leadership, both with forward charges and his man-the-ramparts defence
Ben Robson(7) in H1/ Joe Brial(17) in H2 – Robson for his ball-scrounging and defensive menace in H1; Brial for his mid-field raids and defensive menace in H2
Newington:
Jacob Ratcliff(8) – best of a beaten scrum; never wavered nor shirked
Tom Latu(11) – hard to handle; made meters out wide from limited opportunities
The Wrap
Scots' wall of defence was the highlight, treating the advantage line as if it were their own goal. William Wallace couldn't have done better. Such unyielding effort forced Newington to have to explore out wide, or have a crack with the kick and chase, all in hope of gaining a break-through. For the men in Black & White though, none came, and Coach Gill has work to do to recover his lads. Scots will be buoyed by an impressive all-around game, and will go into next week's crunch match against the might of Waverley, full of confidence.
Scoring
Scots 54 (King, Strang, Patterson, Harris, Gavin, unidentified, unidentified, Mossman tries; Mossman 5, Savala 2 goals) def. Newington 0
Shore vs Joeys
0-82
Report by Up the Guts
Although coming off two losses against CAS powerhouses in Waverly and Knox, patches of good play in both games may have spurned some hope in the Shore faithful that their side would be able to mix it with Joeys for periods of the game. Sadly, for Shore supporters it was not to be with their side going down in and 82-0 drubbing.
1st Half
Shore's horrors started in the first play of the game when 13, Alex Fisher, was knocked out from the kick-off. The loss of Ben Brownie, Shore's best player for the season thus far, shortly after to a hip injury meant that Shore were always going to be up against it. Despite this they at least managed to keep Joeys scoreless for the first five minutes only for the floodgates to open soon after.
Joeys' left winger was the first to score, followed shortly after by the hooker. Soon after 11 bagged his double inside the first 20 minutes of the match. Not to be out done by his counterpart on the left wing, 14 for Joeys then scored two in succession and the fullback dotted another down to finish the half at 32-0.
At 32-0 at halftime it was looking very grim for Shore supporters. Joeys had continually exposed Shore's poor defence in tight, which had looked rather shaky in both their previous games, with strong carries up the middle particularly from the number eight.
2nd Half
Joeys did not let up at all and ground Shore's hearts into the ground. At times in the second half it looked like an unopposed training run for Joeys as they piled on 63 points inside the first 50 minutes of the game.
The sheer volume of tries in the second half make the task of detailing them all hardly worthwhile and any case would make for a rather tedious read. In the end, Shore simply just didn't have the strength to stop Joeys' forwards rampaging through the centre of the park nor the speed to shut down the outside backs. Finally, the referee blew the whistle on a nightmarish afternoon for Shore with the score at 82-0.
The Teams
Joeys
Absolutely clinical, strong in the forwards through the centre of the park and lethal out wide. As the history of GPS Rugby suggests, once Joeys get a roll on it is near impossible to stop and they can run up cricket scores very easily. Their matchup against Scots will be one to savour and this certainly could be the year they break their premiership drought.
Shore
There's not a lot to say coming off the back of that sort of performance. How they front up next week against an incredibly strong Barker outfit will be an enormous test of character. The one thing Shore perhaps can take heart from is that back in 2014 after a heavy 1st round loss by over 60 points against Scots they only lost the same fixture after the bell in the 2nd round against a Scots side that included South Sydney Rabbitohs' star Angus Crichton.
The Players
Hard to differentiate between individuals in such a dominate team performance by Joeys. Certainly the back 3 were far too quick and agile for Shore and the loose forwards, particularly the number 8, were just too strong through the middle.
Similarly, it's near impossible to pick who the best player was for Shore when they went down by 80. I wouldn't bother with any video analysis this week from the Shore coaches, the boys just need to bin it and move on. If they're to stand any chance this season, particularly given the size differences they have compared to other schools' packs, they'll have to adopt a murderous attitude in defence to stop teams getting a roll on through the middle.
Trinity v Oakhill
55-0
Report by Bringbackthebiff0
A short but sweet report.
Trinity were very convincing on the weekend taking the win against Oakhill 55-0. Defence through the forwards appears to be very strong with the big units in the forward pack such as Buchanan (5), Ginis (1) and Lambert (3) making the job easier for their very respectable backline. Two weeks in a row holding teams scoreless, must give credit to the forwards in defence.
Trinity's x-factor backline was firing in the second half running away with a few great tries with Grimmond (11) bagging 2, Edmed (10) and Ilias (12) also getting in on the action. Putting Vuki at 12 was a very smart move using him as a second five option and his defence the standout for Trinity, putting hits on well above his size, should not be underestimated for his small stature.
A tough match this weekend against Joey's firsts, will truly test this so-far solid defence and prove the worth of this side.
Waverly vs St Augustines
47-36
Report by WLF
A very windy and cold day at Queens Park saw a battle of 2 very different styles of Rugby.
St. Augustines were without Aussie school boy Albert Hopoate, otherwise they were at full strength.
Waverley saw the return of Luca Moretti but were without big second rower Alex Rice.
It was clear from the Kick off that Auggies play a flamboyant running game backed by a seriously good back line.
Their forward pack had 1 very tall second row timber, otherwise a powerful and athletic forward pack.
The Waves were more structured, and as the game progressed, it became clear that they were better drilled and disciplined, even after they lost their Captain for the game, Connor Molloy, in the first 10 minutes
Auggies opened up with a very good 50m try initiated by their Captain no. 10 Harry Wilson in the corner, and under difficult kicking conditions it was not converted.
The Waves then knew that they were in for a real struggle as the flair and speed of the Auggies backs quickly became evident.
As if stung by that, the Waves forward pack started to methodically march up the paddock, until ultimately no.8 Moretti used his strength and aggression and crash over, not converted.
Auggies hit straight back with a similar forward try to no.1 Michael Hughes and Wilson executed a good conversion. Auggies 12-5.
The next 10 minutes saw the Waves get into their structure driving up the middle. 10m out an inside pass from Reece Thorn saw Tadgh Murphy crash over under the posts, it was converted. As if motivated to kick his team clear Moretti again crashed over and his presence was being felt both in attack and defence. The try was converted.
What came next was an individual piece of brilliance, no 12, Lathan Hutchinson-Walters put through a nice little grubber kick 40 metres out, he then chased through regathered and scored under the posts, not a hand laid on him, it was coverted and Half time Blew.
HALF TIME : Waves 26-12.
As the second half started it became evident that a few in the Auggies team were hot under the collar and this did not serve them well.
The Waves held their composure and defended stoutly against a back line that could score from anywhere in the field.
Waves no.4 Harry Whiteman and no. 1 Harley McGuiggan both went over after the forwards laid a solid platform and starved Auggies of the ball.
However Auggies did hit back shortly after with very good try to 13.Craig McKenzie it was great to watch, the defence wasn't bad, the speed and flamboyance by the Auggies back line was really something.
As if trying to emulate these skills, Lathan Hutchinson-Walters again showed his skill level with a mighty strong run, beating 6 defenders, and scoring under the posts.
Holding a handy 25 point lead the Waves then proceeded to replace players, and it was in the final 5 minutes that Auggies ran in 2 converted tries.
Final score : Waves 47 St. Augustines 36.
Summation:
This Auggies side will go a long way to winning the ISA comp. They have real speed, size and flair. In particular their no. 10 Harry Wilson, 13 Craig McKenzie and 15 Daniel Ala were extremely dangerous all day.
In the forwards their no.6 Sean Vaivelata ,7 Zac Barnabas and 8 Alec Tuitavake were powerful and aggressive. Whilst they have plenty of natural talent, they will need to contain their composure on the ground, arguing with the ref won't help their game, good luck to them in the ISA.
The Waves showed good maturity to bounce back from a strong Auggies start. The team was well disciplined and got into it's game plan well, and this was probably the difference between the 2 schools on the day. Lathan Hutchinson-Walters, Luca Moretti, Phoenix Baldwin, Tadgh Murphy, Harry Whitman and the rest of the pack all played solid games.